The current Herbalife (NYSE:HLF) saga started on December 20, 2012 when Bill Ackman (having already shorted the stock) started a huge publicity campaign in which he argued that the company was conducting an illegal pyramid scheme and was destined to fall to zero (assuming that the FTC or SEC would step in and close them down). In his defense, Mr. Ackman says that he will donate his gains to charity. Sure he will, but probably after he has covered his losses on a recent big bet he made on J.C. Penney that has lost him about 30% so far. Although he presented a compelling argument against the company and its marketing model, clearly he is not infallible.
Even the New York Times got into the act with a front-page story on two hedge fund titans fighting it out over who is right and who is wrong ( Daniel Loeb on the other side, whose firm Third Point bought $350 million worth of Herbalife, as well as possibly Carl Ichan) - Hedge Fund Rivals Clash Over Herbalife.
The stock fell nearly in half when Ackman started his public campaign but then recovered remarkably, and is currently just a couple of dollars below where it closed on December 18 when Mr. Ackman apparently started selling short ($42.50 closing price on December 18, $37.34 on the 19th). After his tirade beginning on the 20th, the stock fell further to its lowest close on December 24 ($26.06). As I write this, HLF is at $40, or higher than it was after Mr. Ackman's apparent initial selling day of December 18th).
One could argue that selling a billion dollars' worth of the stock short was able to depress it by about $5 a share but since that time, the market has covered the entire amount (and Mr. Ackman is presumably still short his shares - he says he will continue to hold them short as he expects it to go to zero). Since the stock pays a 3.2% dividend, Mr. Ackman will have to shell out $32 million a year to cover the dividend on his short stock. That might prove to be a bit uncomfortable.
There seems to be a segment of the population that loves to talk up negativity, and they are rallying around Mr. Ackman as their hero. They cite Lehman Brothers as another company that was around for a very long time before it imploded suddenly, and mention Bernie Madoff and a Ponzi scheme as being similar to what Herbalife is doing.
There is a world of difference between a Ponzi scheme and a pyramid scheme. The Ponzi scheme is patently fraudulent, secretive, and deceptive, while the multi-level marketing (MLM) model that Herbalife and many other MLM firms employ is open for all to see. Ponzi scheme operators inevitably end up in jail (Mr. Madoff's name continually comes up in the comments made to HLF posts). Pyramid scheme operators generally don't go to jail, but they could be (and have been) shut down by the regulators.
So it all boils down to whether the FTC or SEC will close down HLF. There seems to be so much confusion as to what constitutions a violation in this area that I believe a challenge is unlikely. The company has been openly doing the same thing for 32 years. I would think the regulators would be embarrassed to admit that they missed it for all those years.
However, there is just enough fear when a government agency is involved that the short sellers are likely to hang on in hopes of the regulators acting. I just don't think they will.
The prevailing wisdom of Seeking Alpha contributors seems to be that Herbalife is so scary that it should be avoided at all costs - Why Herbalife Is A Terrible Short And Terrible Long At The Same Time and The Herbalife Distraction. While they might have a point for many investors, I believe that there is a way to capitalize on the uncertainty (especially if you believe that the stock is headed higher if it does anything significant).
The chart shows a distinct pattern for trading in a relatively tight range ($45 - 50) for several months since May 2012 (until Ackman's action):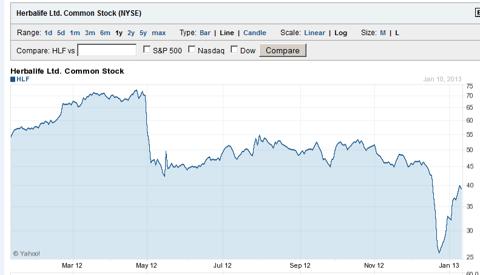 The big drop in May came about because Greenlight Capital's David Einhorn mentioned concerns about Herbalife's multi-level-marketing programs. When he made his speech to his stockholder's on May 16, 2012, however, he did not even mention these companies - he did recommend buying Apple (NASDAQ:AAPL), then trading at $555, now at $520. Since Einhorn had earlier successfully called implosions in Green Mountain Coffee Roasters (NASDAQ:GMCR) and Lehman Brothers, when he raised questions about a company, his legions of followers took action.
It was interesting that Einhorn's negative comments on HLF (which were made on a single conference call) impacted the stock so significantly while Ackman's public and repeated negativity essentially did not hurt the stock at all.
Nasdaq has not updated its short-sale numbers since December 14 when the short interest ratio was about 27%. It is presumably much higher than that now (it looks like Ackman began his selling on December 18, four days after Nasdaq's report), I would personally be uncomfortable being short a company which has withstood Ackman's barrage of negativity as well as a billion dollars of stock sold short and hardly lost any value. The chances of a short squeeze here looks enormous to me.
I believe the stock will continue to move about, but when two large hedge funds have completely opposite positions, one would think that a $2 move in one direction or the other would spur on one of the funds to buy shares and push the stock back in the direction it had come from.
So how do you cash in on a stock that might not move much in either direction but which lots of people think will move big time (they just can't agree on what direction that might be)? My solution is to buy calendar spreads at strikes both above and below the stock price - Why Herbalife Should Move Higher From Here.
With the stock settling down this week, the implied volatility (IV) of HLF short-term options has plummeted from 140 to 89. Meanwhile, IV for May options is only 76. A nice IV advantage exists which is ideal for calendar spreads. (The spreads I recommended in this article gained about 5% after commissions this week, although the portfolio was up over 10% before IV crashed on Thursday and Friday).
With such a strong IV advantage (and my outlook that the stock will remain stable or move higher), these calendar spreads have a lot going for them, especially if you buy more of them at strikes higher than the stock price (as I have done).
I suspect the current controversy in HLF will soon dissipate, and the fear-mongers will move on to more enticing stories somewhere else. If they buy back their short stock at that time, HLF could move a lot higher in a heartbeat.
Disclosure: I am long HLF, GMCR, AAPL. I wrote this article myself, and it expresses my own opinions. I am not receiving compensation for it (other than from Seeking Alpha). I have no business relationship with any company whose stock is mentioned in this article.