Northern Tier Energy L.P. (NYSE:NTI) launched with a July 31, 2012 IPO. After completing its first quarter of operation as a public MLP, the company declared a $1.48 per unit quarterly distribution, putting the dividend yield on Northern Tier Energy north of 24% - 36% using Google Finance math - based on that one payout. It seems improbable that the company can maintain this distribution level, but a review of the limited amount of available financials shows that this L.P. is capable of paying a much higher distribution rate than the current share price indicates.
Note: MLP companies such as Calumet Specialty Products have units and pay distributions. The words stock, shares and dividends may be used here with the understanding that the rules of MLP units apply including the tax consequences of investing in MLP units.
Background
Northern Tier Energy is a downstream energy company. The major asset is an 85,000 bpd crude oil refinery located in St. Paul Park, Minnesota. The company also owns the SuperAmerica chain of convenience stores. There are 166 company owned stores and 67 franchised locations in Minnesota and Wisconsin. These assets were purchased from by Marathon Oil Corp. (NYSE:MRO) in 2010 by a partnership of three private equity companies - Acon Investments LLC, TPG Capital LP and NTR Partners LLC for over $800 million.
The refinery, associated assets and retail operations were packaged up as a master limited partnership and about 20% of the L.P. units were sold through the July IPO. The private equity partners retained the remaining 80% and the general partnership stake.
2012 Third Quarter Highlights
For the third quarter, Northern Tier Energy reported operating income of $199 million on revenue of $1.26 billion. For the first three quarters, revenue of $3.42 billion resulted in operating income of $426 million.
I highlighted these numbers for a reason: To show where the $1.48 dividend came from and discuss how much this company could pay out on an ongoing basis. The $1.48 distribution per unit came from prorated $136 million of cash available for distribution. NTI was public for two months of the third quarter and that $136 million is 68% of the $199 million of operating income. So the distribution represents a full payout of the operating income for the time Northern Tier Energy was in public hands.
Stretching the example, the $426 million of operating income for three quarters works out to about $4.60 per unit, or $1.53 per unit averaged over the three quarters. The point here is that extrapolating the results for the first nine months of 2012 seems to indicate that it would be possible for Northern Tier Energy to pay annual dividends in the $5 to $6 range. The shares currently trade at $24.60.
Some Analysis
It seems inconceivable that an MLP capable of paying $5 per year in distributions would be priced at $25. The reason probably has to do with the significant swings in profitability historically experienced by the petroleum refining industry. The Northern Tier Energy operating income results have swung from a negative $41 million to the third quarter's $199 million over the last 5 quarters. However, 4 out 5 quarters were strongly positive and 3 of 5 had operating income of greater than $130 million.
Sourcing crude oil out of Canada and North Dakota should be an ongoing current benefit for Northern Tier Energy. A very recent article from the Huffington Post Business section notes that Midwest refineries currently have a tremendous - up to 5 times larger crack spread - cost advantage over the coastal refineries.
I think that over time, the quarterly distribution from Northern Tier Energy will show a large amount of fluctuation. However, the IPO seems to have had excellent timing, and if the company can pay out one or two more $1.00 plus - maybe even $1.50 - dividends, the share price could jump in the $40's. I rarely - OK, never - look at an MLP as a speculative position, but in this case, it seems that there is not much downside and a lot of upside potential to picking up some Northern Tier Energy and watch what happens for the next few quarters.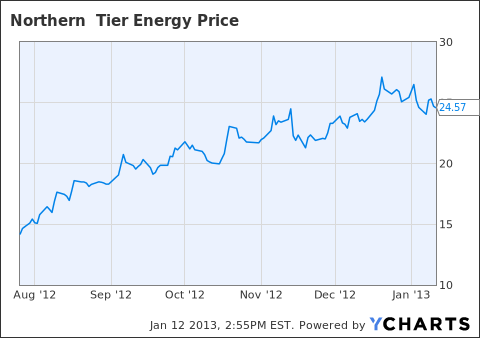 Disclosure: I have no positions in any stocks mentioned, and no plans to initiate any positions within the next 72 hours. I wrote this article myself, and it expresses my own opinions. I am not receiving compensation for it (other than from Seeking Alpha). I have no business relationship with any company whose stock is mentioned in this article.