There are many positive signs for the market, but it's still tough to find a good entry. Positives include a strong volume pattern underlying positive price action. This is a sign of accumulation by the "elephants" or big money. Price shows a bottoming formation and is making higher lows and highs.
The problem for entry is that stochastics, while not extremely overbought, are still above 50. A better entry would require more of a pullback.
Those looking to enter still have a low risk setup. Entry on weakness today (Tuesday), with a stop just under Friday's low, provides a 3:1 reward to risk ratio if using the recent high as a target. Note that because stochastics are above 50, I don't consider this a high probability trade. Still, the good risk ratio makes it a justifiable trade.
click to enlarge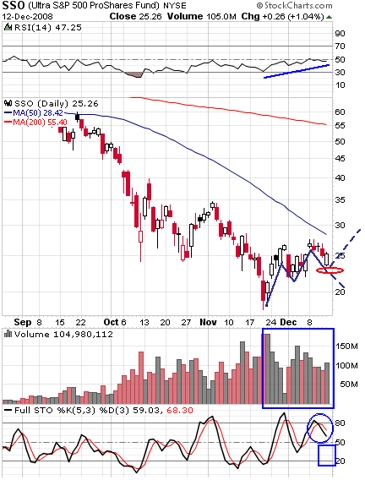 Click to enlarge
Focus List: I am finding a lot of setups with positive underlying volume. This is another factor that leads me to think the market is setting up for a rally.
New Additions:
WW, ESS, MCK, GEF, ESL, CNQR, LRCX, MAN, EXP, AMZN, SBS, UYG, USD, MDC