Aetna Inc.(NYSE:AET) is a provider of health care, group insurance, and pension services. The services the company provides are very comprehensive and widely needed. The health care segment provides health care plans, Medicare and Medicaid services, as well as specialty medical products. The health care services are readily available to both companies and individuals. The group insurance segment provides various life insurance services as well as accidental death and disability insurance. The pension services department provides various retirement and pension services.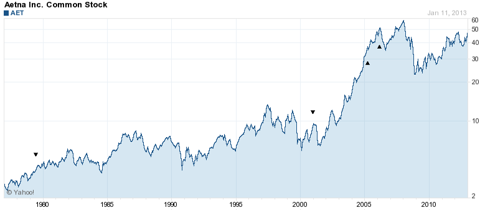 image from yahoo.com
Growing Market
I would always to prefer to buy a company in a growing and predictable market. With the "Baby Boomer" generation growing older, the health care and retirement service industries are primed for growth. If you aren't interested in a well managed health care company with a proven history, in a steadily growing and predictable market, trading for less than 9 times earnings, with a solid balance sheet: I would recommend you stop reading now.
Financial Metrics
P/Earnings: 8.71
P/Sales: 0.43
PEG: 0.84
Operating Margin: 8.93%
Forward Dividend Yield: 1.7%
Risks
All companies face risks, but with Aetna, I don't see any that are excessive or truly threatening to the company. The company has survived an impressive 163 years, and is still going strong. With the growing population and rising life expectancy, the company will be immersed in a secure and growing industry for many years. Government healthcare is unlikely to provide all of the services needed by the elderly, and I cannot see it interfering with the companies long term success. The variety of services offered by the company also help mitigate the risk if one segment should fail.
Timing
While I think purchasing shares of Aetna now would provide returns that exceed those of the market over a long period of time, I have not yet purchased any. I am waiting for the price to pull back a few dollars in order to enter with lower risk.
The information provided in this article can be found at yahoo.com or aetna.com
Disclosure: I have no positions in any stocks mentioned, and no plans to initiate any positions within the next 72 hours. I wrote this article myself, and it expresses my own opinions. I am not receiving compensation for it (other than from Seeking Alpha). I have no business relationship with any company whose stock is mentioned in this article.