There's been so much bad news about commodities and equities recently that commodity stocks have taken double gut punches. That's certainly been reflected in the charts of some of the hard asset portfolios in the Market Vectors exchange-traded fund lineup. The Market Vectors Steel ETF (NYSE Arca: SLX) tracks the AMEX Steel Index and has dipped 64% year-to-date. After sinking to $20 a share late last month, though, the fund's now holding at $30.
The prospects for steel and other industrial commodities are largely reflected in bulk shipping rates. Charter rates for large Capesize vessels have trebled over the past week as Chinese demand for iron ore, among other things, has revived.
We could be looking at nascent base building here, especially if the recent pricing of the SLX fund's siblings is considered.
The Market Vectors Agribusiness ETF (NYSE Arca: MOO), a tradable proxy for the DAXglobal Agribusiness Index, is down 55% for the year, but has twice tested and held the $20 share level over the past couple of months. MOO now trades with a $26 handle.
Gold stocks measured by the Market Vectors Gold Miners ETF (NYSE Arca: GDX), once the one-eyed alley cat of commodity issues, looks even more enticing after breaking above its mid-October reaction high of $27. GDX changed hands near $29 on Friday.
Commodity Stock Index ETFs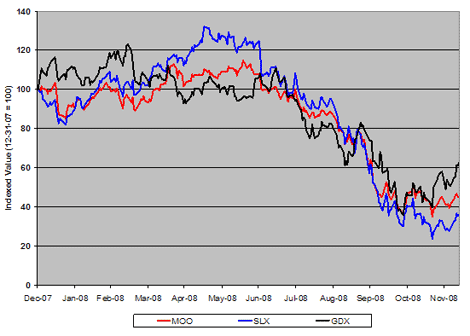 The case for commodity base building is made stronger by the waning vigor of the U.S. greenback. A new 13-year low against the Japanese yen was notched this morning. The dollar's been giving it up to the euro recently as well, losing 3% in the past month. Monetary inflation has now ticked up to levels not seen in five weeks.
U.S. Monetary Inflation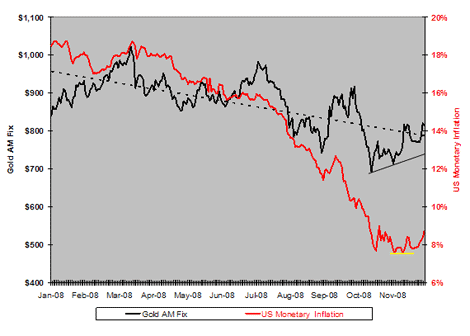 So, you ready to buy yet?