Since its IPO back in December of 2011, Zynga's (Zynga) shares have been going in the wrong direction. Last year, shares finished 70% in the red and became one of the most shorted stocks in 2012. However, with a New Year brings new opportunities. So is it time to buy, hold or sell Zynga? Let's take a closer look to see which category Zynga falls into.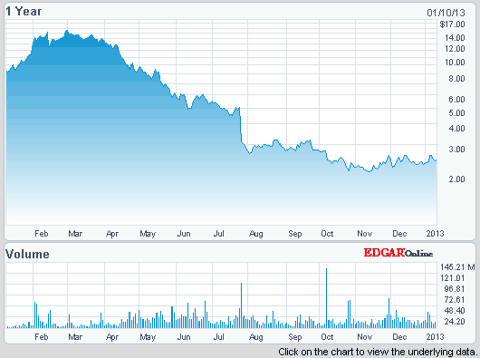 Reasons To Buy
According to Zynga's third quarter report, they are growing their user base. Daily active users (DAUs) increased 6 million (10% year-over-year) in the third quarter of 2012. Zynga now has over 60 million DAUs. Monthly active users (MAUs) also increased from 227 million in the third quarter of 2011 to 311 million in the third quarter of 2012, up 37% year-over-year. As of January 11, 2013, Zynga held three (Words With Friends, Texas Hold'em and FarmVille 2) of the top eight games on Facebook, based on DAUs reported by AppData.
When Facebook (NASDAQ:FB) went public last May, Envision analyzed the holdings of several social networking companies, including Zynga. At the time, Zynga had only one U.S. patent and nine patent applications. Over the last year or so, Zynga has increased those numbers to 89 patents with 36 patents pending. It's interesting to note that Zynga acquired 38 of those patents from Walker Digital, of which 33 are related to gambling. Looks like Zynga Poker and real money gambling games are one step closer to becoming a reality.
Zynga announced that its Board of Directors has authorized a share repurchase program. Under the program, Zynga is now authorized to repurchase up to $200 million of its outstanding stock. With Zynga trading in the mid two dollar range, this adds up to over 10% of the total float of shares. Remember there are many reasons that insiders sell their shares, but there is only one reason that insiders buy. They think the stock price is undervalued and will go up. Zynga's share repurchase program shows exactly that as the company believes its shares are undervalued and are a nice bargain at these levels.
Reasons To Hold
Zynga's third quarter earnings report brought some surprises, but this may have been the biggest surprise. Zynga announced that it would implement a cost reduction plan by reducing its workforce by approximately 150 employees or 5% of its current workforce and implement additional cost reduction measures. Zynga said the savings in the fourth quarter would be in the range of $15 to $20 million. While investors may see this as fantastic news, it also means that the company has failed on some levels and nobody likes that.
Zynga teamed up with bwin.party, the leading international real money gaming operator, to offer real money online Poker and Casino games in the UK market. Zynga's UK-based RMG service and bwin.party will launch RMG products including Poker and a full suite of 180 Casino games in the first half of 2013, which include table games such as slots, roulette and blackjack. It will be interesting to see how popular and successful it can become. If things go well, then Zynga can tap into the huge market for real money games.
With over a billion dollars in cash, Zynga's cash per share stands around $1.69. Zynga's book value per share is even higher at $2.38. With Friday's closing price of $2.59, investors who get in now have to like their chances.
Reasons To Sell
Average daily bookings per average DAU (ABPU) decreased from $0.058 in the third quarter of 2011 to $0.047 in the third quarter of 2012, down 19% year-over-year. This means that Zynga is taking in almost 20 percent less per user per day than it was a year ago.
Zynga cuts its full-year 2012 outlook. Zynga now sees full-year bookings of $1.085 billion to $1.100 billion, down from a previously projected $1.150 billion to $1.225 billion. Full-year adjusted EBITDA is now expected to be $147 million to $162 million, down from a previous range of $180 million to $250 million.
One of the major measures that investors pay close attention to are Zynga's bookings. So what exactly are "bookings?" Bookings represent the dollar amount of virtual goods sold to game players (Farmville, Zynga Poker, Draw Something etc.) in the period. Unlike its revenue, bookings provide a real measure of where Zynga is headed. Bookings for the third quarter of 2012 were $255.6 million, a decrease of 15% compared to the second quarter of 2012.
This weekend we learned that one of Zynga's major underwriters J.P. Morgan has reduced its stake in Zynga. The firm owns only 2.6 million shares (less than half a percent) of the social gaming company. A big reduction by an institutional investor, like J.P. Morgan, implies that it does not have a lot of confidence in Zynga that it can turn things around.
Conclusion
There are many things going Zynga's way (Real game gambling, Patents etc) but there are also many things that are not going Zynga's way (2012 full-year outlook cut, Restructuring, etc.). Because of this, I rate Zynga a hold. Earnings are coming up (February 5th) which will give investors a good view of where Zynga stands and where they are headed.
Disclosure: I have no positions in any stocks mentioned, but may initiate a long position in [[Zynga]] over the next 72 hours. I wrote this article myself, and it expresses my own opinions. I am not receiving compensation for it (other than from Seeking Alpha). I have no business relationship with any company whose stock is mentioned in this article.