There was once a man named Sam Brannan who became the first millionaire of California's Gold Rush. However Sam didn't find a gold mine, nor did he find a gigantic gold nugget the size of a softball. Instead, he supplied much of the equipment frantic miners desperately needed to relentlessly dig for profits-namely shovels, pans and the like.
Thus derived a classic quotation, "Don't Dig For Gold, Sell the Shovel".
But where can we apply Sam's genius in today's stock market? I feel the most opportunistic segment is the Oil Well Services & Equipment portion of the Energy Sector. With the world's consumption of non renewable energy destined to increase, one would think the correlating lever of supply would be an obvious winner by economic reaction. However, Energy was one of the worst performing sectors in the S&P 500 for 2012, and just the same there wasn't much to be proud of for "shovel" sales in the industry. By shovels of course I mean oil well parts and services.
The bellwethers of the Oil Well Services & Equipment sector: Schlumberger Limited (NYSE:SLB), National Oilwell Varco Inc. (NYSE:NOV), Haliburton Inc. (NYSE:HAL), and Baker Hughes Inc (NYSE:BHI), which are also major holdings of the Market Vectors Oil Services ETF (NYSEARCA:OIH), underperformed the S&P 500 over the past two years to the disappointment of investors: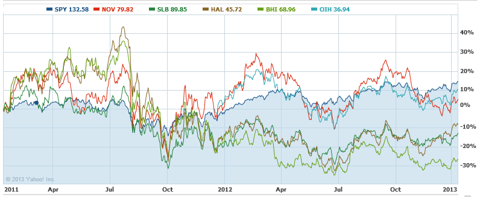 Considering the S&P 500 is composed of about 11% Energy as of January 2013, an equal weighting in a diversified portfolio should contain roughly the same proportion versus other sectors. However, if you feel Energy is due for a recovery in 2013, perhaps an even more robust weighting to Energy in your portfolio could be appropriate. Regardless of your portfolio's allocation percentage, surely we should have some exposure to Oil Well Services Equipment segment to ensure we are fully exposed if a rebound occurs in 2013- which I think will happen by the way. The question for me was, how can an investor efficiently utilize Sam Brannan's business model while not being over exposed to this small piece of the Energy pie? The answer is the OIH.
I found it very difficult to chose between the industry leaders mentioned above. There is some inherent risk in investing in one individual company in this small piece of an already small sector despite appealing valuations, as many investors experienced with Transocean Ltd. (NYSE:RIG) after the Gulf Spill. For this reason, I feel the OIH ETF is a great holding for investors looking to diversify effectively without over loading their portfolios. The OIH has reasonable diversification and a decent valuation profile, while offering overweight exposure to SLB, and other leaders in the industry:
| | | | | | | | |
| --- | --- | --- | --- | --- | --- | --- | --- |
| Top 7 Holdings, 59.37% of Fund: | SLB | HAL | NOV | BHI | RIG | SDRL | CAM |
| % Allocation | 20.87% | 9.32% | 8.80% | 5.71% | 5.45% | 4.69% | 4.53% |
| Individual P/E | 18.04x | 11.72x | 12.61x | 13.69x | N/A | 17.08x | 22.56% |
| Est. 2013 Growth Rate | 14% | 0% | 11% | -2% | 39% | 17% | 28% |
| Individual P/B | 2.86x | 2.24% | 1.55x | 1.12x | 1.27x | 2.92x | 2.66x |
| Dividend: | 1.49% | .98% | .73% | 1.4% | N/A | 8.92% | N/A |
OIH as a Whole:
| | |
| --- | --- |
| As of 11/30/12 | OIH |
| Total Assets: | $1.5 Billion |
| Dividend: | 1% |
| Net Expense Ratio: | .35% |
| Average Daily Volume: | 3.275 Million Shares |
| Number of Holdings: | 25 |
| Average P/E Ratio | 16.38x |
| Average P/Cash Flow | 9.85x |
| Average P/B | 2.51x |
This ETF has nice volume and liquidity, so there shouldn't be much of a spread between the Bid/Ask. Also, this ETF is optionable, which allows for hedging and/or covered calls strategies. The option chain shows reasonable volume and open interest, implying popularity and ease of trading. At a glance, the fund offers reasonable average valuation metrics, including a P/E Ratio of 16.38x, a P/B of 2.51x, and a P/ Cash Flow of 9.85x for its 25 holdings.
Technical Picture: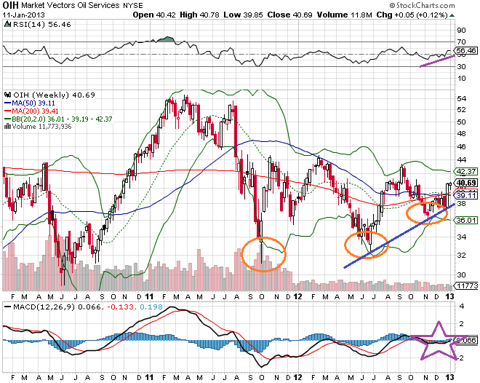 The OIH has been in a long term downward trend, but we could be in for a near term recovery as the RSI (purple line) has entered into an uptrend, and the MACD (purple star) recently turned positive after troughing last month. Since October of 2011, we have seen 3 severe low points (orange circles). However, each time these troughs have been higher than the former. In addition, shares are trading above both the 50 and 200 day MA, while appearing to have entered an uptrend since the summer lows of 2012 (blue line).
Risks:
The Profitability of the oil/gas services sector is dependent on energy prices, which can be very unpredictable. Also, government regulation, especially from the perceived renewable energy favoring President Obama, is a still an uncertainty. In addition, uncertain economic conditions can impact this highly competitive and cyclical segment. If upstream energy companies experience cedit problems, project approvals could be put at risk and could slow the demand for new or improved drilling rig equipment and project services as well.
Summary:
The OIH ETF offers exposure to industry leaders like SLB, NOB, HAL, and RIG among others. Holding the OIH to compliment oil/gas conglomerates may further diversify a portfolio within the Energy sector. Judging from the world's increased need for oil and gas and technical signals in the chart, shares in the OIH are a reasonable buy for 2013. As stated above, I feel a small position in the OIH is prudent and should be in addition to other positions in Energy, such as MLP's and conglomerate types, such as Kinder Morgan Inc. (NYSE:KMI) and Chevron Corp (NYSE:CVX) for example.
Short Term Trade:
For the short term oriented investor, initiating a near term Bull Call Spread is a good way to capture a potential uptrend I expect to continue judging from the bullish signals inherent in the chart.
Shares trade @ 40.69 as of 1/11/13.
Buy to Open the April 38 Strike Call for 3.60.
Sell to Open the April 43 Strike Call for .80.
| | |
| --- | --- |
| Cost | $280 |
| Max Gain | $220 or 78% @ 43/share |
| Break Even | 40.80/share, or just a $.21 price move |
Since this spread allows for gains to begin just $.21 from current levels, not much of an implied move is required in this trade. While costing just $280 per spread, a max gain of $220 or 78% is achievable with just 5.7% share appreciation in 3 months time. For an aggressive investor, this trade is a great opportunity to consider.
Disclosure: I have no positions in any stocks mentioned, but may initiate a long position in OIH, NOV, SLB over the next 72 hours. I wrote this article myself, and it expresses my own opinions. I am not receiving compensation for it (other than from Seeking Alpha). I have no business relationship with any company whose stock is mentioned in this article.
Additional disclosure: My portfolio is currently overweight energy, but is hedged.