A chilling chart from CreditSights shows why, like Freddy Krueger in the Nightmare on Elm Street movies, maturing debt from the credit bubble will menace global financial markets and institutions over the next five or six years.
The peak maturity profile for U.S. leveraged finance deals made in 2006 and 2007, the height of the credit craze, is from 2011 to 2014, according to a CreditSights analysis.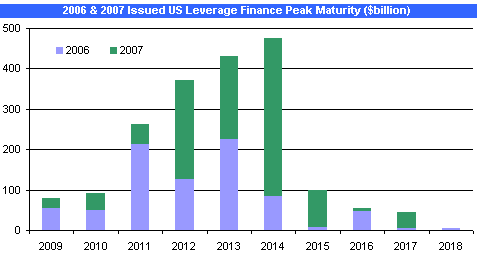 The fact that this $1.5 trillion wall of leverage finance contains some of the weakest terms, lowest coupons, most levered deals and most sliced and diced capital structures of all time is only part of the problem. An equal concern is that it was created in an era when one dollar of real cash could buy five dollars or more of debt.
CreditSights also analyzes future prospects for major U.S. financial institutions based on several ratios, including the ratio of interest income to loan loss provisions.
On that basis, Wachovia Corp. (NYSE: WB), National City Corp. (NYSE: NCC) and First Horizon National Corp. (NYSE: FHN) had provisions of more than 100 percent of net interest income, showing the vulnerability of their earnings to elevated provisioning. Banks which are the best on this measure include The Bank of New York Mellon (NYSE: BK) and State Street Corp. (NYSE: STT).
For details see "Every Picture Tells a Story - Part 4: Strategy and Finance."