Investopedia defines "commoditize" as follows:
The act of making a process, good or service easy to obtain by making it as uniform, plentiful and affordable as possible. Something becomes commoditized when one offering is nearly indistinguishable from another. As a result of technological innovation, broad-based education and frequent iteration, goods and services become commoditized and, therefore, widely accessible.
Clearly, consumers benefit when goods or services are transformed into commodities since it gives them a choice when interchanging one company's product with another company's same product. Also, consumers benefit because the good (or service) drives prices down since companies have to compete against each other. When goods or services reach a "perfectly competitive" playing field, there are fewer differences and that is when you must find the "alpha" that sets them apart. This perfect alignment of commoditization is described on Investopedia:
In the past few decades, previously "modern" things such as microchips, personal computers - even the internet itself - have become essentially commoditized. Combinations of commoditized products such as computers and business software have in effect commoditized many processes, such as business accounting and supply chain management. In a truly capitalist society, the ability to commoditize anything is seen as a benefit to all, and opens up resources that can be put to better use on innovative enterprises.
Seeking Alpha in a Commoditized Triple Net REIT World
The transition of the Baby Boomer generation - along with wealth and aging - has created the aggregation of income producing property from active management to passive management of these types of real estate assets by their owners. This trend should continue to accelerate, driving the economy and dictating the volume of risk-aligned property transactions. Consequently, the evolution of the ownership structure from investors will be more important than ever and the strongest sources of differentiation will be the winners of the game.
With the soaring costs of healthcare, education, and impending inflation, investors are quickly moving from "money that they want" to "income that they need" and REITs with the sharpest differentiation and the really successful companies will build their strategies on the most vivid and hardy forms of differentiation.
As Howard Marks wrote in The Most Important Thing, "loss is what happens when risk meets adversity," and when it comes to REIT investing, preserving capital and protecting the dividend are essential. Let's face it, 77 million baby boomers are counting it and that is why the most outstanding REIT investors have a keen insight into "their ability to control risk as so much as they are for generating return."
Due to the remarkable record of consistency, the triple net REITs have become one of the fastest growing sub-sectors. In a large part driven by the correlation with high-quality income, the growing stand-alone property sector has become a dominating fixed-income component due the contractual long-term lease characteristics. In the December 10th issue of Forbes Magazine, I wrote an article, The Great REIT Boom, in which I explained:
Now, 50 years after REITs' inception, the industry is buzzing again. A generation of boomers craves income, and more and more companies have become wise to tax and other advantages of the REIT structure. Everyone wants to get in on the REIT bonanza, as operating businesses from cell phone towers to timber companies, billboard firms and private prisons are converting to REITs.
Differentiation: The Essence of Strategy
In Repeatability: Building Enduring Businesses for a World on Constant Change, co-authors Chris Zook and James Allen wrote:
Differentiation is the essence of strategy, the prime source of competitive advantage. You earn money not just by performing a valuable task but by being different from your competitors in a manner that lets you serve your core customers better and more profitably.
As most of my frequent readers know, I stay tuned-in to the Triple-Net sector because I believe that the "free-standing" REIT sub-sector should be a core component for an intelligent investor's dividend portfolio. Not so much because of their commodity-like fundamentals but more so because of their bond-like characteristics. As I wrote in this recent article (Why Sound Investors Should Consider My 'Bond-Proxy REIT' Picking Strategy):
Net Lease REITs are income-disciplined (because they payout 90% of income in the form of dividends) and the spreads between the average net lease dividend yield (6%) and the ten year treasury rate (1.71%) stands at around 430 basis points, indicating that Net Lease REITs are still cheap when compared to other sources of income.

For the same reason that non-REIT companies are considering the advantages of becoming a REIT - stocks trading at healthy multiples because of investors demand for income - the Net Lease REITs are experiencing a surge in demand towards high quality income - a flight to quality.
Today investors have a broad choice of commoditized Triple-Net REIT offerings, including Realty Income (NYSE:O), National Retail Properties (NYSE:NNN), American Realty Capital Properties (ARCP), Agree Realty (NYSE:ADC), Spirit Realty (NYSE:SRC), W.P. Carey (NYSE:WPC), CapLease (NYSE:LSE), and Getty Realty Corp. (NYSE:GTY), EPR Properties (NYSE:EPR), Government Properties Income Trust (NYSE:GOV), Lexington Realty Trust (NYSE:LXP). Also, in the non-traded REIT space, there is Cole Credit Property Trust II, Cole Credit Property Trust III, Cole Corporate Income Corporate Income Trust, American Realty Capital Trust III, and American Realty Capital Trust IV.
Clearly, there is growing choice of triple-net options for dividend investors today as evidenced by this snapshot: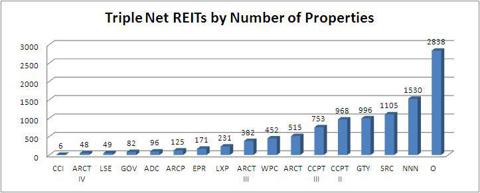 In addition, the combined publicly-listed and non-traded Triple-Net REITs make up around $42.8 billion in assets today. That is a growing sector that has evolved from a sector that was once dominated by the fast food, casual dining, and auto parts chains to what is now more defined by the monetization of the "stand-alone" income stream, whether it's distribution centers, office buildings, vineyards, billboards (see my article on Lamar), casinos (see my article on PENN), and a variety of other industries.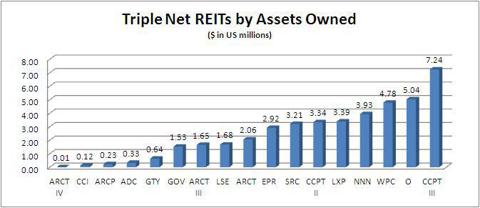 Although the Triple-Net sector is evolving into a unique business format that may at some point require its very own sector with various sub-sectors, the similarities of the commodity-like classification is simply defined by the sources of repeatable income. As such, the Triple-Net REITs are all competing for the same customer and the winners and losers are typically the REITs that are the most highly differentiated.
Triple-Net Commoditization by Aggregation
There is a wave of merger deals going down in REIT-dom and four of these include Triple-Net REITs:
American Realty Capital Properties Inc. has announced that it had entered into a definitive merger agreement to acquire the outstanding shares of American Realty Capital Trust III Inc., resulting in a combined company with $3 billion of enterprise value. ARCP, the much smaller REIT (with assets of $227 million), will utilize its common stock whereby ARCT III shareholders may elect to receive 100% stock in a tax-free exchange.
Realty Income Corporation, the Monthly Dividend Company®, and American Realty Capital Trust, Inc. (NASDAQ:ARCT) have announced a definitive merger agreement between the two companies. Realty Income announced the proposed merger on September 6, 2012, and last week Realty Income signed an agreement to amend its offer to acquire ARCT by offering an increased additional one-time payment (of $0.35/share) and stated the company was increasing the annual dividend to $2.17/share.
According to a press release, a special meeting of ARCT shareholders to approve the merger with Realty Income is scheduled for January 16th in New York (at 9:00 AM ET, at The Core Club located at 66 East 55th Street). If the deal is approved, and as I wrote on Forbes.com:
Realty Income will be the world's largest net-lease REIT and the 18th-largest publicly traded REIT. The combined company will have a $7.6 billion market capitalization and an enterprise value of $11.4 billion, a size that makes it a candidate for inclusion in the S&P 500.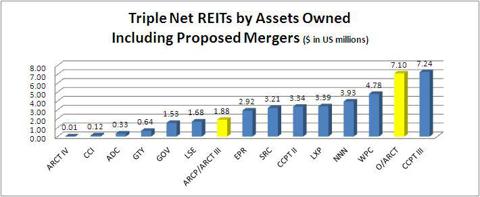 Note: CCPT III has free-standing and multi-tenant assets
Now all of the Triple-Net REITs have been gobbling up stand-alone assets and the driving force behind the aggregation strategy has been investor demand in high-quality income. In 2011 and 2012, Realty Income acquired over $1 billion in properties, and ARCT raised more than $1.7 billion in equity (from 2008 to 2011) with over 40,000 non-traded REIT investors (over four years).
Likewise, ARCT III, with assets of around $1.653 billion, is soon set to merge its non-listed REIT platform in an effort to provide a monetization event for its illiquid investors. In this announced "self-dealing" transaction, ARCP will roll-up the ARCT III assets and the result of the merged entity will be the fifth-largest net-lease REIT in the industry. The purchase price represents a going-in cap rate of about 5.9%.
Cole Credit Property Trust II: Where are Your Swim Trunks?
You all know this Warren Buffett quote:
Only when the tide goes out do you discover who's been swimming naked.
Buffett used the quote when he has referring to the foolish investments of large financial institutions exposed by falling home prices. However, the tide-going-out phenomenon can also be applied to Triple-Net REITs.
On August 27, 2012, Cole Real Estate Investments President and CEO Marc Nemer wrote (in Form 8K filed on August 27, 2012):
Last summer, we communicated to you that we believed we may be moving into a healthy market environment for a liquidity event for Cole Credit Property Trust II, Inc., and would be evaluating options to take this investment program full cycle. We want to provide you with an update on this important initiative.

Maximizing shareholder value is our highest priority, and the timing of any exit strategy is crucial. High-quality, income-oriented real estate portfolios like CCPT II are an attractive asset class in the present market environment. As you can imagine, maximizing value in an exit event is a long and complicated process, and the CCPT II Board of Directors and its advisors have been working hard to select the option that is best calculated to produce optimal results for our shareholders.
Nemer went on to explain (in the 8-K filing):
We can report that the CCPT II Board engaged Morgan Stanley and UBS Investment Bank in March 2012, after an extensive investment banking interview process, to move as expeditiously as possible toward a successful exit event for CCPT II.

The CCPT II Board is currently working extensively with Morgan Stanley and UBS Investment Bank on a few concrete options to create a successful exit transaction, and we hope to be in a position to share details with you soon. As the Board moves closer to making a final determination, we will make it a priority to keep you informed regarding our progress.
Then in a November 14 letter updating financial advisers, Nemer explained:
Numerous potential bidders have requested and received comprehensive portfolio information under confidentiality agreements.
Nemer said the company was seeking bids for the entire portfolio to be executed in a single transaction. However, he said the company was also allowing potential buyers to bid on one or more of the company's three major property types in the portfolio - single-tenant retail, multi-tenant retail, and single-tenant office and industrial properties - in order to "understand whether a combination of bids may yield a better price than a single bid."
Nemer noted that no final decisions have been made, but that the company expects to be
In a position to announce further updates regarding a liquidity event in the near future.
Upon review of the CCPT II portfolio, I see a variety of acquisitions last year (2012) including (source: SNL Financial):
* A 16-property portfolio of Ryan's Buffets for $40.4 million.
* A 20,400-square-foot property leased to Office Depot in Balcones Heights, Texas, for approximately $3.8 million.
* A 20,000-square-foot property leased to Office Depot in Morrisville, N.C., for about $2.9 million.
* A 2,996-square-foot property leased to Burger King in Durham, N.C., for roughly $837,500.
* A 45,000-square-foot property leased to LA Fitness in West Chester, Ohio, for about $8.2 million.
* A 13,220-square-foot property leased to CVS in St. Augustine, Fla., for $4.0 million.
* A 46,267-square-foot property leased to Best Buy in Kansas City, Kan., for about $8.1 million.
Now before I provide my take on CCPT II and the proposed "liquidity event," I want to provide you with my take on the ARCP / ARCT III deal.
Remember, 2012 was an active year for non-traded REITs - especially the ones that created successful monetization events, namely Healthcare Trust of America (NYSE:HTA) and Corporate Property Associates 15 that merged into W.P. Carey and American Realty Capital Trust.
However, not all non-traded REITs listed with similar success. Retail Properties of America (NYSE:RPAI) had to employ a reverse split that inflated the REIT's nominal price per share. Conversely, many of the non-listed REITs are delaying the inevitable that could result in a similar IPO dilution for investors.
Though the listing offers shareholders instant liquidity, the valuation of the shares has made it difficult to get a read on the Street's acceptance of the product. In the case of the ARCP / ARCT III roll-up, I am not convinced that ARCP investors benefit from absorbing the assets of ARCT III. For two reasons: First, the agreed upon cap rate of 5.9% is not realistic. I consider the motive self-dealing as ARCP should be able to acquire similar high-quality assets at cap rates ranging from 7.0% to 7.5%. Even with a larger portfolio sell like this one, I believe that ARCP could acquire the scalable portfolio in the cap rate range of 6.5% to 7.0%. Second, I think that ARCT III's primary motive is the fear of the "tide going out" or simply said, ARCT III is trying to beat CCPT II to the market with a staged liquidity event.
There is simply a war chest of non-traded triple-net lease product hitting the market. CCPT II has $3.338 billion in assets, CCPT III has $7.273 billion in assets, ARCT III has $1.653 billion in assets, and ARCT IV plans to raise another $1.74 billion (making this a $3 billion plus REIT).
As mentioned above, CCPT II has hired Morgan Stanley and UBS to create a monetization event for the portfolio. Remember that CCPT II has some "potential" conflicts of interest as the company is hoping to find the most value (ARCP's recent implied cap rate is 5.9%) while also maintaining asset management fee income. That begs the question: Is CCPT II "milking the fees while waiting on CCPT III to ramp up"?
Many of the non-traded REITs like CCPT II have become "long in the tooth" as they have not been able to exit the market due to the baked in costs (fees) and cap rates that are seemingly "under water."
In reviewing the CCPT II portfolio, it is clear that many of the properties in the portfolio are non-investment grade and due to the size of the portfolio it could be difficult for one buyer to stomach the broad composition of credits, especially since the valuations are likely to be nowhere close to the recent valuations driving O/ARCT and ARCP/ARCT III.
The proposed Realty Income/ARCT deal is accretive and I would be very surprised if ARCT shareholders don't approve the deal later this week - especially since Realty Income announced it would increase its dividend, making the yield closer to ARCT's current dividend yield (of 5.68%). Perhaps the most valuable ingredient for ARCT investors to consider is what I will discuss next: Seeking Alpha in a Triple-Net World.
Seeking Alpha in a Commoditized Triple-Net REIT World
One non-traded REIT industry insider once told me:
Non-traded REITs list (their shares) for one reason. That reason is for companies to raise blind pool capital for companies to eventually go public.
That seems like a true statement. Most non-traded Triple-Net REITs are terrific aggregators of assets and based upon the success of American Realty Capital and Cole Real Estate, the dominating free-standing sector has been on fire - with over $14 billion in assets assembled by the bunch. But remember, commoditization means that the products are the same (triple net leases) and every industry has leaders and laggards and the leaders are typically the most highly differentiated. How?
To answer that, here are a few lines from the Doobie Brothers tune, What a Fool Believes:
He came from somewhere back in her long ago
The sentimental fool don't see
Tryin' hard to recreate
What had yet to be created once in her life
The Doobie lyrics are straight forward. A love sick man is trying to recreate a virtual relationship; however, he is simply living a fantasy by "tryin hard to recreate what had yet to be created once in her life." The man is madly in love with someone that never really existed.
Could it be that non-traded REITs like ARCT III and CCPT II are motivated more by fantasized liquidity? Are the two love sick non-listed REITs trying to "recreate what had yet to be created"? In other words, are the "sentimental fools" hoping they will someday be dominating dividend champions like Realty Income, National Retail, or W.P. Carey?
After all, investors are flocking to the commoditized income products simply for the love of the dividend. Right?
So how does the broader group of commoditized Triple-Net REITs become highly differentiated? What is the strongest source of a REIT's differentiation that drives the power of the repeatable income model into durable and sustainable dividends?
That answer lies in this quote from Howard Marks (in The Most Important Thing):
Remarkable records based on decades of consistency and absence of disasters, not just high returns.
Let's take a closer look at W.P. Carey. On December 13, 2012, the company announced that it had increased its fourth quarter 2012 cash distribution to $0.66 per share, which equates to an annualized rate of $2.64. Payable on January 15, 2013 to shareholders of record as of December 31, 2012, this marks the Company's 47th consecutive dividend increase. This marks the 16th consecutive annual dividend increase that Carey has paid (as a public company).

National Retail Properties also recently announced a common dividend of $1.56 per share (paid in 2012) that marked the 23rd consecutive annual dividend increase, a milestone very few public companies have achieved.

Realty Income recently announced:
The company had declared an increase in the common stock monthly cash dividend to $0.15175 per share from $0.1514375 per share. The dividend is payable on January 15, 2013 to shareholders of record as of January 2, 2013. This is the 69th dividend increase since Realty Income went public in 1994. The new monthly dividend amount represents an annualized dividend amount of $1.821 per share as compared to the previous annualized dividend amount of $1.81725 per share. With the payment of the January dividend, we will have made 510 consecutive monthly dividend payments.
For "The Monthly Dividend Company" this marks the 19th consecutive annual dividend increase, and as I wrote in a previous article (O, I Love You Just The Way You Are):
Realty announced it would increase its dividend to $2.17/share upon closing of the transaction (upped from the previously announced proposed dividend of $1.95/share). Also, remember that upon closing the transaction, Realty Income's overall percentage of investment grade tenant concentration goes from 19% to around 36%.

As explained on Realty Income's website:
Keep in mind that there are extraordinary advantages for investing long-term in a company that regularly increases its dividend. The longer you hold the shares, the higher the yield you will receive on your original investment and the greater the impact of the cumulative dividend effect.

For example , the shareholder yield on cost table below illustrated the benefits of owning shares in Realty Income over a long time frame: if you purchased Realty Income shares on 10/18/94, the yield on the original price of those shares would have risen to 22.7%. This means that if you were to sell the shares today, you would have to find an investment that yielded 22.7% to receive comparable income.

The cumulative dividend effect is similar in that the longer you own shares, the less remaining original principal you have invested in the company. You can see from the table below, that if you purchased Realty Income shares 11 years ago, you would have received back over 100% of the original dollars invested via dividend payments. These combined benefits are only available with companies that pay reliable dividends that are regularly increased over time.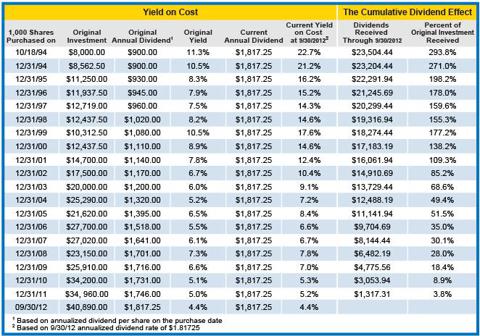 So when you boil it all down, the essence of intelligent investing should be to protect principal AT ALL COSTS (and avoid excessive fees associated with non-listed securities). For that reason, investors should consider the value behind a REIT's management team and specifically the leaders that demonstrate sound risk-control - for that is the mark of a superior investor. Essentially, risk-control is made up of two primary ingredients - integrity and experience - and the most successful REITs (like O, NNN, and WPC) are differentiated by executive management teams that have delivered consistent returns with an "uninterrupted record of dividend payments going back over many years." (Ben Graham)
Accordingly, the very best Triple-Net REITs are distinguished by their internalized management teams that have delivered exceptional risk control performance and the sharpest and strongest sources of differentiation (with no conflicts of interest). For that is the alpha in the commoditized Triple-Net REIT world.
In order to separate the foolish REIT investor from the intelligent REIT investor, we must not "follow the speculative crowd" or you are certain "to lose money in the long run." Remembering that "an (intelligent) investment operation is one which, upon thorough analysis, promises safety of principal and satisfactory return. Operations not meeting these requirements are speculative." (Graham)
In summary, the "alpha" is the TRACK RECORD, and when selecting REIT securities, keep the words of Howard Marks on the tip of your tongue:
Outstanding investors, in my opinion, are distinguished at least as much for their ability to control risk as they are for generating return.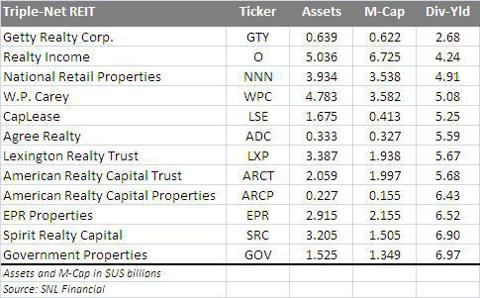 In my upcoming Intelligent REIT Investor portfolio (in the Forbes newsletter), I plan to overweight Triple-Net REITs with around 20% exposure to the sub-sector. I think it's important to overweight with the most durable dividend REITs since that is what makes me SLEEP WELL AT NIGHT.
Source: SNL Financial
Disclosure: I have no positions in any stocks mentioned, and no plans to initiate any positions within the next 72 hours. I wrote this article myself, and it expresses my own opinions. I am not receiving compensation for it (other than from Seeking Alpha). I have no business relationship with any company whose stock is mentioned in this article.