2012 was another good year for stock markets. The year ended with the Dow Jones rising 6.9%, while the S&P 500 index rose 13%. The technology-heavy Nasdaq index performed even better, rising 16%.
On a $100,000 virtual portfolio built on Kapitall, returns greatly underperformed in 2012. The portfolio was structured to be overweight undervalued companies on the verge of turning around. To decrease market risks, holdings across different sectors are made, giving a sector diversification score of 66%.
This portfolio is managed concurrently with real money. The purpose of this approach is to test and track investing ideas before entering real-life trades. In addition, the portfolio may be shared with other investors, which provides an opportunity to validate investment ideas.
For most of the year, the portfolio held mostly cash. The portfolio is currently over 40% in cash: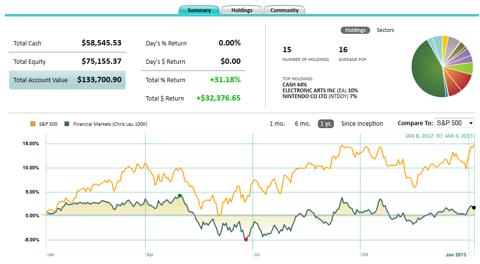 Since inception, the portfolio returned 33.7%, but still underperformed the benchmark S&P 500 index. A combination of unlimited quantitative easing and short-term solutions for country debt problems is skewing stocks. Markets lacked volatility for most of 2012, as measured by the VIX (NYSEARCA:VXX). The volatility index declined 80% from its 52-week high.

Outlook
Negativity was building during the fourth quarter of 2012, but markets reversed this sentiment after the "fiscal cliff" was averted. The government now has until the end of February 2013 to deal with its debt ceiling. Investors should expect the debt ceiling to be raised. Stronger economic figures from China are giving optimism for resource stocks. China's HSBC composite PMI increased in December 2012 to 51.8. This is up from 51.6 in November 2012. A lack of any negative developments in Europe should also give stocks some additional positive momentum in the first quarter of this year.
Volatility could remain muted, which will limit investment opportunities made by buying oversold stocks. Investors should consider implementing a strategy that is consistent year-after-year, unless circumstances change. Quarterly earnings will be in focus in the next few weeks. Investors should expect firms to blame uncertainties led by the "fiscal cliff" to be primary reason for underperformance.
Holdings for 2013
The top 10 holdings are:
| | |
| --- | --- |
| NAME | % Allocation |
| Electronic Arts Inc. (NASDAQ:EA) | 10.0% |
| Nintendo Co. Ltd. (OTCPK:NTDOY) | 7.2% |
| PIMCO Total Return ETF (NYSEARCA:BOND) | 6.6% |
| American International Group (NYSE:AIG) | 6.5% |
| NovaGold Resources Inc. (NYSEMKT:NG) | 5.4% |
| Arena Pharmaceuticals, Inc. (NASDAQ:ARNA) | 4.0% |
| Theravance Inc. (THRX) | 3.7% |
| Vivendi (OTCPK:VIVHY) | 3.5% |
| Cliffs Natural Resources Inc. (NYSE:CLF) | 3.3% |
| BP plc (NYSE:BP) | 2.8% |
| Cash | 43.8% |
The rationale for 5 of the holdings are discussed below.
Electronic Arts and Nintendo
Heavy weighting was made for undervalued companies. In the entertainment and gaming sector, Electronic Arts underperformed in 2012 by dropping around 30%. Nintendo lost 26.7% in the last year, but represents a heavy weighting. Patient investors should look for Nintendo to potentially bring interest to consumers for console gaming. The Wii U is the first console update in many years. Sony (NYSE:SNE) and Microsoft's Xbox (NASDAQ:MSFT) will not have an update until 2014 at the earliest.
In early January 2013, GameStop (NYSE:GME) reported a decline in holiday sales in the U.S. Sales declined 4.6% and globally by 3.5%. The used-game reseller's report still supports the bullish thesis for Nintendo and EA. GameStop offset weak store sales by experiencing stronger sales in digital sales and interest in the new Wii U. For the last several quarters, digital sales are growing as a greater proportion of sales for EA.
Another challenge facing EA is strong demand for mobile games. Sales in traditional games made by both EA and Nintendo will need to compete with inexpensive mobile games. For 2013, EA will continue to use strong mobile channels to promote its game titles.
Fixed Income
The portfolio continues to be heavily weighted towards safety: cash and PIMCO's Total Return ETF represent a combined 50% of the portfolio. Cash will provide no return, and the bond fund will add no more than 0.6% in returns (if the fund returns 10% again in 2013). Positive returns are possible in 2013, following-through from 2012. Strong investor interest in bonds as an asset class increased in 2012. Over $300 billion flowed to bond mutual funds in 2012. The inflow was five-times higher for bond ETFs. If interest remains strong, the position in this ETF could be increased.
Financial Sector
In the financial sector, AIG represents 6.5% of holdings. An exit by Treasury in shares of AIG should reduce the overhang that weighed on its shares. Ongoing sales for non-core assets will help realize asset value, and a higher share price for shareholders, while improving its balance sheet. In December, a lockup in its Asian life insurance allowed AIG to realize billions in value. The U.S. government sale of its stake is also a positive event. Finally, AIG is working with People's Insurance Company of China. By selling life insurance in the region, AIG may find new growth avenues that are not yet being recognized by the market.
In the short-term, AIG shares are dropping on negative media attention on Greenberg's $25 billion lawsuit against the government. This provides for the opportunity to increase a position in the company. AIG is valued with a P/E of just 2.4 and a forward P/E of 10.
Resources
Cliffs Natural Resources , whose shares are up around 34% from a 52-week low, currently pays a dividend of 6.67%. Cliffs and its competitors are reducing iron ore output and exploration capital expenditures in response to lower iron ore prices. In the last quarter, iron ore prices rebounded, as discussed here. Cliffs will likely report another weak quarter. This may provide an opportunity to build a bigger position in the company.
Looking to its next quarterly report, Cliffs could report weak results. The company sold its stake in the Brazil Amapa iron ore project, recording an impairment charge of $380M to $420M. The non-cash charge will show up in its next quarterly earnings report. The capital expenditure guidance for 2013 and forecast on iron ore prices by Cliffs will be in focus. A sustained improvement in iron ore prices will also help a recovery in the share price in Cliffs Natural Resources.
Disclosure: I am long EA. I wrote this article myself, and it expresses my own opinions. I am not receiving compensation for it (other than from Seeking Alpha). I have no business relationship with any company whose stock is mentioned in this article.