The Wall Street Journal reported tonight that component orders for Apple's (AAPL) iPhone 5 were going to be cut substantially for the first quarter of 2013. While the report is certainly not confirmed (although the Wall Street Journal is a credible publication), it makes sense given the harsh competitive landscape that Apple's now playing in.
Now, I would not feel particularly comfortable shorting Apple on this news, especially given that poor sales and negative sentiment have been baked in time and time again. There could still be some downside here, especially if the $500 "psychological" support fails to hold, but Apple is such a fundamentally strong company that I would still be hesitant to go short there (and would probably buy the dips once a bottom seems to form <$500).
However, this news may be the perfect catalyst to start making some trades on some Apple suppliers that could move pretty big on this news. In particular, I have one potential sell/short and a potential buy on the dip should it come in.
The Buy: Qualcomm
The stock that I would be incredibly comfortable buying on any dip would be Qualcomm (QCOM). While I have detailed the long case more deeply here, the line of reasoning for buying Qualcomm on weakness is as follows:
If Apple's smartphone sales are weak, this implies Apple is losing market share to another phone vendor. All of the major vendors use Qualcomm's 4G modems and the great majority use Qualcomm's apps processor, the "Snapdragon S4", so this is at the very worst a "neutral" for Qualcomm and in the very optimistic scenario a positive since Qualcomm may also sell an apps processor to a competitor
Qualcomm's earnings are coming up soon and the company is, on the back of secular smartphone strength in addition to strong market share, likely to outperform as it has done for the last several quarters.
In short, when Qualcomm is panic-sold along with Apple, it is generally a good idea to start scaling into a position.
The Sell: Cirrus Logic
A quick look at Cirrus Logic's (CRUS) chart shows that it essentially trades as a 2-3x leveraged Apple: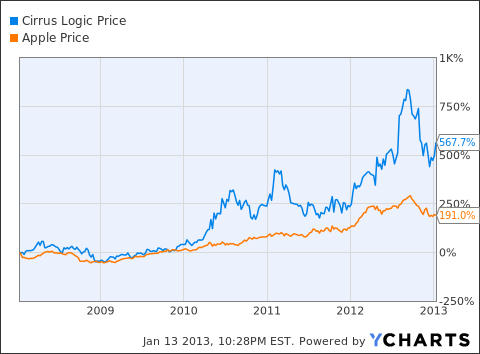 This makes perfect sense: over 60% of Cirrus Logic's sales come from Apple and it is not as well diversified as Qualcomm, so share losses on Apple's part represent a clear negative for shares.
Further, the stock took a pretty massive dive from its 52-week high of ~$45 despite a nice earnings beat as concerns of margin pressure hit the company.
A short term target to the $25-$27, where the stock has seen strong support over the last year, would be a reasonable point to cover a potential short on this news.
A Word Of Caution On Going Bearish
Some may be tempted to simply outright short Apple rather than try to pursue a more "backdoor" play such as those described here. Further, some might want to play the bearish side of the component supplier trade rather than the long idea mentioned here.
A big risk to all of this would be Apple announcing that iPhone 5 orders were cut to, say, make room for an iPhone 5S or an iPhone 6. While the increased R&D and shorter product cycles are still probably a negative to Apple's extreme margin profile, the component suppliers still "win" regardless.
Additionally, there seems to be a lot of smoke surrounding Apple losing ground to competitors. The earnings report on January 23rd could prove the bears (and all of these reports) completely wrong and as a result lead to a "rising tide" lifting all boards in the ecosystem. The risk/reward, then, is definitely on the side of buying a strong company that isn't particularly levered to Apple but still gets unfairly punished when the "bad news" hits.
Conclusion
If Qualcomm drops significantly on this news, take the opportunity to start building a position or start selling puts at your desired entry point. The company is fundamentally sound and benefits from secular increases in wireless adoption.
Cirrus Logic, given how heavily levered it is to Apple, could also be a strong short-term short candidate on any fundamental weakness in Apple's iPhone sales. That being said, the company is taking longer-term steps to diversify its customer base, so I would not hold it as a long term "conviction" short.
Disclosure: I have no positions in any stocks mentioned, but may initiate a long position in QCOM over the next 72 hours. I wrote this article myself, and it expresses my own opinions. I am not receiving compensation for it (other than from Seeking Alpha). I have no business relationship with any company whose stock is mentioned in this article.
Additional disclosure: I may initiate a short position in $CRUS over the next 72 hours.