After spending most of last year calling out equity Closed-End Funds (CEFs) that would lower their distributions...and virtually all of which did, I am now shifting to looking at funds that are in a position to raise distributions in 2013.
How do you know which funds are in a position to raise their distributions? I'm going to use my Equity CEF Performance Spreadsheet to perform an analysis to see which funds have seen their Net Asset Values ((NAV)) increase the most over the past year after distributions. Many funds have seen phenomenal total returns on their NAVs and market prices since January 2012, but it's the funds that are actually growing their NAVs after distributions that are in a position to raise their distributions, particularly if they have relatively low NAV yields, say in the 5% to 7% range. Here are the top funds (shown in green for funds over 10%) which have had the largest Actual NAV Growth since January 2012.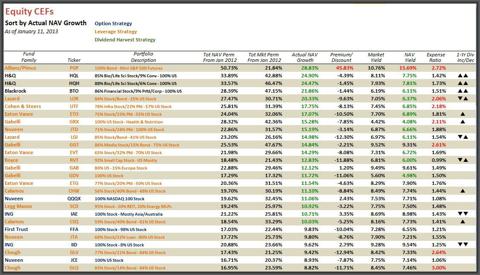 Now just because a fund has been able to show actual NAV growth even after distributions doesn't mean the fund is in a position to raise their distribution. If they have a relatively high NAV yield to begin with, such as the PIMCO Global StocksPlus & Income fund (NYSE:PGP) at a 15.7% NAV yield, it's going to be difficult for them to justify a raise, even with such strong actual NAV growth.
In fact, I believe a fund would need to see at least twice an actual NAV growth over their NAV yield before a distribution increase could be considered. In other words, a fund with a 6% NAV yield would need to see at least a 12% actual NAV growth year over year to be in a position to raise its distribution. And that is assuming, of course, we continue in a strong market environment.
Going back to the table above, I have highlighted in green funds in the NAV Yield column that have seen actual NAV growth of at least twice their NAV yield. Here, PGP doesn't make the cut and actually gets a red flag in the NAV yield column because I consider any fund paying over a 12% NAV yield to be in the danger zone of possibly needing a distribution cut in the future. So PGP's 15.7% NAV yield would mean the fund would have needed at least a 31.4% actual NAV increase year over year, something that would be difficult for even PGP's NAV to do. But one more year like last year and who knows.
Equity CEFs That Have Already Raised
Taking this second filtering into account results in 12 funds which have green in both columns, i.e. could be in a position to raise their distribution. What's interesting is that seven of these funds have already raised their distributions just in the past six months. Here are the seven listed in chronological order:
Now some funds, like RVT, have distribution percentage policies which make up any shortfall or windfall in their last payment of the year. And some funds, like LOR and LGI, establish new distributions based on how the NAV performed the year prior. This is why you'll see funds like these which may raise or lower their distribution multiple times over a year period (far right column in the table).
However, there are funds, like ETO, which have kept their distribution the same for years while growing their NAV along the way. ETO had been paying monthly distributions faithfully ever since it went public at a $19.10 NAV in April, 2004 though had not made any distribution adjustments since December 2008. With a current $23.52 NAV, i.e. much higher than its inception NAV, superior NAV performance and a relatively low NAV yield, ETO was ripe for a raise and I even said that in an article I wrote just a week before it actually did raise. You can read that article here.
Equity CEFs Which Could Raise In 2013
So which funds might also be in a position to raise if the markets continue their strong performance? Going back to the table above, I've identified five additional funds shown in green which have not adjusted their distribution for the past 2 years and some going back 3 to 4 years. They are...
A fifth fund, the Gabelli Healthcare & WellnessRx fund (NYSE:GRX), probably has more reason than any to raise with its exceptionally low 4.1% current NAV yield and 15.3% actual NAV growth (28.3% total NAV return) since January 2011, but Gabelli declared late last year that they would keep GRX as a capital appreciation fund first and thus maintain GRX's current $0.10/share per quarter distribution despite my calling for a distribution increase. Still, GRX had a fantastic year in 2012 as evidenced by its superior NAV and market price performance and the adoption of its recurring $0.10/share per quarter distribution that began in June of last year.
Equity CEFs Still In The Danger Zone Of Distribution Cuts
Flipping the table upside down, here are the funds which are still in the danger zone of a distribution cut either because they have a NAV yield over 12% (shown in red in the NAV Yield column) or because their payout percentage did not cover their actual NAV growth percentage (shown in red in the Actual NAV Growth column). All return information is from January 1, 2012 through January 11, 2013.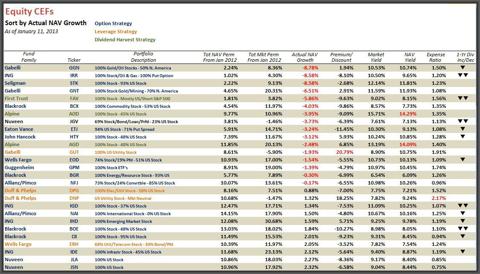 Many of these funds have already cut over the past year (far right column) however, several have not and should. The two funds that have red in both columns, the Alpine Total Dynamic Dividend fund (NYSE:AOD) and the Alpine Global Dynamic Dividend fund (NYSE:AGD), I have been negative on for quite some time and frankly, should cut immediately if they want to see any turn around in their NAV growth. The problem with 14%+ NAV yields is that each distribution is more likely to destroy equity in the fund and thus, make it that much harder for the fund to maintain its current distribution. Do that enough times and the result is a slow but sure downward spiral in the fund's NAV.
Alpine recently announced a new team approach to managing AOD and AGD and I believe we may hear of some changes as soon as the next week or two. Two other funds on the list, the Seligman Premium Technology Growth fund (NYSE:STK) and the Gabelli Natural Resources Gold & Income fund (NYSE:GNT), are also right on the border of a 12% NAV yield and negative actual NAV growth as well and should be watched in case the markets take a turn for the worse.
Conclusion
Most fund sponsors are inclined to maintain current distribution levels for consistency sake and none of these funds are guaranteed to actually raise or lower their distributions any time soon. However, my analysis has resulted in the forewarning of many distribution cuts in the past. Here's hoping my prognosticating on distribution increases is just as prophetic.
Disclosure: I am long UTF, JTD, ETO, EVT, GRX, RVT. I wrote this article myself, and it expresses my own opinions. I am not receiving compensation for it (other than from Seeking Alpha). I have no business relationship with any company whose stock is mentioned in this article.