Despite an IPO on July 26, 2012, AmREIT (NYSE:AMRE) has a long history which is about to impact current shareholders in a big way. In this article, we will uncover the crucial details of a forgotten past and analyze how to profit when it comes into play. Specifically, we will look at an event that will likely cause a price dip and demonstrate why a purchase during that dip would be a strong investment for above-market returns.
The impending event
To understand what is about to occur, we must first introduce the events which caused it. AmREIT was initiated over 28 years ago. It ran smoothly (under ticker symbol [[AMY]]) up until the Great Recession during which the board of directors chose to delist the company. Shareholders retained their common stock and voting rights, but could no longer trade. Coming out of the recession, this REIT decided to once again go public, but not with the present shares. The July 2012 IPO consisted of a new category of common stock called Class B and the former common stock was designated as class A. Each class has identical rights to voting, liquidation and distributions, but only the new shares are publicly traded. As of today, AmREIT's equity structure is as follows:
0 preferred shares
11,657,563 shares of Class A common stock
4,465,725 shares of Class B common stock
Total stockholder's equity: $167,986mm
Currently only 27.69% of the common stock is publicly traded, but that is about to change. AMRE announced that the Class A common stock will be exchanged for Class B no sooner than 6 months after the IPO. Therefore, such an exchange could occur any time after January 23rd 2013 and is tentatively scheduled for April. Half of the shares will be converted in the first batch with the second half projected to exchange in October 2013.
Why this event could cause a price disruption
Given that all 11.657mm shares of Class A have been held illiquid for over 3 years, it seems reasonable that a sudden liquidity event would result in a flux of selling with various drivers.
Prior to going off the market, it traded at a much lower price (under $7 pre-split equivalent), so some may be eager to cash in on the appreciation.
3 years is a long time during which some investors may have run into financial trouble and need the money as soon as possible. The selling that normally occurs for this reason has been delayed by the illiquidity only to be released in a burst once going public affords selling.
Some investors may be agitated by how long their money was held captive and sell to get away.
The reasons investors might want to sell after so many years of illiquidity are countless, but the primary reason it will have such a large effect is that they are all cumulative and there is absolutely no increase in demand to balance it out.
All investors already have access to buying the stock, so the Class exchange will have no impact on demand, only increasing the supply of shares. Basic economics tell us that an increase in supply unmatched by demand will reduce market price.
The size of the effect is amplified by the sheer volume of new supply as compared to demand. With a 3-month average daily trading volume of only 24,289 and 5,878,781 shares coming to market on each assigned exchange day, there may not be enough buyers to support the selling volume. This sort of activity can cause market price to plummet below rational levels until enough investors become aware of it.
As historical evidence, we can look at Facebook (NASDAQ:FB) which experienced temporary price drops repeatedly as insider shares became unlocked.
The opportunity
Knowing that such an event is about to happen and the effect it might have on market price provides us with the ability to anticipate it and capitalize immediately on AmREIT trading materially below where it should.
The crucial aspect and the source of opportunity from this event is that it is strictly a price disruption with absolutely no effect on earnings or operations. The shares already exist, so it is not dilutive, it is simply pre-existing shares becoming liquid.
A material price drop without any underlying cause necessitates that the stock was either overvalued before the drop or undervalued afterward. Each of these would mean opportunity that can be capitalized on in the following ways:
1) If the company is presently overpriced, it can be shorted in anticipation of the impending correction.
2) If the company is presently NOT overpriced, it becomes undervalued upon the price drop and purchase at the temporarily low price will generate returns as it normalizes.
Through fundamental analysis, I will demonstrate that AmREIT is presently a fair value and will therefore become an opportunistic pick-up as the liquidity event negatively impacts share price.
Operations
AmREIT's third quarter 10-Q provides a succinct description of its operations:
"As of September 30, 2012, our portfolio consisted of 29 wholly-owned properties with approximately 1.2 million square feet of GLA, which were 96.8% leased and occupied with a weighted average remaining lease term of 5.3 years. Our neighborhood and community shopping centers accounted for 89.1% of our GLA and 90.9% of our annualized base rent as of September 30, 2012. Our single-tenant retail properties comprised 10.9% of our GLA and 9.1% of our annualized base rent."
It has a fairly diversified tenant base detailed below.

Since the third quarter, it has made numerous acquisitions bringing its property total to 34. Among these, 27 are located in Dallas, Houston, Austin and San Antonio.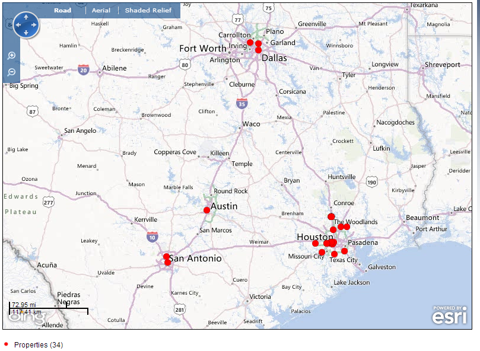 Such precise sub-market targeting is the basis of AMRE's competitive edge.
Competition
AMRE is dwarfed in size by its primary competitors
| | | | |
| --- | --- | --- | --- |
| Company (ticker) | Market Capitalizaion | Properties # | Retail Gross Leasable Area* (sq. feet) |
| AmREIT | $0.279B | 34 | 2.109mm |
| Acadia Realty Trust (NYSE:AKR) | $1.289B | 91 | 7.508mm |
| Equity One (NYSE:EQY) | $2.591B | 178 | 20.689mm |
| Saul Centers (NYSE:BFS) | $0.866B | 57 | 7.932mm |
| Federal Realty (NYSE:FRT) | $6.817B | 94 | 20.210mm |
| Regency Centers (NYSE:REG) | $4.365B | 340 | 41.498mm |
| Weingarten Realty (NYSE:WRI) | $3.359B | 301 | 54.800mm |
| Urstadt Biddle (NYSE:UBA) | $0.619B | 54 | 4.413mm |
| American Assets Trust (NYSE:AAT) | $1.130B | 25 | 3.031mm |
*most recent reported data by SNL Financial
However, its aforementioned concentration in Texas submarkets has allowed it to obtain a dominant market share such that it has bargaining power with tenants. Additionally, these submarkets contain excellent demographics as can be seen from this slide from AMRE's presentation.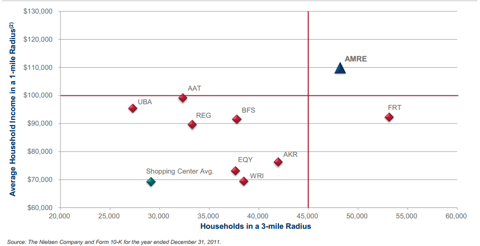 While the specific mile radiuses may have been "cherry-picked" by AMRE for the most favorable presentation, it still demonstrates that its locations have access to relatively more numerous and affluent customers.
These consumer demographics create favorable leasing with healthy occupancy and rates: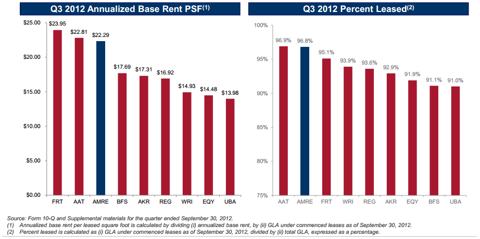 AMRE takes an anchor-focused approach, carefully maintaining 100% occupancy in its anchor space which is primarily leased to locally dominant grocers. Five out of 6 of these grocers are in the top 2 in sales per square foot within the submarket.
Overall, AmREIT seems to be operationally near the head of its comp group. This manifests in above-average NOI growth and bargaining power upon lease expiry: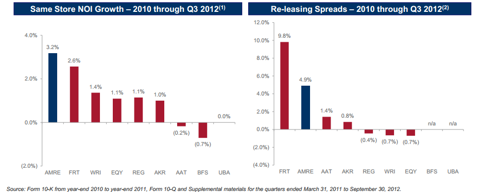 Outlook
Retail sales are strong and growing as the unemployment rate declines, Look for AmREIT to continue to up its earnings and perhaps the dividend too. Its higher income demographic may provide some resistance to recessions as compared to the otherwise highly cyclical retail market.
Finances
AmREIT's finances are characterized by ample liquidity and a mediocre cost of capital. Liquidity is provided by a mostly untapped $75mm credit facility and a lack of debt coming due in the near term.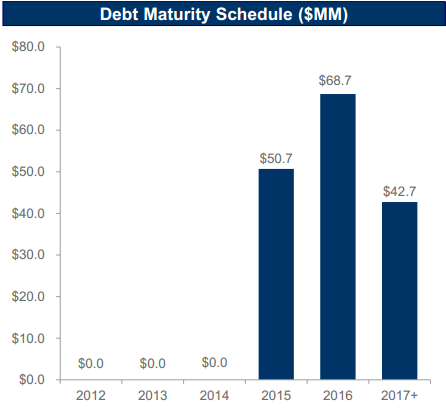 At LIBOR + 205-275bps, the credit facility comes at a fairly average cost. The same is true of its fixed-rate debt which comes in at a weighted average 5.0% with an average maturity of 4.4 years.
Valuation
Sturdy operations and finances are matched with above-average valuation. Its recent market price of $17.32 translates to the following valuation metrics:
Price-to-FFO: 16.1
Price-to-equity: 1.66
US Equity REITs average an FFO multiple of 15.9 and I like to buy below book value, so in my opinion, AmREIT has a slightly high valuation. However, I believe it is justified by strong fundamentals, making AMRE a fair value.
Purchase at its current price seems to be a decent investment, but there may be a better opportunity in the near future. If the previously mentioned liquidation event does indeed create a price dip (I think it will), we will be given a strong investment opportunity to capture the return to a normalized price along with the operational performance of this healthy company.
Counterargument and risks
While it was not bad for the overall company, it could be considered underhanded to offer new shares before providing liquidity to its shareholders. Some will undoubtedly be agitated, sell their shares and not come back.
Risks and how AMRE deals with them
· Supply: Retail as a sector has a notoriously low barrier-to-entry. AmREIT uses precise location targeting, capturing what it refers to as "irreplaceable corners," in an attempt to thwart competition. Historically it has helped, but we must remain aware of the possibility of supply threat.
· Cyclicality: As previously mentioned, an affluent demographic should mitigate some recession risk, but this has not always held up. AMRE got hit with the rest of its sector during the Great Recession.
There is also the possibility that the liquidity event will not create a price dip. Many of the holders of the currently illiquid shares may not even be aware of it. If investors do not realize they can sell, a sell-off will not occur. If there is no price dip associated with the release of shares, AmREIT remains an ok investment, but I do not see it outperforming the market unless acquired opportunistically.
Conclusion
A liquidity event which is relatively unknown to the public is about to hit and it will likely create a material drop in stock price completely isolated from actual company fundamentals. Purchase during the dip represents an opportunistic investment with returns catalyzed by a re-normalization of market price.
Disclosure: 2nd Market Capital and its affiliated accounts are long AMRE Class A (cusip # 03216B109). This article is for informational purposes only. It is not a recommendation to buy or sell any security and is strictly the opinion of the writer.
Disclosure: I am long AMRE. I wrote this article myself, and it expresses my own opinions. I am not receiving compensation for it (other than from Seeking Alpha). I have no business relationship with any company whose stock is mentioned in this article.