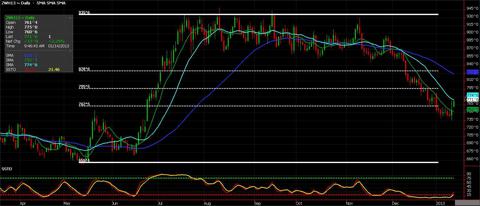 In the last three months prices of CBOT wheat futures are lower by 20%, trading lower by $2/bushel. Prices have completed more than a 61.8% Fibonacci retracement but last week it appears an interim low was established. While the USDA report last Friday was not particularly bullish for wheat I expect to see spillover strengths from movement in the other ag markets. Last week the USDA reported that US wheat stocks grew due to a 50 MBU reduction in exports. Both US and world stocks exceeded expectations. Bullish movement in corn may help. US corn numbers signaled the need to keep old crop corn prices elevated to insure the rationing takes place. In this environment a trade north in corn should lift wheat prices.
As seen above last Friday, a lower trade was rejected and prices reversed on the report closing at the 9 day MA, identified by the green line. Follow through today as traders are finding value in the grain sector and as of this post prices of March futures are higher by 2.25% trading just under the 20 day MA, identified by the light blue line. I have advised clients to establish bullish exposure via futures and options thinking we see further appreciation to come. I think it is feasible to see a March trade north of $8.30/bushel in the coming weeks.
My suggestion would be to get some skin in the game and as prices appreciate I would be willing to add to the trade and try to stay with it for the next several months.
Risk Disclaimer: The opinions contained herein are for general information only and not tailored to any specific investor's needs or investment goals. Any opinions expressed in this article are as of the date indicated. Trading futures, options, and Forex involves substantial risk of loss and is not suitable for all investors. Past performance is not necessarily indicative of future results.
Disclosure: I have no positions in any stocks mentioned, and no plans to initiate any positions within the next 72 hours. I wrote this article myself, and it expresses my own opinions. I am not receiving compensation for it. I have no business relationship with any company whose stock is mentioned in this article.