This article will focus on a stock screen that I ran looking for high paying dividend stocks that have that have a decent payout ratio. The stock screener had the following attributes:
A market capitalization of a large or mega cap stock
A component of the NYSE or the NASDAQ
A dividend yield of 6% or greater
A payout ratio below the industry average
Please note that on the following stocks, no further research other than what is being presented has been conducted. Please conduct your own research and due diligence before deciding if you would like to invest in these stocks. This screener was run on Jan. 7, 2013, during the trading day around 12:10 pm pacific. The screener was run again in the morning on Jan. 14, 2013 and it produced five stocks as well. The difference was that it produced Petr (NYSE:PBR) instead of Banco Santander (NYSE:SAN). Since analysis was performed on the first five stocks, that will be highlighted here.
In a future article, I will discuss Petr and I do personally recommend the stock and own it in my real life portfolio. I feel that the dividend yield for it may not qualify it for this screen because its dividend is based on earnings and in 2012 the yield has not been at least 6%. I know that based on the dividends I have received from the stock. Its dividends are declared monthly in some cases and it is typically a dividend that Yahoo! Finance and other places will not be accurate on. This looks to me why it was included in this screen when it should not currently be included.
The first stock produced by this screen was Exelon Corporation (NYSE:EXC). Over the past 52 weeks, the stock price of this company has fallen by 26.62%. Over the past five days, however, the stock is up 4.16%. It has a market capitalization of $25.56 billion, which makes it the third smallest company of this screen by market cap. The company is in the electric utilities industry. It currently pays an annual dividend of $2.10, giving it a current yield of 6.9%. It has a trailing P/E ratio of 16.62 and a forward P/E ratio of 11.78.
Exelon Corporation is involved in the energy generation and distribution business. Based on current consensus analyst estimates, the company is forecasted to have $2.84 in eps. It currently pays a $2.10 dividend, which gives it a payout ratio of 73.94%. Based on analyst estimates, the 2013 eps is forecasted to fall to $2.54. This would increase the payout ratio if it pays the same dividend next year. The current price target of the stock by analysts is $33.88. Based on its most recent September balance sheet, the company has $1.84 billion in cash. According to its 2011 full year cash flow statement, $1.393 billion in dividends were paid out.
Some potential price catalysts for the future for this stock are as follows. First, its 52 week price range is $28.40-$40.40. A simple move back to its 52 week high from current price levels would produce a phenomenal price return of at least 30% if that can be achieved within the next year. Typically, unless the fortunes of the business take a turn for the worse, I have found that a stock can easily trade higher with some good news. With the current analyst estimate for 2013 eps of $2.54, a revision upward if the business improves would move earnings closer to what they are forecasted to be for 2012. As this article points out, an increase in natural gas prices in 2013 could be this catalyst. Also, any stock buybacks or a dividend increase by the company could also boost investor confidence and the share prices. Investors should keep an eye on this stock because of its healthy dividend yield and because the company is the largest provider of nuclear power in the nation.
The next stock produced by this screen was Annaly Capital Management, Inc. (NYSE:NLY). Over the past 52 weeks, its stock price has fallen by 6.96%. It has a market cap of $14.34 billion, which makes it the smallest company of these five by that metric. It is in the miscellaneous financial services industry. It currently pays a generous dividend of $1.80 per share per year, giving it a current yield of 12.10%. It has a trailing p/e ratio of 10.14 and a forward p/e ratio of 9.95.
Annaly Capital Management is a real estate investment trust. It is currently trading at $14.68 as of 1/7/2013, toward the lower end of its 13.72-17.75 52 week range. Also, on 1/7/2013, TheStreet recommended the stock as it reiterated its buy recommendation on it. Analyst estimates for the fiscal year ending in December of 2012 call for earnings per share of $1.54. The amount paid out in 2012 has been $1.80. This is typical for a real estate investment trust, as its payout is based on free cash flow. The 2012 cash flow statements for this company show a tremendous amount of money has flowed in from net borrowings. With low interest rates being the norm in this current business environment, it may prove to have been a great time for the company to borrow money.
Investors should keep an eye on Annaly Capital Management because of the tremendous dividend yield that it pays. Also, as this article points out, the company has authorized a $1.5 billion share buyback program. This is a great potential catalyst for the stock as share buybacks can easily increase the share value. With Annaly Capital Management trading toward the lower end of its 52 week price range, a move back up to the top end of the range would provide a great one year return when added to its whopping dividend yield.
The third stock produced by this screen was Banco Santander S.A., ADR . Over the past 52 weeks, its stock price has risen by 16.11%. That makes this stock the top performer for recent 52 week price change out of the five stocks highlighted here. It currently has a market cap of $78.52 billion and pays an annual dividend of .60, for a yield of 7.3%. The company is in the regional banks industry. It has a trailing p/e ratio of 32.30 and a forward p/e ratio of 9.09.
Banco Santander is in the banking business. For the year ended December 31, 2012, analysts estimate the company will earn .37 per share. In 2013, this estimate increases to .91 per share. I attribute the strong recent 52 week performance for this stock to increased profitability for banks in general and in the improving sentiment for investing in the finance sector. Banks (financials) have been some of the best performing large cap stocks in 2012. A recent Forbes article has an author that is bullish on the sector again for 2013.
Banco Santander is a great way to play a potential rebound in the global economy while locking in some current value with where the company is at currently with its business as it is. I view it as a low risk play for this reason, as it is a strong bank with potential upside if the global economy returns to levels last seen in 2007. While some large international companies are struggling to remain profitable during these times, Banco Santander is forecasted by analysts to grow earnings by 145.9% in the coming year. If this is realized, in my opinion this is not even considering a strong global economic rebound. I think this earnings number can drastically increase and with the share price being only around $8.50, I definitely think it is worth a look.
The next stock produced by this screen was Telefonica S.A. ADR (NYSE:TEF). Over the past 52 weeks, its stock price has fallen by 21.29%. On May 15, 2012 according to Yahoo! Finance historical price information, it paid a dividend of $1.083. Based on its current price of $13.63, that gives it a current yield of 7.95%. It has a current market cap of $60.84 billion. The company is in the communications services industry. It has a trailing p/e ratio of 7.63 and a forward p/e ratio of 8.36.
Telefonica is in the telecom industry. Its current analyst consensus eps estimate for 2012 is for $1.62. Based on its 2012 dividend of $1.083, this is a payout ratio of 66.85%. For 2013, earnings are estimated to be flat at $1.63 per share. Its December 31, 2011 balance sheet shows that it had $5.368 billion of cash on hand at that time. Its 2011 cash flow statement shows that free cash flow (operating cash flow less capital expenditures) covered the dividends paid out. Rumor has it that the company has recently decided to consider an IPO for its Latin American operations since it feels that markets have undervalued it.
I think telecom stocks are a safe play. Out of U.S. stocks, AT&T (NYSE:T) and Verizon (NYSE:VZ) are two of my favorite plays. This is another stock that could benefit from a potential global economic rebound. With its flat earnings estimate for 2013 compared to 2012, I think there is a potential for this to be revised upward with any signs of improvement in its business. With the tremendous stock rallying we have seen in U.S. markets, in my opinion the global market strength will follow. Telefonica is only priced at $14.59 per share as of the market close on 1/11/2012 and this stock is a great way to lock in a high yield with a company that is earning a good amount of money. I view a purchase of these shares as a much wiser decision than purchasing shares of Frontier Communications (NYSE:FTR) because Frontier's earnings are far lower per share and its dividend has already been cut once recently. Out of telecom stocks, I would favor Telefonica over Frontier or Windstream (NASDAQ:WIN) at this point. You would pay a higher per share price for Telefonica but you get higher earnings per share as well as enhanced global market exposure. This global market exposure, I believe, will reward long-term investors.
The final stock produced by this screen was Williams Partners L.P. (NYSE:WPZ). Over the past 52 weeks, its stock price has fallen by 19.56%. The company has paid an annual distribution this year of $3.23, giving it a yield of 6.4%. This company differs from the other ones in this article because it is a partnership and pays distributions, which are taxed differently than dividends are as the owners of stock for this company will receive a K-1. It has a current market cap of $17.7 billion. The company is in the natural gas utilities industry.
Williams Partners is an energy infrastructure company. Analysts estimate that the company will earn $2.07 per share in 2012 and $2.47 in 2013. Its 2012 annual distribution far exceeded its earnings per share. In looking at the three 2012 cash flow statements, I attribute this annual distribution to the funds received from the sale of stock and from net borrowings. The stock has a 52 week range of $45.01-$65.39 and is currently trading at $50.08 as of 1/7/2012. Recently this week, the company is seeking approval to expand its New York natural gas service. On April 26, 2012, an insider purchased 16,360,133 shares for $61.12 per share.
Williams Partners is also trading toward the lower end of its $45.01-$65.39 52 week price range. With its forecasted earnings estimate for 2013 being significantly higher than its one for 2012, I conclude that there is a good chance for there to be a higher annual distribution in 2013 compared to 2012. This potential increase in the distribution would prove to be a great catalyst as I would expect the yield to stay the same in this scenario, which would produce a higher stock price (all else being equal). This of course, would have to be supported by more insider buying from beneficial owners and/or from net borrowing. With earnings forecasted to be on the rise, that alone would be a great catalyst. If natural gas prices increase, this could potentially increase earnings even more. The company's ability to pay a high distribution would be enhanced even further by this. For these reasons, I think this is a stock worth taking a look at.
The following shows a six month price chart of the five companies compared to the S&P 500. These prices are shown as price percentage changes. The time period of this chart is for 7/9/2012 - 1/7/2013.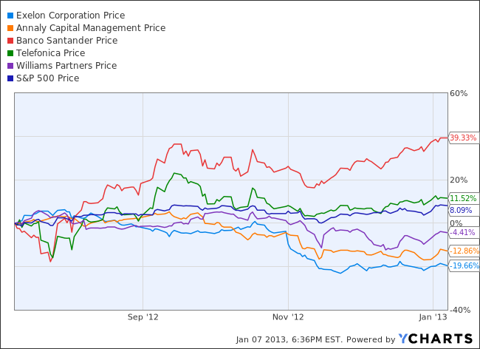 The chart shows that the average annual return for an equal investment in these five companies is about 2.784%, not including dividends. After adding in 4% for dividends (a rough average of an 8% annual dividend divided by two to represent six months) that gives a return of close to 7%. This has slightly lagged the return of the S&P 500 for this time period. However, the return for these stocks is much more favorable using this time period than it would be using the previous 52 weeks instead. This shows that their recent performance in the past six months has improved considerably against the S&P 500 compared to their previous 52 weeks' performance.
Thank you for reading this article. I hope it has provided you with some great stocks to take a further look at.
Disclosure: I am long T, VZ, PBR. I wrote this article myself, and it expresses my own opinions. I am not receiving compensation for it (other than from Seeking Alpha). I have no business relationship with any company whose stock is mentioned in this article.