The biggest question in every investor's mind when they see a stock with an uncharacteristically low price is just that, "bargain or bust?" You want to buy it because it looks dirt cheap, but you want your dirt to turn into gold, not dust. In our economy today, many companies out there have stock that places you in just this position. J. C. Penney (NYSE:JCP), closing at just over $18 per share on Friday, is definitely one of those companies.
CEO Ron Johnson has been vilified and applauded for his plan to turn J.C. Penney into every American's favorite store. His plan basically involves changing everything Americans have known about J.C. Penney and indeed most stores in general. We as Americans love sales, we love seeing the price we're actually paying next to the price it would have cost us had we paid full price. Mr. Johnson wants to simplify our experience by first abolishing all sales and promising us every-day values instead. Second, he wants to simplify our shopping math by pricing everything with whole dollar amounts. Lastly he wants to modernize the stores by turning them into malls themselves. He will do this by making the pathways wider, installing cafés complete with iPad's for customer use, and adding boutiques for various brands inside the store. Already there are signs that it's working, but at a hopefully temporary cost to the bottom line, and many investors don't want to stick around long enough to see if it will work in the long run. Some say his plan to turn J.C. Penney into everyone's favorite store can't be done. Many others criticize his plan to wean Americans off of sales. Still others accuse him of trying to make J.C. Penney look like an apple store. Most analysts have been grabbing a piece of the anti-Johnson pie, pointing to J.C. Penney's falling sales, disappointing net loss, and staggering earnings (or lack thereof) per share.
Fortunately for Mr. Johnson, what analysts say doesn't matter, what does matter are the numbers. Let's take a look at the company's numbers. The stock price is down about 58 percent from its 52-week high of $43.18. In a twelve month period where retail stock prices are up about 20 percent and consumer discretionary spending is increasing dramatically, J.C. Penney can't seem to jump on the bull. Its sales have dropped from $19.9 billion in 2007 to $17.3 billion in 2011. Its first three quarters of 2012 have been weak and fourth quarter earnings should be reported on February 27th, but analysts expect them to post another weak quarter, and a very, very weak year altogether. J.C. Penney has been operating with a net loss since mid-2011. Earnings per share for the 3rd quarter were $-0.93 as compared to Macy's (NYSE:M) at $0.36, and Kohl's (NYSE:KSS) at $0.91. Moody's and Standard and Poor's have both downgraded J.C. Penney's credit worthiness in 2012. As if all this wasn't enou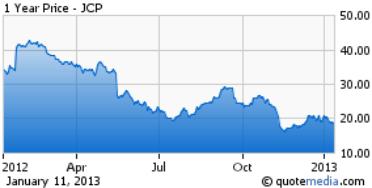 gh, the company also ended their dividend program earlier in 2012. Store foot traffic as well has been steadily decreasing versus previous year numbers. All these numbers say that the company needs to get their act together or J.C. Penney might not be around long enough to see if Johnson's plan even has a chance of working.
But J.C. Penney is not all downside. Although foot traffic has been decreasing overall, sales per square foot in remodeled stores have increased dramatically when compared to their old counterparts. These "vintage" stores have sales of $134 per square foot while remodeled ones have sales of $269 per square foot, largely due in part to the store-within-a-store concept, including such brands as Sephora, Levi, Izod, and even J.C. Penney's own exclusive brands. This would definitely seem to point to at least part of Mr. Johnson's strategy working.
The company also seems to have plenty of cash available to carry out the remodeling of approximately forty percent (eleven percent of which have been completed as of the end of the third quarter 2012) of their stores that are scheduled to be completed by the end of 2013. According to their third quarter form 10-Q, they have $525 million in cash and cash equivalents, and an agreement which approves them for a credit line of $1.5 billion, but can be "potentially increased" to $1.75 billion if needed. The cost of this credit line is tied to their rating by Moody's and Standard and Poor's, which, because of their recent downgrades, will be slightly more expensive to use than it would have been a year ago. The company also paid off their maturing debt, leaving them free from impending debt until 2015. This large credit line and lack of near-term debt, combined with the fact that they are no longer paying dividends, leaves them quite capable of continuing their remodeling plans as scheduled.
Ultimately, one of the best ways for someone to decide whether a company is worth investing in is to get out and experience the company from a customer's perspective. Walking through J.C. Penney since Mr. Johnson's plans have begun to be implemented, clearly shows that his rebranding is working. Previously, elderly women made up the majority of customers, now, however, people of all generations can be seen walking through the store, scrambling to buy things with prices that must be too good to be permanent. Women of all ages can be seen trying on make up in Sephora while their male counterparts realize how easy shopping can be when not bogged down with "50% OFF TODAY ONLY" signs, and prices that end in 9's or 7's. Sure, J.C. Penney still has some work to do to make every store look like the one I visited, and they can definitely do something to inform their customers of their new "every day value" strategy so they're not strangling each other over a pair of socks that will be the same price this weekend as it was last weekend, but overall, they seem to be doing pretty good so far. Change takes time, Ron Johnson is aware of that. That's why he's not worrying himself over the price of his company's stock at this moment in time. He knows that if he builds a great store that customers love, he'll build a great company that investors love as well. He also knows that right now, J.C. Penney looks like a bargain.
Disclosure: I have no positions in any stocks mentioned, and no plans to initiate any positions within the next 72 hours. I wrote this article myself, and it expresses my own opinions. I am not receiving compensation for it (other than from Seeking Alpha). I have no business relationship with any company whose stock is mentioned in this article.