This article will examine the relationship between VIX futures' (VIX, VXX, UVXY, SVXY, XIV) open interest as reported by the CFE and the performance of the S&P 500 (NYSEARCA:SPY).
Futures on the VIX began trading in 2004. Initially the trading was exceedingly thin. Currently, open interest is over 400,000 contracts. Using a logarithmic scale for the futures, open interest here is the total relationship of futures to the S&P.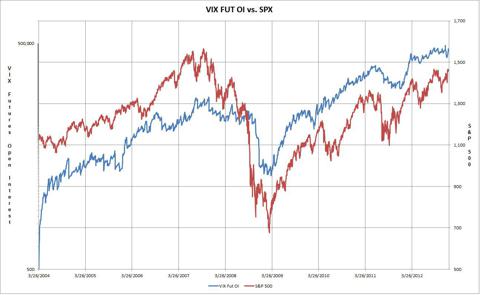 As you can see there is a long term correlation of upward movement in the broad market with an expansion of VIX future open interest. This is likely due to market participants buying VIX futures to protect their broader equity holdings. As VIX futures have gained acceptance with market participants, they are increasingly being used in place of index puts to protect portfolios. Combine that with the explosion of the equity traded product which use the VIX futures and they are some of the most liquid derivatives available at this time.
Divergences from the correlation are rare but they are usually actionable. Note the lower amount of open interest at the end of 2011 as the market made a higher low. That was a strong buy signal.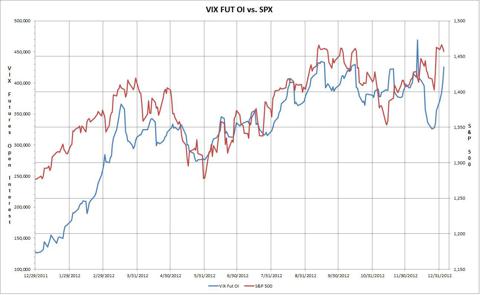 Click to enlarge
In more recent trading the lower amount of open interest in the spring foretold the selloff and the higher low at the start of the summer signaled the summer rally. It also confirmed the bottom of the post election selloff.
As we enter this time of uncertainty over the debt ceiling, sequester and continuing resolution take note of any divergence between the open interest and the market action. It may be telling you something.
Disclosure: I actively trade VIX futures and S&P futures and VIX related equity and option products such as VXX, UVXY, XIV and SPY. I wrote this article myself, and it expresses my own opinions. I am not receiving compensation for it (other than from Seeking Alpha). I have no business relationship with any company whose stock is mentioned in this article.