Net 1 (NASDAQ:UEPS) has developed an electronic payment solution for the underbanked in developing countries. The company's system addresses the needs of four billion people, an enormous addressable market. While Net 1 faces the long-term risk of losing government-related revenue in South Africa (two-thirds of revenue), a competitive bidding process was terminated in early November, with Net 1 retaining all contracts on existing terms. Revenue and earnings continue to grow despite global macro weakness. We value the company at $20-30 per share, based on a range of 10x trailing EBIT to 15x forward EPS.
BUSINESS OVERVIEW
Net 1 provides a proprietary universal electronic payment system (UEPS) to the underbanked in developing economies. It operates in four segments, primarily in South Africa:
The transaction-based activities segment earns fee income from a state welfare distribution service in South Africa, and transaction processing for retailers, utilities and banks.
The smart card accounts segment derives revenue from a fixed monthly fee for the provision of smart card accounts.
The financial services segment provides short-term loans on a principal basis and life insurance on an agency basis. It generates interest income and initiation and services fees.
The hardware, software and technology segment derives revenue from sales of hardware, SIM cards, cryptography, SIM card licenses, and hardware rentals to merchants.
SELECTED OPERATING DATA
FYE June 30

2006

2007

2008

1Q09

% of revenue by segment:

Transaction processing

60%

62%

60%

59%

Smart card accounts

18%

15%

14%

13%

Financial services

8%

5%

3%

3%

Technology sales

14%

17%

22%

25%

Revenue growth by segment:

Transaction processing

13%

19%

10%

6%

Smart card accounts

4%

-5%

4%

-6%

Financial services

-20%

-30%

-27%

-18%

Technology sales

52%

47%

44%

60%

11%

14%

13%

13%

EBIT margin by segment:

Transaction processing

52%

57%

55%

54%

Smart card accounts

45%

45%

45%

45%

Financial services

43%

30%

23%

18%

Technology sales

63%

16%

21%

24%

Corporate

-6%

-3%

-2%

-4%

46%

43%

43%

40%

30%

28%

34%

39%
1Includes foreign exchange gains and losses and other transitory items.
INVESTMENT HIGHLIGHTS
UEPS could enable four billion people

with limited bank access to transact electronically. Four million out of 18 million unbanked South Africans receive welfare on Net 1 smart cards.

UEPS uses smart cards

that operate in real-time but offline,unlike prevalent systems that require immediate network access. UEPS users can transact in remote areas when a portable smart card reader is available. UEPS can also be used for banking, health care, money transfers, voting, and ID.

CEO Serge Belamant (54)

and CFO Herman Kotze (38) have been with the company or predecessors since 1989 and 2000, respectively.

Selected by Central Bank of Ghana

as country's common electronic payment platform. Net 1 also provides a customized banking and payment system to a government-affiliated consortium in Iraq.

Expanding into Namibia and Botswana

through JVs that operate smart card-based systems; and into Colombia and Vietnam to operate virtual top-up solutions for mobile prepaid airtime vending.

BGS acquisition accelerates entry into Russia.

Net 1 acquired 80% of BGS for €72 million and 40K shares in August. BGS' largest customer and 20%-owner is Sberbank, the largest bank in Russia.

Authorized $50 million buyback

in November.

Guiding for 15% adjusted EPS growth in FY09.

Stock price implies 6x trailing P/E and 5x forward P/E.
INVESTMENT RISKS & CONCERNS
Two-thirds of revenue affected by South African tender.

The South African Social Security Agency recently conducted a tender for the distribution of welfare grants. Net 1 filed proposals in May 2007. In November 2008, SASSA terminated the tender process without any awards. As a result, Net 1 retained contracts with five provincial governments through March 31, 2009 – and probably beyond. However, the long-term outcome remains unclear.

Competitive threats,

including use of mobile phones as mechanisms of payment in emerging economies.
COMPARABLE PUBLIC COMPANY ANALYSIS
| | | | | | | |
| --- | --- | --- | --- | --- | --- | --- |
| ($mn) | MV | EV | EV/Rev | P/TB | 08 P/E | 09 P/E |
| DFS | 4,545 | -4,076 | -1.6x | 0.8x | 6x | 8x |
| GPN | 2,948 | 2,871 | 2.1x | 37.5x | 15x | 14x |
| MA | 18,569 | 15,833 | 3.3x | 16.1x | 16x | 14x |
| TSS | 2,393 | 2,348 | 1.2x | 4.9x | 9x | 9x |
| V | 45,825 | 42,105 | 6.7x | 38.8x | 20x | 17x |
| UEPS | 641 | 509 | 1.9x | 4.2x | 6x | 5x |
MAJOR HOLDERS
CEO Belamant 4% │ Other insiders 1% │ Brait S.A. 16% │ General Atlantic 11%
WHAT ARE THE SHARES WORTH?
We value Net 1 at $20-30 per share,

based on the valuation analysis summarized below. We believe a mid teens multiple of after-tax income is justified in the case of Net 1 due to the recurring revenue nature of the company's business, high returns on capital and continued growth in revenue and profits.
Net 1 UEPS — Valuation Summary
($ in millions, except per share data)

Low

Value

High

Value

Value of excess marketable assets:1

Cash and equivalents

$246

$246

Short-term loan facility

($110)

($110)

$136

$136

Cash needed to run business2

($100)

($50)

$36

$86

Value of core business:

LTM EBIT

$112

Fair value multiple of LTM EBIT

10x

Estimated NTM EPS ex. interest income

$1.90

Fair value multiple of NTM adjusted EPS

15x

$1,118

$1,682

Estimated fair value of UEPS

$1,154

$1,767

$20

$30
1Based on balance sheet values as of September 30, 2008.
2Represents MOI estimate.
Source: Company filings, The Manual of Ideas estimates and analysis.
WHY THE SHARES MAY BE MISPRICED
Stigma against financial services-related companies targeting low-income consumers.

At first glance, Net 1 appears to be exposed to a highly undesirable consumer demographic in South Africa and other countries. However, Net 1's main clients are South African governmental entities, and the company is not exposed to the credit risk of consumers using Net 1-processed payment cards. Net 1 is not a lender but a pure-play payment processor with an attractive recurring revenue model. We believe the market may be missing this important feature of the company's model.

Undue fear of potential loss of South African contracts.

We believe much of the uncertainty related to the company's contracts for the distribution of welfare grants was lifted on November 6 when the company announced that the government has decided to terminate the related competitive tender process. The market may not yet have appropriately digested this positive news.
REVENUE AND MARGIN ANALYSIS
UEPS – Revenue, Gross Profit and EBIT, FY 2000-08
Net 1 has performed well over the past six years, as its proprietary payment system has enjoyed greater acceptance in South Africa and, more recently, in Ghana and Iraq. Net 1 derived two-thirds of revenue from contracts with South African provincial governments in 2007.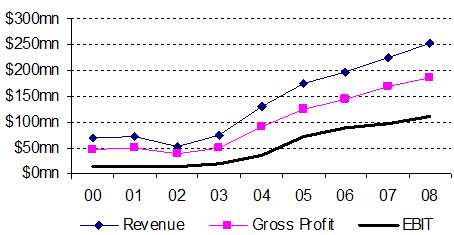 Source: Company, The Manual of Ideas.
UEPS – Y-Y Revenue Growth, FY 2001-1Q09
Net 1 has reported revenue growth in the low to mid teens since FY06, as its relationships with South African provincial governments have matured while transaction volumes have continued to increase. The company's recent expansion beyond South Africa, including the acquisition of BGS in Russia in August 2008, may accelerate growth.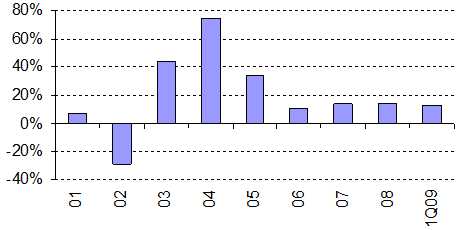 Source: Company, The Manual of Ideas.
UEPS – Gross and EBIT Margin, FY 2000-1Q09
Net 1 has enjoyed strong gross and operating margins throughout this decade. EBIT margin has surpassed 40% in recent years, a level that will be difficult to maintain over a long period of time. However, any margin erosion appears likely to occur slowly and to be more than offset by increases in revenue.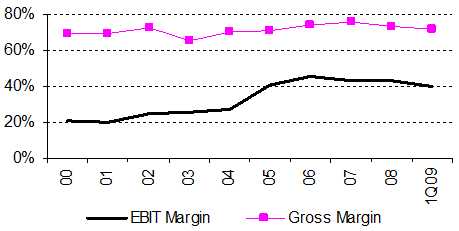 Source: Company, The Manual of Ideas.
UPDATE ON SOUTH AFRICAN CONTRACTS FOR DISTRIBUTION OF WELFARE GRANTS (two-thirds of revenue)
Contracted with five provincial governments

covering total of four million beneficiaries. In 1998, Net 1 acquired four of the contracts, which were originally awarded from 1992-97. Net 1 was awarded an additional contract in 2002. It implemented smart cards from 2000-04 and rolled out merchant acquiring capability in 2004-05.

45% share of distribution of welfare grants in South Africa.

Main competitors are the South African Post Office and the formal banking sector.

South African tender concluded without new awards in November 2008.

The South African Social Security Agency (SASSA) recently conducted a competitive tender that could have displaced Net 1 from one or more of its five contracts. However, Net 1 announced on November 3 that SASSA had decided to make no awards, to terminate the procurement process, and to defer a decision about commencing a fresh tender process.

All five contracts expire in March 2009.

Net 1 stated the following in a press release on November 6: "We believe that SASSA's statement to defer a decision about commencing a fresh tender process will necessitate a further extension of our current contracts. The terms and conditions of our current service level agreements will probably remain unchanged during any extension period."
MANAGEMENT'S VIEW OF BUSINESS
Notes from 1Q09 earnings release dated November 6:
Operating environment:

Net 1 performing well despite "disruptions in the financial markets and concerns about a weakening global economy;" "do not share the prevailing negative global sentiment towards emerging markets as our technology is focused on these territories and remains in demand, especially when the weaknesses of traditional banking systems have become patently clear."

1Q09 review:

"Very pleased" with results.

FY09 guidance:

Maintain 15% fundamental EPS growth outlook on constant currency basis; GAAP EPS growth to "exceed 25% on a constant currency basis as a result of the change in tax rates and the foreign exchange gains on a short-term investment."

Strategy:

"…[F]ocused on the globalization of our technology by following a disciplined approach to new markets, through careful evaluation of new opportunities. Where we believe it makes sense, we will use partnerships or make acquisitions to accelerate our entry into new markets.

South Africa

tender cancellation:

"SASSA may decide to extend our current contracts on a short term renewal basis. We have the capacity to operate this business without compromising our high service levels regardless of the period, or frequency, of any extension periods granted."

South Africa

welfare payment business:

"[A]nticipate beneficiary growth of approximately 6% per annum" (growth is "fairly lumpy").

BGS:

"[C]ore business consists of developing and integrating smart card-based offline and online financial transaction systems;" "customers in Russia, Ukraine, Uzbekistan, India and Oman;" "emphasis on significantly expanding the application of our technology in the Russian Federation and the CIS Republics."

Wage payment system in partnership with Grindrod Bank:

"Target markets for the wage payment system are the un-banked and under-banked wage earners in South Africa, estimated at five million people;" in 1Q09, signed deal with largest security and guarding services provider in South Africa, with 20,000 employees (expects to complete enrollment of all employees 3Q09-end).

Ghana:

Continued delivery of POS devices and smart cards under Bank of Ghana deal in 1Q09.

Iraq:

First transaction in August; project is pilot with 100K beneficiaries (40K issued payment cards so far); to earn "ongoing transaction and license fees, as well as payments for the provision of outsourcing services and the sale of hardware"

VTU technology and business model:

VTU (virtual top up) technology "enables prepaid cell users to purchase additional airtime simply, securely and conveniently through the distribution of airtime value from a vendor's cellular handset to that of the customer;" "derive revenue from the sale of VTU licenses to mobile operators and we have recently established VTU businesses in Colombia and Vietnam, where we are minority shareholders."

Sales process:

Sales cycles are "unpredictable and often stretch over a period of years. It is therefore particularly difficult to provide clear short term visibility on our international prospects and the specific product, application or business model that will ultimately be implemented in a specific country…;" sales and marketing teams focus on specific regions of Africa, the Middle East and Central and Eastern Europe; "plan to introduce dedicated teams for South America and Asia…"

New patents:

"[A]pplication… will allow any mobile phone user to effect payments that are generally referred to as "card not present" payments completely securely, through the utilization of a once off, disposable, virtual credit or debit card."

Proposed abolishment of secondary taxation on companies in South Africa:

Secondary taxation may be phased out in 2010; "expect the proposed replacement of STC with a dividend tax to reduce our current fully distributed rate of 34.55% to 28%. Under US GAAP, we apply the fully distributed tax rate of 34.55% to our deferred taxation assets and liabilities; not yet determined if Net 1 would qualify for treaty relief available to foreign shareholders.
Disclaimer: Copyright 2008 by BeyondProxy LLC. BeyondProxy and its affiliates may have positions in and may make purchases or sales of the securities discussed in this report. It is the policy of all Related Persons to allow a full trading day to elapse after the publication of this report before purchases or sales of any securities discussed herein are made. No Related Person held a position in securities discussed in this report as of the date of publication. Use of this report and its content is governed by the Terms of Use described in detail at http://www.manualofideas.com/terms.html.