European economy neutral, awaiting recovery signals
This analysis aims to identify the direction of the economy in Europe by looking at what we consider the major leading economic indicators. Each indicator is analyzed based on the latest data available, and then based upon this we make our opinion on the indication as pointing to either growth, neutral or decline, with a positive or negative outlook on the indicator being possible.
Our analysis is summarized and a decision is made based on this summary for the total economic direction of the European economy. Our summarized scoring table and weightings of each indicator are shown in the summary table in the conclusion.
The following is our analysis of the leading indicators that we put into our crystal ball to show us where the European economy might be heading.
Stock Market
Over the past 3 months the Euro Stoxx 600 index has shown a strong 6.64% increase.
Further to this there has been a 3.40% increase in the index over the most recent month.
These positive increases signal that the market is expecting increased earnings, if earnings estimates are accurate. This points to a continued brighter outlook, with investors seeing value due to improving conditions in their view.
Indication: Growth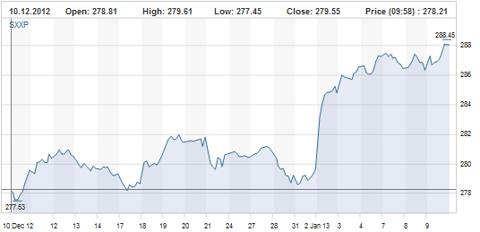 Manufacturing Indicators
Industrial Production
Latest Eurozone figures of industrial production for October 2012, show a -1.4% decrease from the previous month. Prior to this September numbers also look gloomy with a depressing -2.3% decrease.
Indication: Decline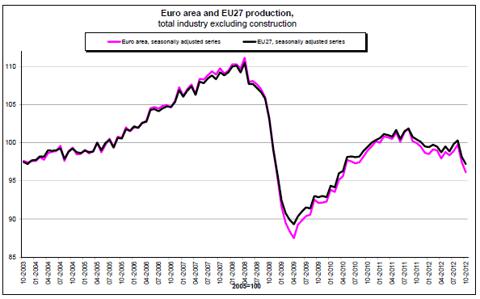 Industrial Confidence
Latest EU and EU27 figures to Dec 2012 show increases in industrial confidence +1.4 to -12.7 and +0.6 to -14.4 respectively.
Over the last 3 months this increase has been +1.7 and +1.5 for EU and EU27, respectively.
Overall, this is indicating a stabilizing of industrial confidence, but not renewed optimism just yet.
Indication: Neutral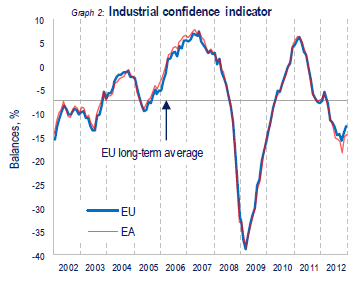 Retail/Consumer Indicators
Retail Trade Turnover
EU and EU27 Retail turnover has shown a negligible +0.1% and +0.2% increase in Dec 2012. Furthermore, over the last 3 months it has dropped about -1.4% and -0.9%.
December has finally shown a break in the declines of the previous 3 months. This is showing a possible move to stabilization, however, due to the prior 3 months being negative, the outlook shall remain negative.
Indication: Neutral (negative)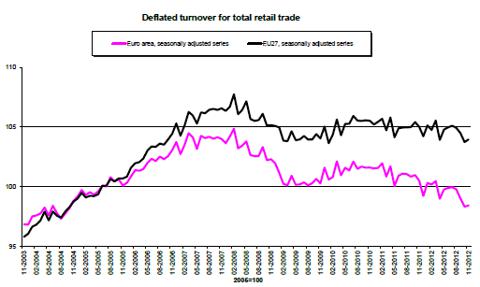 Retail Trade Confidence
EU and EU27 Retail trade confidence both declined -1.1 and -0.9, respectively. Further, they are still at fairly low levels of confidence.
These slight decreases after increases last month point to neutralization; as can be seen in the graph it has been very up and down for the last year with no continued up or down runs.
Indication: Neutral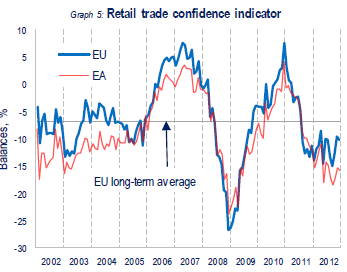 Consumer Confidence
EU and EU27 Consumer confidence is +0.4 and -0.3 to Dec 2012. EU and EU27 levels are at -26.5 and -24.1 respectively.
Over the last 3 months we have seen confidence levels in EU and EU27 slightly decline and stagnate respectively.
Levels are both extremely low, showing confidence is still very low, with no strong signals in positive improvement, but has potentially tapered off declines in late 2012.
Indication: Neutral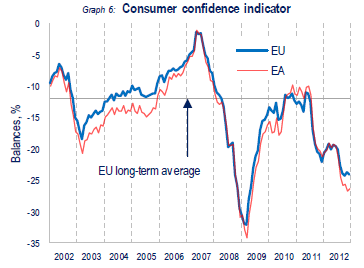 Construction/Building Indicators
Construction Confidence
EU and EU27 construction confidence is up +0.9 and +0.8, respectively. At -34.7 and -34.9, these are still very low levels compared to the EU long term average.
These extremely low levels, with only one recent month of small positive improvements do not indicate any optimism, however, no major declines.
Indication: Neutral (negative outlook)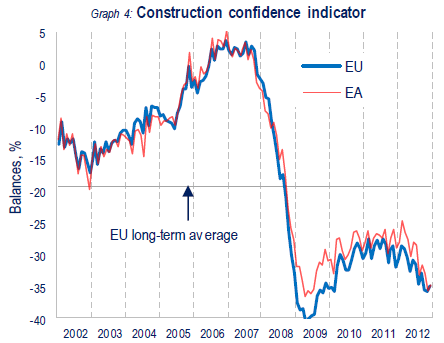 Building Permits
Latest building permit information is to Q3 2012. Both EU and EU27 data has risen slightly from the previous quarter, remaining at similar levels as previously.
It is important to note, since 2009 data, levels for the last 3 months are at all time lows. However, after such low levels and the slight improvement in this latest quarter, it potentially indicates levels have bottomed out and may be in the early beginnings of a rising period.
Indication: Neutral (positive outlook)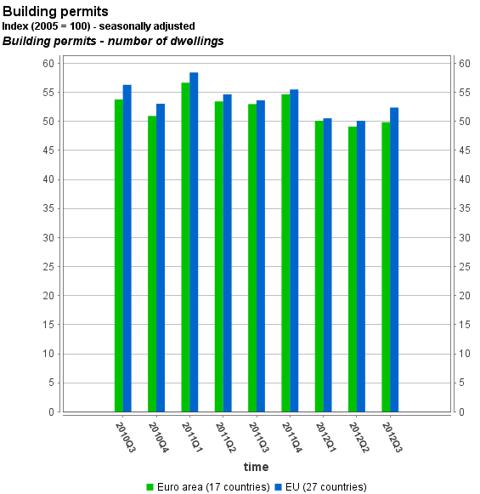 Conclusion
Despite investors seeing optimism, based on the current rise of the Euro Stoxx 600, this optimism is not yet shared by consumers, manufacturers, retailers and construction alike, with most indicators pointing to neutrality. It appears that many are apprehensive on what the future holds for the European economy.
The tables below show a summary of our scaling for the European economic direction and a summary of our analysis in the above writings. As can be seen, the total score comes in at 2.8, indicating a neutral position for the European economy.
There are still no clear signs of possible growth, and little sign of decline. This indicates that we have possibly stabilized for the time being, and we will wait to see if any early sprouts of growth are seen to indicate recovery. Also any potential large positive or negative market news could kick the economy in either a north or south direction, and should be monitored.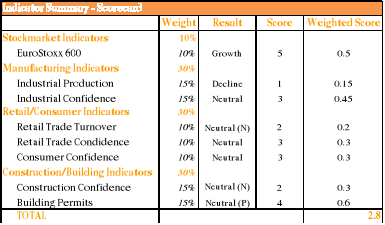 Disclosure: I have no positions in any stocks mentioned, and no plans to initiate any positions within the next 72 hours. I wrote this article myself, and it expresses my own opinions. I am not receiving compensation for it. I have no business relationship with any company whose stock is mentioned in this article.