As Apple (NASDAQ:AAPL) drifts sideways in the low $500s, many long term share holders are beginning to lose their faith and their patience. After talking with many investors who are underwater, I decided it was time to start crunching some numbers to see what the real truth is behind Apple's fundamentals.
What I found amazed me
First, I researched Apple's quarterly revenue, gross margin and their product sales over the last couple years for the iPhone, Mac, iPad and iPod. The following chart shows my findings: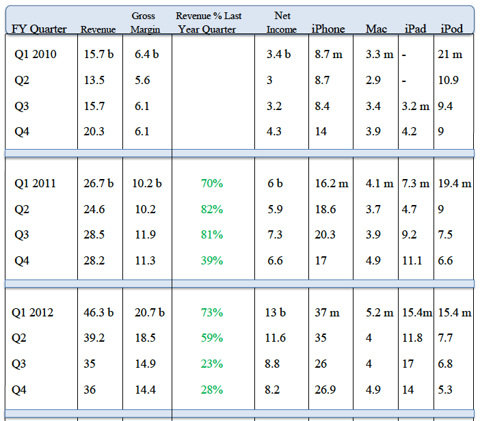 As you can see, the increase in iPhone sales from 2011 to 2012 was astronomical. Apple makes roughly 54% of its revenue from iPhone sales so it's no wonder the stock had such huge gains during this time frame.
Second, I looked at their P/E ratio, EPS and total product sales over that same time frame. Again, I was amazed to see their total product sales increasing like crazy. The following chart shows this data: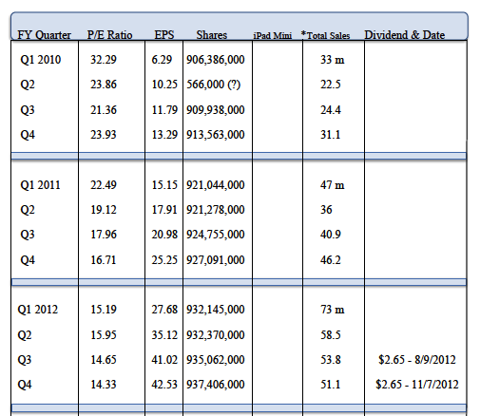 I pulled the P/E ratio, EPS and share data from TD Ameritrade's ThinkorSwim platform and all the product sale data from Apple. I thought it was odd that TD Ameritrade showed a low total share count in Q2 of 2010.
Apple's Total Product Sales
The big thing I want to highlight here is the total product sales. This includes iPhones, iPads, iPods and Macs. Here's the breakdown as far as totals go:
2010 had 111 million products sold
2011 had 170.1 million products sold
2012 had 236.4 million products sold
What will the total product sales be for 2013?
Apple's total product sales over the last couple years has been increasing by around 60 million year over year, so that would put Apple up near 300 million for 2013. However, with the addition of the iPad mini, China Mobile rumors, and chatter about a flat screen TV, I expect the total product sales will be much higher than 300 million in 2013, if of course they capture these new markets and launch these new products.
Year over year growth
As strong as that sounds, the following chart I made for you shows Apple's financial story over the last few years. This data shows Apple's growth did in fact slow on all categories mentioned below from 2011 to 2012.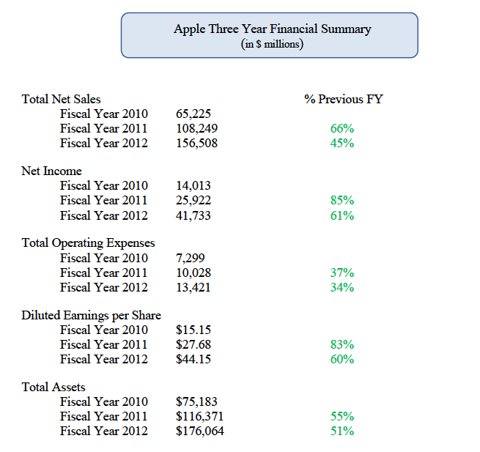 Is Apple slowing down?
Don't get me wrong, Apple is still growing by leaps and bounds, but according to this data, the growth rate has slowed. It's nearly impossible for any company, even our beloved Apple, to sustain their crazy growth forever. It would take opening new markets, i.e. China Mobile, along with successful launches of new products, to come close.
My Earnings Prediction
The truth is, even though down from the previous year, Apple's growth as compared to many other companies is still strong. My belief is Apple will continue to make superior products and I'm expecting them to announce an EPS this January of well above $14.00, making this the best earnings report in Apple's history.
* Earnings Whispers: Consensus estimate $13.43 EPS
Disclosure: I have no positions in any stocks mentioned, but may initiate a long position in AAPL over the next 72 hours. I wrote this article myself, and it expresses my own opinions. I am not receiving compensation for it (other than from Seeking Alpha). I have no business relationship with any company whose stock is mentioned in this article.