Any of my readers that have followed any of my columns on speculative biotech plays for any length of time know my philosophy of taking a shotgun approach to this sector. Stocks in this sector are highly volatile and can move 50% either way on any news such as results of test trial or buyout rumors. I take positions 1/3 of the size I do in other sectors and I spread my bets over many more stocks within the sector. I also split my investments between buying the stock outright and just buying out of the money call options depending on the liquidity of the options market on any particular stock. I fully expect to lose money at least 60% of the time when holding stocks and 80% of the time buying options.
Given the huge upside when you get a call right, in the long run I expect to make a nice return although one with a huge amount of volatility. I like investing in biotech stocks that have recent insider buying as I have found a lot of big winners have had insider buying preceding their huge runs. Here are two highly speculative biotech plays that turned up on Barron's top insider buys this week.
Omeros Corporation (NASDAQ:OMER) is a clinical-stage biopharmaceutical company, engages in discovering, developing, and commercializing products targeting inflammation, coagulopathies, and disorders of the central nervous system.
4 reasons to OMER is solid speculative play at $6 a share:
Several insiders bought over 50,000 shares in early January.
The six analysts have a median price target north of $16 a share on OMER. Price targets range from $10 to $25 a share, all targets are substantially above the current stock price. Needham upgraded the stock in early December from "hold" to "buy". Maxim also recently came out and stated the stock was oversold after disappointing test results.
Analysts project 80% revenue growth in FY2013 and the company has approximately 10% of its market capitalization in net cash.
The stock is selling at just above its long term technical support levels (See Chart).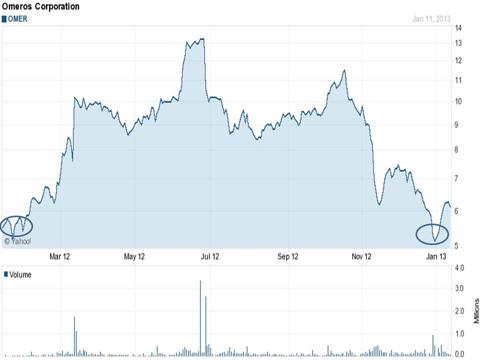 NovaBay Pharmaceuticals (NYSEMKT:NBY) is a clinical-stage biotechnology company, engages in the development of various product candidates for the therapeutic needs of the anti-infective market.
4 reasons is worth a $1 a share as a highly speculative play:
Beneficial owners and insiders have bought more than $4mm in new shares over the past three months.
Net cash is approximately 30% of the stock's market capitalization at these price levels. Cash on hand amounts to around 3 years of operational costs at current burn rates.
Only one analyst follows the stock, but that analyst has a $3.50 a share price target on the stock.
The company broke even and had positive cash flow in last quarter's earnings report. It also successfully raised $7mm and has a couple of promising drugs in phase II trials.
Disclosure: I have no positions in any stocks mentioned, but may initiate a long position in NBY, OMER over the next 72 hours. I wrote this article myself, and it expresses my own opinions. I am not receiving compensation for it (other than from Seeking Alpha). I have no business relationship with any company whose stock is mentioned in this article.