Everyone knows that Apple (NASDAQ:AAPL) gives conservative guidance. If you don't know that, you don't know Apple. As someone who always writes about the name, I get a lot of questions regarding Apple's guidance compared to its actual results. I've received a lot of requests lately to do an article comparing Apple's guidance to its results over a longer period of time, not just for a single quarter. There have been worries about Apple in the last year or two because Apple has missed analyst expectations a couple of times. Let me say that again. Apple has missed analyst expectations. Apple has not missed its own expectations over the past three years.
Today, I'm here to show how those past three years, or twelve quarters look, when it comes to revenues, earnings per share, and gross margins. Apple may not be crushing estimates the way it was anymore, but that's not necessarily a bad thing. It just means that Apple is providing more realistic and accurate guidance. There's nothing wrong with that. I'll finish this article with a discussion about using the historical data to project Apple's fiscal Q1 results, which we will get next Wednesday.
For those wanting to see more in depth results, you can view any of Apple's quarterly results on its earnings page, or you can view all of Apple's conference call transcripts on its Seeking Alpha page. On the "Headlines" section, click on "Transcripts". Apple provides gross margin guidance in its quarterly call, in addition to the revenue and earnings guidance it gives with its earnings releases.
Part 1 - Revenues:
I'm going to break down the guidance to actual results in three parts. The first part is Apple's top line, or revenue number. The following table shows Apple's revenue guidance compared to its actual results over the past three fiscal years. Apple's fiscal year ends in September, so the quarters I list are fiscal quarters, not calendar quarters.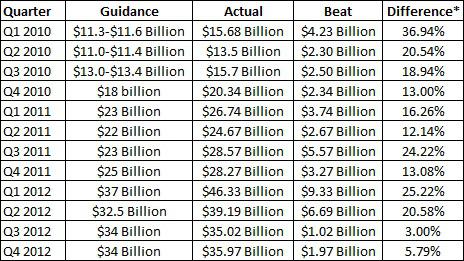 *Difference calculated from midpoint when range is given.
To provide some sort of comparisons over time, I am going to include four averages for each section. The first average will be for all 3 years, or 12 quarters. The second average will be the past two years. The third average will be the past year, and the fourth average will be the past two quarters. Here's how the averages have looked over time:
Past three year average: 17.48%.
Past two year average: 15.04%.
Past year average: 13.65%.
Past two quarter average: 4.40%.
Now, you can notice a trend in that pattern, and for the most part, you will see the same trend when I get to earnings and gross margins. On a percentage basis, Apple is not beating by as much as it was a couple of years ago. That's not necessarily a concern, as there are a couple of things to remember here.
The first thing to consider is that the 2010 fiscal year was a year where there was still a bit of recovery from the financial crisis. Results were a little unpredictable, and you were trying to project how results would compare to recession quarters. Secondly, you are using larger base numbers here. A revenue beat of $3 billion back then equaled a 20% or 30% beat. Now, a $3 billion beat doesn't even equal a 10% difference. Finally, the third fiscal quarter of 2010 was the first quarter Apple sold the iPad. At that point, it was hard to judge demand, and so your revenue and earnings predictions could be a little off. Now that Apple has sold the iPad for a number of years now, it has a better idea of demand and how many they could sell. Most of these themes can be applied to earnings and gross margin guidance as well.
Part 2 - Earnings Per Share:
In this section, I'll look at earnings per share. Here's how the numbers look over the past three years.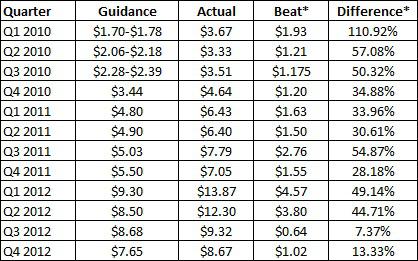 *Difference calculated from midpoint when range is given.
Here's how the averages have looked over time:
Past three year average: 42.95%.
Past two year average: 32.77%.
Past year average: 28.64%.
Past two quarter average: 10.35%.
The trend with earnings follows a similar pattern, and the main culprit is the base number again. When you start out with guidance of say $8.00 instead of $2.00, it's going to make a difference. A 50 cent beat on those two base numbers will be very different.
Part 3 - Gross Margins:
The final part will be on gross margins. Some people don't realize that Apple provides gross margin guidance. They do it on the conference calls, and you can find it in the transcripts. The following table shows the guidance and actual numbers for gross margins over the last twelve quarters. The beat is the difference between the actual number and guidance, while the difference is the percentage that number represents from the guidance. So for example, if Apple guided to 40.00% gross margins and came in at 41.00%, the beat would be 1.00% and the difference would be 2.50%.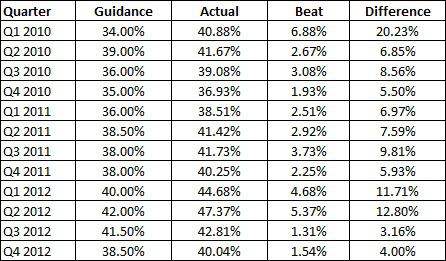 Here's how the averages have looked over time. These averages are in terms of the "differences", and not the "beats".
Past three year average: 8.59%.
Past two year average: 7.75%.
Past year average: 7.92%.
Past two quarter average: 3.58%.
The gross margin section has seen a slight difference from the other two sections, as the past year average is higher than the two year average. Overall, the trend is still the same. The differences have not been as great in recent quarters.
Looking at fiscal Q1:
Next week, Apple will report its fiscal Q1 numbers. For this quarter, Apple guided to $52 billion in revenues and $11.75 in earnings per share, along with 36.00% gross margins. Those numbers may seem low to some, but you have to remember some key facts. Last year's fiscal Q1 spanned 14 weeks, while this quarter is the standard 13 week period. That makes a difference when looking at the growth numbers. Also, this period marked the largest product launch in Apple's history. Apple introduced the iPad mini, a fourth generation iPad, and a new MacBook Pro, just to name a few. It will also be the first full selling quarter of the iPhone 5, and Apple only started selling that phone in China during December. Apple guided to lower gross margins because iPad mini margins are lower, product launches carry higher costs, and the company was expected to use faster shipping methods to get products to consumers quicker.
So now let's look forward to Apple's fiscal Q1, which they will report next week. Using the four averages I've calculated above, I've thrown together a table showing where Apple would come in based on those differences and their guidance. I also compared them to current analyst estimates. The numbers highlighted in yellow show where Apple would miss analyst estimates, based on those current expectations. The key takeaway here is that if Apple's beats are closer to the last two quarters than to the previous couple of years, Apple could be in for another miss of analyst expectations. But remember, they would still beat their own expectations by a fair amount. Revenue numbers below are in billions. Earnings per share and gross margins are actual.

There is one important point to remember here. The current estimates above are as of Sunday. As I recently described, Apple could be in for a repeat of last quarter. Last quarter, analysts took down Apple estimates quite a bit in the weeks leading up to the report, allowing Apple to beat on the revenue line, and almost beat the earnings per share figure. So by the time Apple reports, the 2-quarter numbers above that could be misses now could actually beat analyst expectations by then.
Final Thoughts:
Over the last twelve quarters, Apple has beat its own expectations for revenues, earnings per share, and gross margins. The size of those beats may have come down in percentage terms, but that's not necessarily a bad thing. It's not always about the numbers themselves, but understanding why the numbers have come down, and I've discussed some reasons why.
Just look at last year's fiscal first quarter. In percentage terms, it was not the largest beat in any of the three categories. In fact, in terms of earnings per share, it was only the fifth largest beat in the twelve quarters. However, the numbers were purely spectacular, with Apple crushing both its own and analyst expectations. Many believe that Apple's fiscal Q1 last year was one of, if not the best, quarter in corporate history.
Apple's huge Q1 beat last year put the stock at an all-time high (at that point) in the after-hours session. For such a large company, the quarter sparked one of the greatest stock rallies in history. In the next month, Apple rose more than $101, a gain of 24.26%. In the seven months following that report, Apple was up 58%. Apple shares have declined a little more than 26% from its all-time above $705 to its current price of $520. Apple investors will be looking to next week's report to start a run back to that high. Apple is extremely likely to be its own guidance, but will it be enough to beat analyst expectations? Only time will tell.
Disclosure: I have no positions in any stocks mentioned, but may initiate a long position in AAPL over the next 72 hours. I wrote this article myself, and it expresses my own opinions. I am not receiving compensation for it (other than from Seeking Alpha). I have no business relationship with any company whose stock is mentioned in this article.
Additional disclosure: Investors are always reminded that before making any investment, you should do your own proper due diligence on any name directly or indirectly mentioned in this article. Investors should also consider seeking advice from a broker or financial adviser before making any investment decisions. Any material in this article should be considered general information, and not relied on as a formal investment recommendation.