Introduction
EZCorp (EZPW) is an international chain of pawn shops and financial services solutions, with locations primarily in the US, Canada and Mexico. At its current price, EZCorp is priced exactly the same as two years ago as you can see below.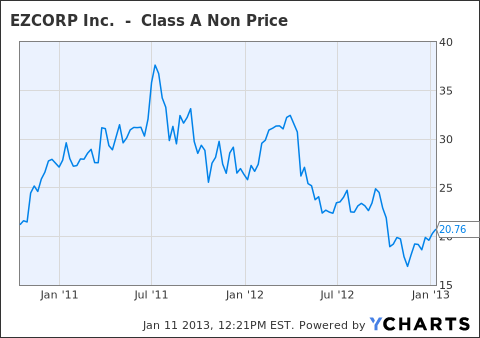 The company has grown significantly in these last two years, and its current valuation makes it an absolute steal. First off, EZCorp is in an excellent business. Seventy-eight percent of its revenues come from the pawn business, and the company makes sure these revenues come with minimal risk. Second, the company has greatly expanded over the past two years. EZCorp has begun to penetrate Latin-American markets and even the UK. Lastly, the company is trading at a P/B of 1.3x and has a FCF yield of 10%. EZCorp contains a substantial amount of value and growth that the market has not yet recognized.
Understanding EZCorp's Businesses
EZCorp receives its revenues from two different segments: Pawn and Retail, and Financial Services.
Paw

n And Ret

ail: EZCorp attributes 79% of its revenues from its Paw

n And

Retail segment. The company has grown the number of its retail stores fro

m 1006 in 2010 to 1262 in 2012. Curr

ently, 987 of those stores are operated in the

US and Can

ada, with the remainder in Mexico. EZCorp runs this segment with minimal risk. Here's how a normal transaction would work. A customer would come into one of these pawn shops looking for a small short-term loan. The customer then must use something as collateral in order to get the loan. Now here is where the company is very smart. EZCorp tends to be very picky with what customers use as collate

ral. For exam

ple, 60% of collateral posted is jewelry, with a large majority of the jewelry being gold. By doing this, the company minimizes its inventory and allows for a much higher inventory turnover. EZCorp usually only supplies loans worth 25%-65% of the collateral's estimated retail value, and up to 80% based on scrap value. Huge upside with minimal risk for EZCorp, and an instant cash solution for the customer. US loans

typically

have a 20% interest charge per month, a length of 60-120 days, and are usually around $130-$145. In Mexico, EZCorp usually charges 15%-21% per month, and average around $60.

Financial

Services: EZCorp's financial services segment offers various types of unsecured and secured loans. The secured loans are secured by the titles of customer's automobiles. Here's a table of the various types of loans.

| | | | |
| --- | --- | --- | --- |
| Name | Size | Length | Charge(per month) |
| Unsecured Single Payment | Avg $440 | 7-23 days | $15%-22% |
| Unsecured Multiple Payment | Avg $550 | 4-7 months | 45%-130%(total) |
| Unsecured Line of Credit | $100-$700 | $100-$700 | $30 annual fee, 52% per month |
| Payroll Withholding Loans | Avg $1200 | 31 months | Avg 27% |
| Secured Single Payment | $100-$10000 | 30 days | 13%-25% |
| Secured Multiple Payment | Varies | 5 months | 11%-35% |
| Secured Line of Credit | $100-$8000 | Varies | Avg 25% |


Notice the large fees the company can charge for even a small loan. Their ability to supply cash quickly to the customer provides them with a large amount of pricing power. In Texas, where EZCorp generates the majority of its revenue, they act as the middle man between banks and customers. The company will usually get the loan from the bank, use the money to lend to its customers at a higher rate, and then pay back the bank. EZCorp is also very careful with who they select for these loans, with only $41 million in bad debt. Here's an excerpt from their 10-K:
In determining whether to lend or provide credit services, we perform a review of customer information, such as making a credit reporting agency inquiry, evaluating and verifying income sources and levels, verifying employment and verifying a telephone number where the customers may be contacted.
Competitive Advantage
EZCorp's future growth will continue to be driven by the following factors:
Running

an Excellent Business: EZCorp operates an excellent business that comes loaded with upside. Its pawn segment currently accounts for 80% of revenues, and the company has done a fantastic job maximizing its profitability. The company has done so by being very selective with what it uses as loan collateral, and by only offering loans with 25%-65% of the collateral's retail value. The result is a Win-Win situation for both EZCorp and the customer. The customer needs an instant cash solution, and the company is more than willing to provide one by transferring all the risk over to the customer. The customer gets the cash, and the company has more than enough to cover for the possibility of the customer defaulting. As Warren Buffett once said, "When a management with a reputation for brilliance tackles a business with a reputation for bad economics, it is the reputation of the business that remains in

tact." It is

very obvious EZCorp is on the other side of that spectrum, and the business will be able to succeed even if management becomes incompetent.

Growing

by Acquisitions: EZCorp utilizes an excellent growth strategy that provides the company with an efficient way to expand. The strategy is simple: EZCorp looks for successful mom-and-pop pawn shops, analyzes their customer base, and then decides if they want to buy them out. This strategy allows them to avoid the risk of starting an unsuccessful shop, and instead allows them to utilize the shop's current customer bases. EZCorp has made a large switch to this acquisition based model since 2010. In that year 111 new stores were opened, and 16 were gained through acquisitions. In 2012, 71 new stores were open and 96 were gained through acquisitions. This strategy has also succeeded in Latin America. This year Latin America contributed 18% of total revenues. That's a 160% increase from the 8% contribution the segment made the year before. EZCorp plans to continue this strategy in the future. For fiscal 2013, EZCorp plans on opening 25-30 pawn shops in the US, 70-80 pawn shops in Latin America, and 65-75 financial stores in the US. With over 12,000 pawn shops in the US and even more in Latin America, this strategy poises EZCorp for substantial growth opportunities in the future.

Staying

Ahead of the Competition: Cash America I

nternational (

C

SH) currently only has 190 international stores, compared to EZCorp's 275. EZCorp is also growing faster than Cash America by acquiring more stores, instead of opening new locations. Last year, Cash America only acquired 8 stores, and opened u

p 20. It is

clear Cash America is growing much slower compared to EZCorp's previously listed acquisitions. Cash America is also shifting its interest away from e-commerce. Recently the company announced that its e-commerce subsidiary, Enova International, had filed to go public. If the IPO went through, Cash America only plans on retaining 35%-49% ownership in Enova. This public offering would provide EZCorp with an excellent opportunity to become the dominant leader in the e-commerce pawn business, as Cash America begins to dilute its market share.
Valuation
EZCorp is currently very undervalued. The company's stock price is currently almost identical to what it was when it released its annual report two years ago. The company has packed on a huge amount of value since then. Here are some examples:
Rev

enue and Net I

ncome: Revenue has gone up from $733 million in 2010 to $992 million in 2012, a 35% increase. Net income has also gone up from $97.3 million in 2010 to $150 million in 2012, a 54% increase.
Acquisitions: A lot of EZCorp's growth can be attributed to many of its acquisitions. In the second quarter of 2012, EZCorp acquired a 60% interest in Crediamigo, a leading payroll withholding lender in Mexico City. In the third quarter of 2012, EZCorp acquired at 72% interest in Cash Genie, a supplier of short-term online loans in the United Kingdom. That interest has recently increased to 95%. Most recently and not recorded on its most recent 10-K, EZCorp acquired GoCash LLC, another online lender.
Asse

ts and Liab

ilities: Through many of its acquisitions, EZCorp has added $612 in assets since 2010, while only adding $296 in liabilities.
Free Cash Flow: FCF has also been slowly growing even while the company continues acquiring other companies. FCF has increased from $99 million i

n 2010 to $105 millio

n in 2012, a 6% increase.
Store Count: Through acquisitions and new

developments

, EZCorp has grown its number of stores from 1006 in 2010, to 1262 in 2012, a 25% increase.
Growth in Equity Holdings: EZCorp owns 30% of Albemarle & Bond Holdings, one of the UK's largest pawnbrokers, and 33% of Cash Converters, a Australian financial service and buy/sell franchise. Since these companies aren't consolidated into EZCorp earnings, the company uses the equity method to show their performance. When

the company

put these two companies on its balance sheet they had a combined book value of $126k, that number has since increased to $166K, a $40k increase.
These figures demonstrate the large amount of value EZCorp has added in two years. It is very clear that the market hasn't recognized the value EZCorp has added. Even with all this growth, the company's market cap has actually decreased, while book value has increased.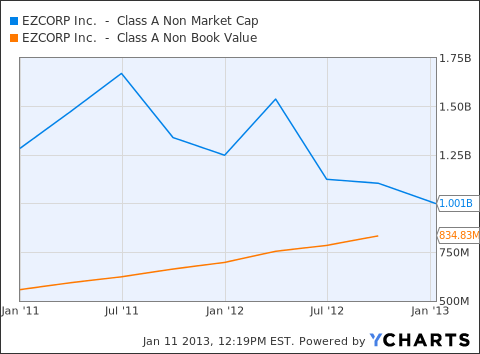 EZCorp has also able to successfully expand through its acquisitions while maintaining a strong FCF and growing its profitability.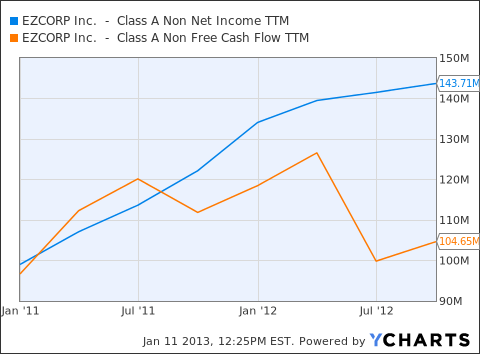 Don't Worry About EZCorp's Low P/E
To understand why EZCorp's price has dropped so much, it's best to analyze the events that may have cause each drop. In EZCorp's case, it's fairly obvious they were cause by quarterly earnings. Take a look at the graph below.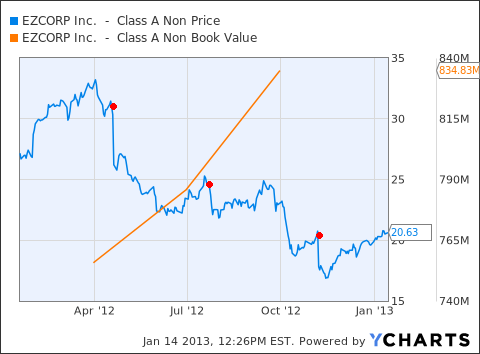 As you can see in the graph above, EZCorp's book value has greatly increased, while price has decreased. Book value is up 10%, whereas the price has dropped 35%. Now notice how the graph has multiple red markers on it. Those markers indicate when EZCorp released its quarterly earnings. The graph begins at the release of its Q1 earnings, and ends at today's current price. I believe EZCorp was unable to meet analysts expectations because of the large amount of acquisitions the company was involved in over the year. I will demonstrate each of these by quarter.
First Quarter(Estimate: .81 cents, Actual: .78 cents)
In Q1, EZCorp acquired 25 stores, compared to only acquiring 4 in 2011. A much larger number than the previous year. Net income was also up 44% from Q1 last year. I believe the heavy amount of acquisitions caused the company to slightly miss earnings. Other than that, the company improved tremendously year-over-year.
Second Quarter(Estimate: .76 cents, Actual: .73 cents)
This was definitely the company's busiest quarter. EZCorp acquired a 60% interest in Crediamigo, as I mentioned earlier on. The company opened 20 new stores, and acquired 60 (45 of them from Crediamigo). Last year, the company only opened 22 and acquired 5. EZCorp more than doubled that number this year. The acquisition of Crediamigo provides the company with an excellent opportunity to expand into Latin America. On the other hand, it definitely hurt the company's ability to beat earnings, but it added a substantial amount of value.
Third Quarter(Estimate: .61 cents, Actual: .56 cents)
This was also a very busy quarter for the company. EZCorp acquired a 72% interest in Cash Genie for $43.7 million, as I mentioned early in the article. The company acquired 9 stores, and added 23 new stores. The company added the same amount the year before. This is because the acquisition of Cash Genie didn't added to its store count since it's an online company. The purchase of Cash Genie was a significant cash outflow that caused operating income to decrease from $56 million the year before, to $39 million. It might have caused EZCorp to miss earnings by a wider margin, but Cash Genie provides the company with an excellent opportunity to expand online.
Fourth Quarter(Estimate: .75 cents, Actual: .75 cents)
EZCorp grew the slowest in Q4, only opening 13 stores and acquiring 2. Although the acquisitions slowed down, the company did increase its holding in Cash Genie to 95%. After a quarter of less acquisitions, notice how the company finally met estimates. I believe analysts didn't realize the amount of value EZCorp was adding, and therefore had their estimates too high all year. The market viewed that as a sign of weakness, and naturally lowered the company's price. Overall, EZCorp added 167 stores, compared to 122 the year before. That's a 37% increase in expansion, not including the large stake it acquired in Cash Genie.
Conclusion
EZCorp is currently trading at a P/E of 7.3x, its lowest multiple ever. The company also has a very high FCF yield of 10%, and has managed to keep it very high even with the large amount of acquisitions it recently has made. EZCorp has continued to show its excellent growth prospects in newly added markets such as Mexico, the United Kingdom, and even online. The company has a large amount of upside with its low-risk pawn business, and financial services segmented continues to be well regulated. Investors should look past the company's missed earnings, and focus more on the large amount of value EZCorp has added. At this low valuation, investors get EZCorp's excellent growth prospects for basically free.
Disclosure: I have no positions in any stocks mentioned, but may initiate a long position in EZPW over the next 72 hours. I wrote this article myself, and it expresses my own opinions. I am not receiving compensation for it (other than from Seeking Alpha). I have no business relationship with any company whose stock is mentioned in this article.