Since my previous mention of The Cheesecake Factory (NASDAQ:CAKE) in a piece entitled 3 Reasons To Consider The Chesecake Factory, published June 20, 2012, shares are up nearly 10%.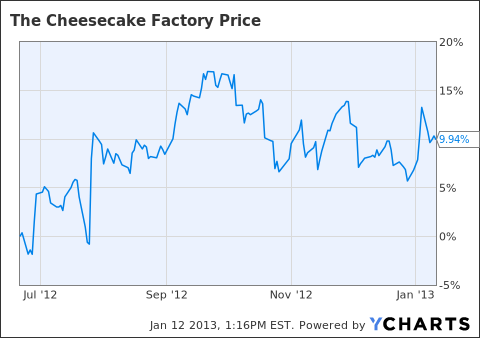 Short Interest
One of the reasons why I was bullish in my previous piece was the high short interest in CAKE. At the time of my previous piece, short interest in CAKE stood at 8.06 million shares or 16% of the float. Currently, short interest stands at 6.52 million shares or 13% of the float. While short interest has declined, it remains high. The high short interest means that, despite the continued rally, many investors are still skeptical of CAKE. This means that there are still plenty of investors who can turn bullish on CAKE. Also, the high short interest means that a short squeeze is possible given bullish news.
Valuation
As shown by the chart below, despite trading close to all-time highs, CAKE is actually trading close to all-time low valuations based on the PE ratio. Given this, I expect CAKE to continue moving higher until valuations reach historic norms.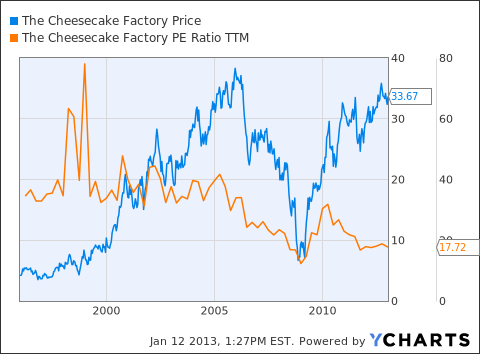 Cheesecake Factory Makes Overseas Debut
In late August 2012, CAKE announced its first overseas opening in Dubai in association with Alshaya group. This marks the first of 22 planed openings in the Middle East over the next five years. Look for CAKE's overseas expansion to provide a bullish catalyst for the stock going forward.
From My Previous Piece:
CAKE is a domestic play as all of its restaurants are in the U.S. Importantly, the company does not have any operations in Europe This means that CAKE has little exposure to the problems in Europe. Investors looking for ways to invest without exposure to Europe should consider CAKE.
Going forward, CAKE will no longer be just a domestic play. I do not view this as a negative because of where CAKE will be expanding. Notably, CAKE will not be entering Europe anytime soon. Certainly, due in large part to high oil prices, the Middle East is one of the more exciting economic growth stories in the world.
Alshaya Group
One of the reasons why I expect CAKE's venture in the middle east to work out well is its middle east partner, Alshaya Group. Throughout its 123 year histroy, Alshaya has proved to be very good at operating various franchises. Some notable brands that Alshaya has franchised include IHOP, Starbucks, PF Changs, American Eagle Outfitters, H&M, and many more.
Other International Opportunities
So far, CAKE has only announced plans to expand into the Middle East. However, the company does appear open to further international expansion plans. It is possible that CAKE announces more international expansion plans sometime soon.
Conclusion
Given the continued high short interest, cheap valuation relative to historic norms, and potential overseas growth opportunities I am remaining bullish on CAKE.
Disclosure: I have no positions in any stocks mentioned, and no plans to initiate any positions within the next 72 hours. I wrote this article myself, and it expresses my own opinions. I am not receiving compensation for it (other than from Seeking Alpha). I have no business relationship with any company whose stock is mentioned in this article.