Chinese billionaires and multi-millionaires demand investment advice
When the average Chinese billionaire isn't trying to build a golf course in Iceland or destroy their Lamborghini, they are looking for financial advice. A recent study by McKinsey & Co. and Minsheng Bank polled 700 'high-net-worth' ('HNW') individuals across 29 Chinese cities. Their findings:
40% of them dissatisfied with their current bank's offerings
Although more than half of the HNW individuals have offshore accounts, only 10% of all HNW assets are held offshore
More than 50% of the HNW assets are in basic investment products such as mutual funds or savings accounts
As this story states:
"About 20 percent of HNW individuals are business owners who have little experience of financial investment. They prefer high-return products but often lack investment experience and knowledge. They have a strong preference for a comprehensive array of products and are seeking banks that tailor products to their needs."
It seems Chinese multi-millionaires, "centa-millionaires" and billionaires have plenty of capital and pent up demand for wealth management services and products. This is an ideal situation for established Chinese company with offerings to solve this demand.
So you want to be a Billionaire! (go to China)
The number of Chinese high-net-worth individuals is continuing to grow:
And although many HNW Chinese are moving to live outside China, the growth in Chinese "centa-millionaires" will grow faster than almost any other region: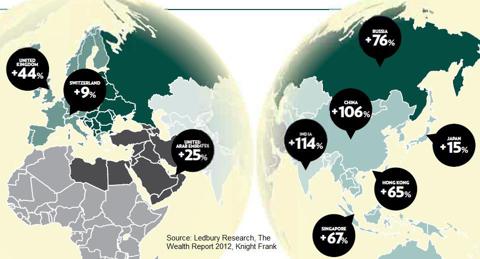 Firms Catering To This Exploding Market of "Financial Services-Needy" HNW Clients
A number of types of firms are the main options for these customers. One type is large financial services institutions who also offer retail banking and a wide variety of services. These are not differentiated do not focus specifically on this customer base. A second type are focused specifically on HNW individuals. These 'pure-plays' seem well-positioned to take advantage of market growth:
Of these firms, only one--NOAH--has experienced a long duration of depressed stock price, forming what a technician might call a 'Stage One base' and recently may have 'broken out' of this pattern to the upside.
A Value Investment in Wealth Management Firms for High Net Worth Individuals
NOAH is a Chinese financial services firm exclusively focused on HNW clients. NOAH has more than RMB1.5 billion assets under management (AUM) with offices across China. It is a small-cap player with high growth dedicated to the space, performing strongly relative to competitors.
As the article "Small Caps With A High Cash Flow" explains:
"Noah Holdings Limited, through its subsidiaries and variable interest entity, engages in the distribution of OTC wealth management products to the high net worth population in China. It markets products supplied by third-party product providers, based on the underlying assets class, such as fixed income products, other products that provide investors with fixed rates of return. The company also offers proprietary wealth management products, such as private equity fund of funds, including financial planning."
As NOAH describes themselves:
"We are the leading independent service provider focusing on distributing wealth management products to the high net worth population in China. We distribute over-the-counter wealth management products that are originated in China, including primarily fixed income products, private securities investment funds and investment-linked insurance products."
Highlights from NOAH's most recent annual report (2011) give signs that Noah is benefiting from the explosion of its customer base:
"Our net revenues grew at a compound annual growth rate, or CAGR, of 117.8% from 2007 to 2011"
"...wealth management services industry in China is at an early stage of development..."
NOAH has over 37,000 clients and client base shows consistent growth
NOAH's CEO is also the company founder. She has grown the firm from a small spin-out of Xingcai Security into a dominant firm with 1.5B RMB AUM. In 2007, NOAH accepted an investment from the US from the world's largest venture firm, Sequioa Capital, in 2007. Independent depth at the board level is provided by Sequoia's Chinese arm, as well as an executive from ABN Amro. Another independent director is an entrepreneur whose company was purchased by Danone Group--surely someone who represents a 'sample customer' of NOAH. NOAH's strategy is to stay focused on areas where it can provide a differentiator vs. larger competitors. It does not try to drive a wide breadth of offerings, but rather has a high focus on its core areas and focuses on personal client attention.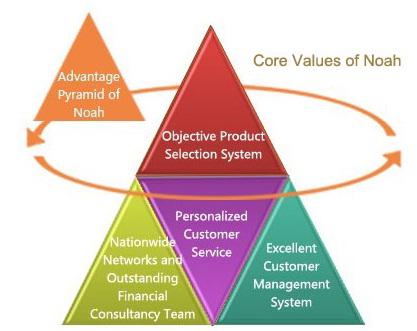 Source: Noah Holdings Limited
Due to the high growth in the customer base, NOAH's expectation of future growth need not require 'stealing share' from competitors. Simply maintaining existing market share alone would drive aggressive growth.
The Value Investment
When one compares NOAH vs. their three main competitors, a 5 year stock performance chart looks like this:

NOAH's stock price has underperformed that of larger competitors. However, from a fundamentals basis, there is no obvious causal factor:
| | | | | |
| --- | --- | --- | --- | --- |
|   | NOAH | CIHHF.PK (Merchants) | CMAKY.PK (Minsheng) | CEVIF.PK (Everbright) |
| Revenue | $76M | $16.3B | $14.4B | $101M |
| Enterprise Value | $170.5M | $ -19.31B | $ -43.2B | $ -16.82M |
| Return on Assets | 7.08% | 1.47% | 1.47% | 1.02% |
| Cash | $163M | $115B | $122B | $463M |
| Debt | $0 | $47B | $45B | $111M |
Source: Yahoo Finance
NOAH has a high return on assets, no debt, and a positive enterprise value.
NOAH's margins are showing a trend toward increasing quarter-over-quarter performance, even with a dip in revenue, a potential sign of management's relative control over expenses:
| | | |
| --- | --- | --- |
| NOAH Figures | Q2 2012 | Q3 2012 |
| Revenue | $25.8M | $19.1M |
| Operating Margin | 35.9% | 37.7% |
| Net Margin | 29.3% | 32.5% |
Source: Noah public statements
The Technical View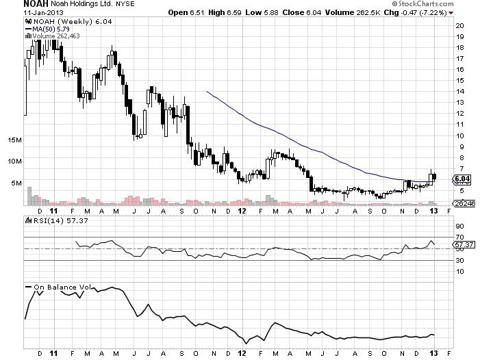 Takeaways from the chart include:
NOAH began trading on the NYSE in late 2010
NOAH price dropped consistently from inception, perhaps due in part from an over-exuberant opening price
It appears to have formed a Stage 1 base
The Stage 1 base has lasted through most of 2012, allowing plenty of time for the sellers to exhaust themselves
In November 2012, NOAH relative strength index jumped into the positive for the first time in many months
On Demand Volume is no longer dropping and is showing an uptick
In December 2012, NOAH crossed above it's 50 day SMA
In Mid-November, Roberto Pedone from StockPickr noticed this potential breakout. In his prescient words: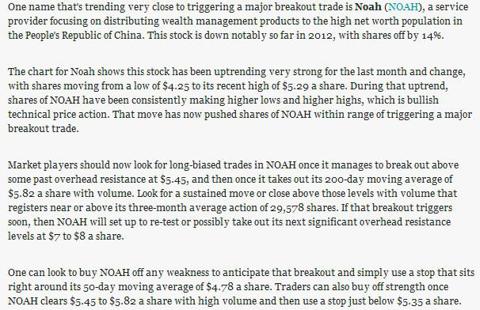 Since Pedone's article, NOAH has risen 14%+ in just over a month.
Conclusion
NOAH has no debt, strong margins, a focused strategy, and caters to an exploding market. It has a depressed stock price showing signs of strength. One can imagine NOAH continuing its breakout from a Stage One base and a price increase at least to the resistance shown earlier this year at $8.60 from current price of $6.04, a 30%+ gain.
Disclosure: I have no positions in any stocks mentioned, and no plans to initiate any positions within the next 72 hours. I wrote this article myself, and it expresses my own opinions. I am not receiving compensation for it (other than from Seeking Alpha). I have no business relationship with any company whose stock is mentioned in this article.