In an unorthodox twist from our conventional weather forecast and commodity reporting we decided to also look at some different topics today. They have to do with the recent Australia heat wave, and our national U.S. flu epidemic. With regards to commodities, the ongoing drought in the U.S. Plains and a recent reversal towards drier weather again in Argentina are gaining some attention in the grain market. A change towards colder U.S. and European weather is a "partial" factor in the energy complex. In coffee, disease issues in Central America have helped coffee rally a bit, even though Brazil's crop looks quite healthy with improved rains coming.
This Season's Flu Outbreak -- Extreme Weather is A Partial Factor
Influenza has reached epic proportions in the United States with 7.3% of the deaths last week alone caused by pneumonia. This according to the U.S. Centers for Disease and Control Prevention.
Factors that cause an influenza outbreak include seasonal weather patterns, levels of immunity to the specific virus strain, and the incidence of human contact that spreads the virus. A seasonal influenza outbreak generally occurs during the winter months of the year and frequently happens in places such as schools, nursing homes and other areas where people come into close contact. The infectious influenza Type A and B viruses responsible for most seasonal flu outbreaks can develop into community and regional epidemics.
I have read several studies implying "mixed" scientific results that the recent warm winters and summers have contributed to the spreading of influenza. According to Dr. Bill Cayley from the University of Wisconsin in Madison, "The only piece of research I was able to find that attempted to study the relationship of temperature trends and morbidity and mortality, found that warmer weather was associated with a decrease in mortality from influenza." He adds that past research shows that for each 1-degree Fahrenheit increase in average temperature, there's a more than 2 percent decline in deaths from pneumonia and influenza.
However, I have observed that each of the last six sunspot peaks, have coincided with flu pandemics. Maybe this is just "myth", but there is no question that the incredible volatile weather of these past few years has resulted in more stress (i.e. hurricane Sandy, droughts, etc.) and according to many other sources, weakened many of our immune systems. It is usually the weather extremes (oscillation from cold to warm and vice versa) that can often exacerbate flu symptoms
With vaccine shortages throughout the country and the risk of a "colder" second half of the winter in the Midwest and/or East, the flu epidemic may not tranquilize anytime soon. Two companies that look intriguing with respect to speculative flu plays are Ibio, Inc. (NYSEMKT:IBIO) and BioCryst Pharmaceuticals, Inc. (NASDAQ:BCRX)
SOURCE: BLOOMBERG NEWS
Warm Early Winter Shows some signs of Changing
The early U.S. Winter of 2012-2013 has been one of incredible volatility, with a lack of snow cover for the second consecutive season resulting in generally warmer than normal temperatures in key natural gas regions. Chicago, for example, has now gone some 325 days without more than 1 inch of snow from any one storm, a statistic not witnessed since the late 1800's. The warm early winter helped pressure natural gas prices close to $3.05 in the spot contract a week ago. However, a couple friendly EIA numbers, coupled with incredible stratospheric warming near the North Pole, suggest a colder European and U.S. energy outlook perhaps into February.
This means that the ETF (NYSEARCA:UNG) will continue to exhibit lots of volatility but the cold weather will probably set a floor on prices. Heating oil on the other hand is not the weather market it once was. Starting April 29, 2012, the CME Exchange is amending the Heating Oil (NYSEARCA:UHN) contract grade and quality specifications beginning with the May-2013 contract month to meet those of the Colonial Pipeline's Fungible Grade 61 for Ultra Low Sulfur Diesel. Nevertheless, the return of cold in Europe and in parts of the Northeast may strengthen the crack spreads again between heating oil, crude oil and unleaded gasoline.
Some Preliminary Weak La Nina Conditions and Stratospheric Warming over the South Pole. What are the Implications?
We were in the bearish camp in soybeans since September with the Teucrium Soybean Fund (NYSEARCA:SOYB) falling some 22% following last summer's U.S. drought. However, in coming weeks traders will be very nervous with respect to South American production reaching the USDA's estimates. The combination of an ongoing drought in the U.S. Plains and 3 consecutive weeks of below normal rainfall over 40-50% of Argentina's corn and soybean region could keep this market from falling much further.
It is "rare" to witness three consecutive U.S. droughts, but it did happen in the early-mid 1930's and mid 1950's. While most forecasters and models do not suggest La Nina forming, many of them predicted El Nino would flourish this winter, which it did not. The key point here is cooling in the Equatorial Pacific might be stronger than others are suggesting "potentially" nipping the end of the South American corn and soybean crop season in southern areas and creating some potential again this spring or summer, for sub-normal U.S. crop yields.
The U.S. hard-red wheat crop is one of the worst conditions since records have been taken. I believe this market has little downside risk at this point, unless we get into an active, wet, spring weather pattern.
While some renewed concern may develop for world grain markets (in part due to the continuation of large world stocks and a recent USDA report), weather patterns for world coffee areas may improve that could keep coffee prices from rallying much more. World weather will also be mostly beneficial for cocoa.
Record Heat in Australia. Any Trading Advantages?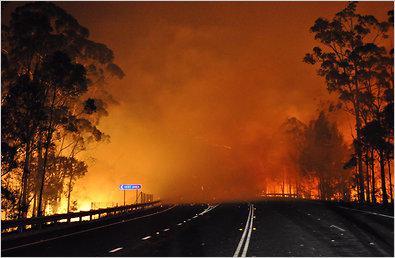 Dozens of wild fires in southern Australia last week with temperatures exceeding 120 degrees outside of New South Wales.
Source: NY Times
Australia is a developed country with over 22 million people. The country is of course rich in many natural resources. Australia is similar to Canada in that both countries have a parliamentary democracy and are commodity based economies. Australia is known as "The Lucky Country", in that it offers many advantages in investment alternatives. However, the last couple years, they have been hit with an onslaught of droughts, floods and fires that have crippled some sectors of their economy.
One of the country's most popular songs--"My Country", written more than 100 years ago--calls Australia a land of "droughts and flooding rains.'
Australia is the 2nd biggest exporter of cotton in the world, behind the United States. Given the recent drought that threatens much of their cotton crop and the reality that world cotton acreage may have to fall due to low cotton prices versus grains, I look for cotton prices to be well supported heading into spring. A good buy may be Dow Jones-UBS Cotton Total Return Sub-Index ETN (BAL)
SOURCE: WEATHERSOURCE
Disclosure: I have no positions in any stocks mentioned, and no plans to initiate any positions within the next 72 hours. I wrote this article myself, and it expresses my own opinions. I am not receiving compensation for it (other than from Seeking Alpha). I have no business relationship with any company whose stock is mentioned in this article.