A company that is coming up on my watchlist daily is TiVo (NASDAQ:TIVO), which, together with its subsidiaries, provides software, technology, in-home, and outside-of-the-home cloud-based video solutions, which are included in DVRs, non-DVR set-top boxes. 2012 was a great year for TIVO and together with the company's recent earnings report and upcoming settlement, it seems that TIVO is cheap at these levels.
Earnings
TIVO's last earnings report showed that the company is making a positive turn. A few years ago, TIVO was having big issues but both fundamentally and technically, the company looks like things are on the mend. Revenue for the reported quarter increased 26.6% from the year-ago quarter to $82.0 million and was ahead of the consensus estimate of $71.0 million. Growth was primarily driven by higher service and technology revenue, which jumped 17.6% year over year to $60.9 million and exceeded management's guidance of $57 million to $59 million. Moreover, a 62.5% jump in hardware revenue led to revenue growth. TIVO has managed to make some great deals with pay TV operators and this has resulted in added revenue. In the third quarter, its subscriber additions grew 44 percent year-over-year, compared to 41 percent in the second quarter and 27 percent in the first quarter. It's also expanding internationally, as they made deals with Virgin Media in the U.K., ONO in Spain, and Com Hem in Scandinavia.
Litigations
TIVO has also announced success in a patent litigation, the latest being Verizon. Verizon (NYSE:VZ) agreed to give TIVO a $250m settlement with quarterly payments through 2018. Remember also that Dish Network (NASDAQ:DISH) settled for $500m in 2011 and continues to make quarterly payments.
What makes TIVO interesting is the upcoming lawsuit in May against Motorola, now bought by Google (NASDAQ:GOOG) and Time Warner Cable (TWC). Janney Capital markets believes these lawsuits can bring in an additional $1B to $2B. A possible takeover by GOOG is also a possibility.
Fundamental Analysis
Ma

rket capital of $1.56 billion

Float of $121.5 million

% of float short = 10% approximately

% held by institutions = 88.99%

Total cash $623.5 million

Total Debt = $172 million

PEG = -7.19, very low and selling at th

e bottom of its five year valuation.
What's interesting is that although TIVO has been making new highs, the short interest remains quite high, and a short squeeze can easily push this higher. Institutions hold 89% of the float which is very high and a positive for the company going forward.
Technical Analysis
On the daily chart, one can see that TIVO is forming a beautiful bull-flag formation, with an ascending triangle currently being formulated. I expect the bull flag to continue to play out between $12-13, and eventually breakout to new highs later in January and into their earnings report in late February.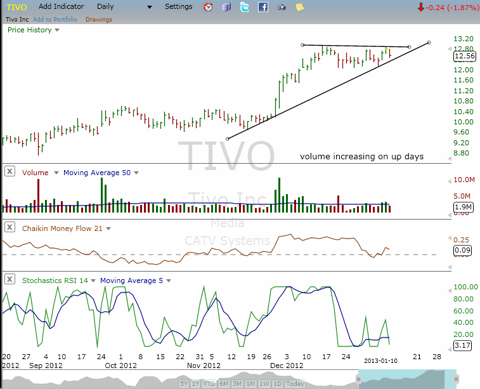 The weekly chart is forming a cup and handle. I expect a breakout in the coming days or weeks.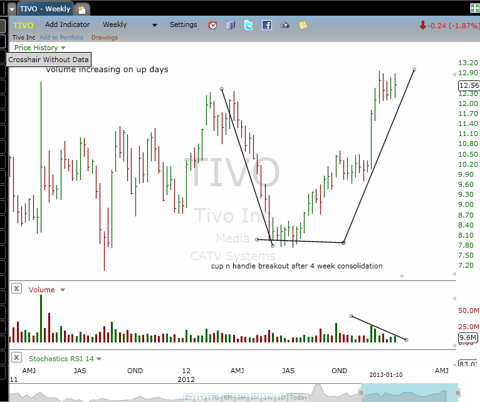 Conclusion
Provided that TIVO continues to grow as we saw in their last quarter, I expect the company to have record earnings in 2013. This would occur as a result of new relationships with US Tier 2/3 providers, new marketing schemes, increased revenue due to settlements and the generation of positive cash flow in 2013. My target is $24 for 2013.
Disclosure: I am long TIVO. I wrote this article myself, and it expresses my own opinions. I am not receiving compensation for it (other than from Seeking Alpha). I have no business relationship with any company whose stock is mentioned in this article.