There is no doubt Hepatitis C is one of the deadliest and most painful diseases any one can endure, and in an effort to fight back against its deadly wrath, Achillion Pharmaceuticals (NASDAQ:ACHN) is making considerable strides in terms of four drugs currently in its pipeline.
According to the Centers for Disease Control's website, "Hepatitis C, which currently affects 3.2 million Americans, is a contagious liver disease that ranges in severity from a mild illness lasting a few weeks to a serious, lifelong illness that attacks the liver. It results from infection with the Hepatitis C virus (HCV), which is spread primarily through contact with the blood of an infected person".
Company Overview
Achillion Pharmaceuticals, Inc is a biopharmaceutical company based in New Haven, Connecticut and "focused on the development of antivirals for the treatment of chronic hepatitis C infection (HCV) and the development of anti-bacterial solutions for the treatment of resistant bacterial infections".
As of January 14th shares of ACHN currently carry a market cap of $728 million, have traded up 50.74% since July 22nd and trade at a 11.63% premium to their 50-DMA and at an 15.26% premium to their 200-DMA.
As of September 30th, 2012 and from a balance sheet perspective, Achillion has $80.91 million in cash, or $1.02/share and over the course of the last 12 months ACHN has generated $2.55 million in revenue or $0.04/share. Shares of Achillion also carry a book value per share of $1.04.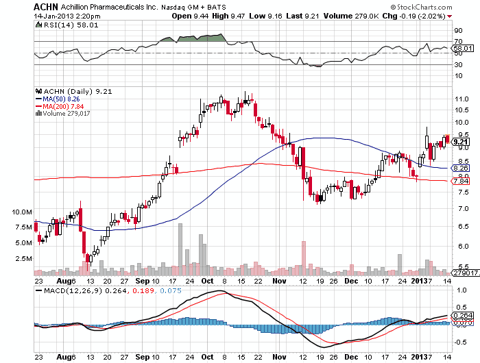 On Monday January 7th, it was announced that Achillion's ACH-3102 (a drug candidate currently being developed to treat chronic hepatitis C viral infections), in combination with antiviral drug ribavirin, had shown positive progress during a Phase 2a study of 8 patients. According to the company's President of Research and Development and Chief Scientific Officer, Milind Deshpande, Ph.D, "As the first-ever clinical trial to evaluate an NS5A inhibitor as a single direct-acting antiviral in combination with ribavirin, we are extremely encouraged by these initial results that demonstrate rapid suppression of the HCV GT1b virus and a well-tolerated safety profile through 12 weeks of therapy". If the company can continue to make significant strides against the spread and life expectancy of the HCV GT1b virus, investors may want to consider this as a positive catalyst and look to increase their position when future developments are announced.
Achillion's Current Pipeline Relative to Hepatitis C
ACH-3102: is a potent second generation NS5A inhibitor which Achillion discovered in 2011 and nominated as a clinical candidate that same year. Because of the synergy noted in vitro between NS5A inhibitors and NS3 protease inhibitors, Achillion is rapidly advancing ACH-3102 through preclinical development and IND-enabling studies.
During its presentation at The European Association for the Study of the Liver, which took place during April of 2012, Achillion concluded that, "with its profound effect in vitro in preventing the emergence of resistant variants when combined with NS3 protease inhibitor ACH-1625 or ACH-2684, clinical evaluation of ACH-3102 in combination with ACH-2684 or ACH-1625 in hepatitis C patients is warranted".
ACH-2928: is a potent NS5A inhibitor which Achillion discovered in 2009 and nominated as a clinical candidate in 2010. Because of the synergy noted in vitro between this NS5A inhibitor and NS3 protease inhibitors, Achillion has advanced ACH-2928 through preclinical development and completed IND-enabling studies for this compound.
While presenting at The European Association for the Study of the Liver, Achillion highlighted both the methodology and recent results of its Phase 1 trial containing sets of both healthy patients and HCV-GT1 patients.
ACH-2684: is a potent pan-genotypic inhibitor of HCV protease. Preclinical studies demonstrate its excellent potency in the low pico-molar range, safety and tolerability, and a pharmacokinetic profile supportive of once daily dosing with excellent metabolic stability. The potency and virology profile of ACH-2684 demonstrates that it very effectively suppresses a broad range of natural variants of the hepatitis C virus, and may be effective in the prevention and treatment of emerging resistant variants.
ACH-1625 (Sovaprevir): Sovaprevir displays a moderate shift in potency in presence of human serum. It is anticipated that trough concentration of 35 ng/ml (43 nM) will result in 0.99 to 0.999 efficacies. Sovaprevir is highly specific for inhibition of HCV and does not inhibit HIV, RSV, HSV-1 or HBV. Further, sovaprevir displays >4000-fold selectivity against human proteases, and because of this selectivity, sovaprevir is anticipated to be better tolerated than drug candidates like telepravir that inhibit human protease (elastase and cathepsins.).
While presenting data on Sovaprevir to the annual meeting of The European Association for the Study of the Liver, Achillion highlighted the methodology behind its Phase 2 Trial design by noting that "An ongoing double-blind, randomized, placebo-controlled, dose-ranging study with patients assigned to one of three daily doses of ACH-1625 (200, 400, or 800 mg) or placebo for 28-days (Segment 1) or 12 weeks (Segment 2) with 48 weeks of 180 μg PegIFN-alpha 2a (Pegasys, Roche) / 1000-1200 mg Ribavirin (Ribasphere, Kadmon or Copegus, Roche) is being conducted in the US and EU".
Are there any potentially negative catalysts to consider when it comes to Achillion's pipeline that could potentially affect the behavior of its stock? As is the case with any biotech company, potential investors need to keep in mind some of the negative catalysts that go hand-in-hand with the Achillion. On one hand, any negative indication by the FDA with regard to Achillion's current pipeline could send shares down a very unfavorable path. On the other hand, and from a fundamental perspective, if Achillion fails to meet analyst's expectations in terms of earnings, revenues or growth, shares could experience a short-term selloff.
Final Analysis
For potential investors looking to establish a position in Achillion, I'd take a closer look at the fundamentals and keep in mind any developments the company makes with regard to Hepatitis C and more specifically HCV GT1b. Given the fact that Achillion has made considerable strides in terms of the inhibitor-based solutions within its pipeline, I'd look to establish at a small-to-midsized position at current levels.
Disclosure: I have no positions in any stocks mentioned, and no plans to initiate any positions within the next 72 hours. I wrote this article myself, and it expresses my own opinions. I am not receiving compensation for it (other than from Seeking Alpha). I have no business relationship with any company whose stock is mentioned in this article.