For more than ten years, two technology giants, Alcatel-Lucent (ALU) and Cisco (NASDAQ:CSCO), have been out of favor, for good reasons: their revenue growth and earnings margins have been crashed by competition from Hewlett-Packard (NYSE:HPQ), Juniper Networks (NYSE:JNPR), Huawei Technologies Co., and VMware (NYSE:VMW).
In recent moths, the momentum seems to have come back for both companies. Their stocks are trading above the 100 and 200-day moving averages, following a number of positive corporate developments.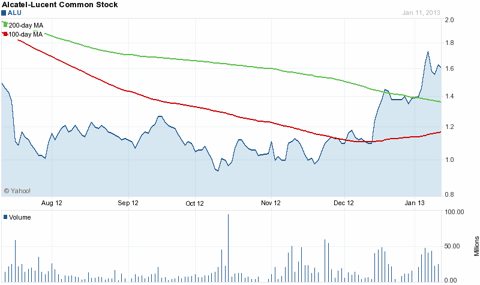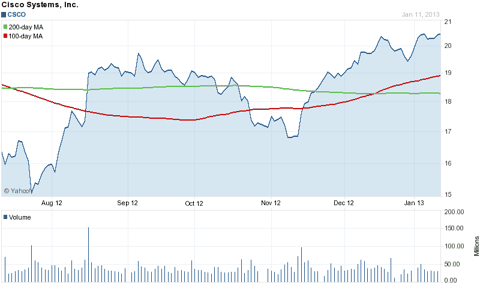 Last August, for instance, Cisco announced the cutting of 10,000 jobs or 14 percent of its labor force. Last September, Alcatel-Lucent announced the cutting of 5000 jobs, moving from a decentralized to a centralized business model. And both companies have introduced new models to capitalize on the growth segments of the storage market.
| | | |
| --- | --- | --- |
| Company | ALU | CSCO |
| Forward PE (July 2014) | 78.7 | 9.70 |
| Operating Margin | -4.70% | 22.50% |
| Quarterly Revenue Growth | -3.40 | 8.40% |
| Quarterly Earnings Growth | -- | 17.7% |
| Total Debt/Equity | 1.43 | 0.3 |
| Operating Cash Flow | -102.45M | 11.49B |
Does it mean that it is time for investors to buy the two stocks?
For Alcatel-Lucent, the answer is definitely not. Though the stock trades at a low PE, the company's financials are nothing to cheer about: negative operating margins; declining revenues, and negative cash flow. For Cisco, the answer is yes. Revenue growth accelerated in the last quarter (from earnings 4.40 to 8.40%) in the last two quarters, helping the company beat earnings estimates in the last quarter. Besides, Cisco 2.7 percent dividends pays investors to ride the company's momentum.
A few words of caution: While Cisco's PE is low and its financials sound, the company has yet to rediscover its innovative trait, which takes a new leadership.
Cisco's innovation strategy is based on strategic acquisitions, the purchase of smaller companies with breakthrough products, a strategy that isn't sustainable. As owners of these smaller companies demand higher and higher premiums to compensate them for the risks they assume - Cisco ends up paying top prices for Net Speed and Growth Networks acquired at the peak of the high-tech bubble. Strategic acquisition further end up being dilutive to existing stockholders when paid with the issuing of new stock - that's how Cisco ended up with 5.5 billion shares.
The bottom line: Alcatel-Lucent's momentum shift seems to be temporary, while Cisco's permanent. That's why I'm long on Cisco, but stay away from Lucent, especially after its recent run up.
Disclosure: I am long CSCO. I wrote this article myself, and it expresses my own opinions. I am not receiving compensation for it (other than from Seeking Alpha). I have no business relationship with any company whose stock is mentioned in this article.