Shares of Adobe Systems (NASDAQ:ADBE) have returned 30.4% over the past 12 months. At $38.09 per share, the stock is now trading very close to its 52-week high at $38.78 attained just recently. Will the current uptrend continue? In this article, I will walk you through my valuation analysis which may assist in formulating your investment decisions.
Sell-side analysts on average predict Adobe's revenue, EBITDA and EPS to rise by 2-year CAGRs of 12.8%, 20.5% and 35.2%, respectively, over the next 2 fiscal years (see comparable analysis chart below). Those consensus growth estimates are substantially above the averages of 6.4%, 8.2%, and 12.0%, respectively, for a group consisting of Adobe's peers in the software sector. Similarly, the company's EBITDA margin is forecasted to expand by 4.2% over the same period, compared to an average estimate of just 1.5% for the peers. On the profit side, most of Adobe's margin metrics are below the par, but the difference is not significant. The company's leverage level is fairly in line with the peer group as reflected by its higher debt to capitalization ratio, but lower debt to EBITDA rate. In terms of liquidity, Adobe's trailing free cash flow margin is very comparable to the peer average. Although the firm's interest coverage ratio is below the average, the metric remains at a healthy level on an absolute basis. Both Adobe's current and quick ratios are above the par, reflecting a very solid balance sheet performance.

To summarize the financial comparisons, Adobe's superior growth potential would likely be the primary support for the stock's valuation. The stock is currently trading at 14.0x forward EV/EBITDA and 27.1x forward P/E, representing a large premium over the peer-average EV/EBITDA and P/E multiples of 8.2x and 12.2x, respectively. Given the company's solid profitability, cash flow and balance sheet performance, I believe Adobe's valuation premium can be justified.
From a historical valuation standpoint, Adobe's current valuation appears to be fair. The stock's trailing EV/EBITDA and P/E multiples at 11.4x and 23.0x, respectively, are now trading at discounts of 29.1% and 26.0% to their 10-year historical averages (see chart below). The valuation discount appears to be reasonable provided that 1) Adobe's various profitability margins have remained fairly stable over the past 10 years and 2) the company's estimated revenue, EBITDA and EPS growth rates for the next few fiscal years are moderately below their historical level, and this appears to be the primary cause for the downtrend of the valuation multiples (see charts below).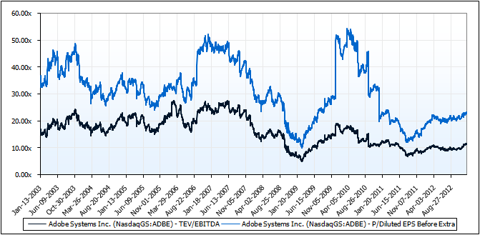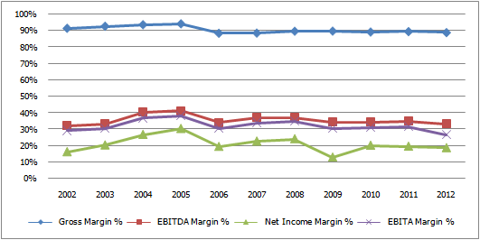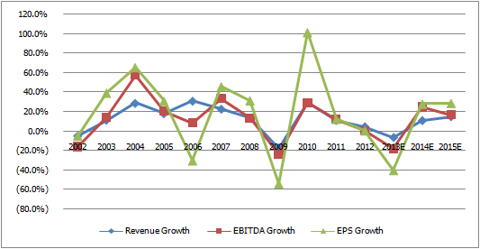 To support my view, I also performed a DCF analysis which incorporates the market's consensus revenue and EBITDA estimates from fiscal 2013 to fiscal 2018 (see DCF chart below). Other cash flow related items in the model including depreciation, tax expense, capital expenditure, and net working capital investment are projected based on their historical figures relative to the revenue as those ratios have been trending steadily over time. The terminal revenue growth rate is set to be 3.5% and the terminal EBITDA margin is assumed to be the same as the estimated margin in fiscal 2018.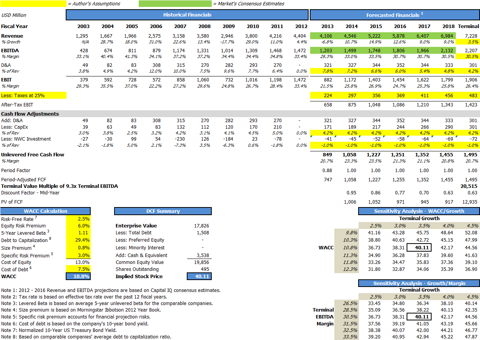 A company-specific risk premium of 3.0% is used in the cost of equity calculation to account for the projection risk of the market's consensus estimates. Instead of using the currently depressed 10-year US Treasury Bond yield, a normalized 10-year risk-free rate is applied. I also added a size premium to account for Adobe's smaller size relatively to the selected peers in the group. As such, based on a WACC of 10.8%, a terminal growth rate of 3.5%, and an implied EBITDA multiple of 9.3x (currently at 14.0x as mentioned earlier), the DCF model yields a stock value of $40.11, which is 5.3% above the current share price at $38.09 and thus suggests a fair valuation given that the assumptions used in the model are quite reasonable. According to the sensitivity tables, the somewhat extreme scenarios such as a mix of 2.5% terminal growth rate and 12.3% WACC or 2.5% terminal growth rate and 26.5% terminal EBITDA margin would only result in an average price decline of 14.3% from the current $38.09 level.
Adobe's medium-term price catalyst appears to be the firm's current transition to a subscription-based business model. According to Jay Vleeschhouwer, a research analyst at Griffin Securities (sourced from Thomson One, Equity Research):
"The rationale for the transition - which we have advocated for several years - is to establish higher numbers of customers who pay Adobe to remain current on the various products and services (including customers who may have lagged in terms of remaining on the latest versions), and to drive large numbers of new users, especially in the creative and design applications side of the business. Once the model transition to subscriptions is firmly established, the cash flow generation, already quite good, will get even better, in addition to the cash flow from Digital Marketing Suite. The net incremental effects of the model change should now occur as early as 2014. We estimate double-digit revenue growth by FY14, though the operating margin will not be as high as we've been used to due to segment mix (more Digital Marketing) and investments in the business (sales and marketing especially)."
Bottom line, after the recent price appreciation, Adobe's valuation remains reasonable as it is supported by the firm's relatively strong growth potential. In addition, Adobe's business transition would likely position the stock for a further upside. Therefore, Adobe remains a buy at the current price level. To limit the investment risk, investors may also consider selling out-of-money put options to either collect a premium upfront or take a potential opportunity to acquire the shares at a lower price.
The comparable analysis and DCF charts are created by the author, all other charts are sourced from Capital IQ, and all historical and consensus estimated financial data is sourced from Capital IQ.
Disclosure: I have no positions in any stocks mentioned, but may initiate a long position in ADBE over the next 72 hours. I wrote this article myself, and it expresses my own opinions. I am not receiving compensation for it (other than from Seeking Alpha). I have no business relationship with any company whose stock is mentioned in this article.