Germany is helping to power the outperformance in European equities as the DAX index nears its all-time high. However, exchange traded funds tracking the German markets could begin to run out of gas as the economy appears to be slowing.
The iShares MSCI Germany Index Fund (NYSEARCA:EWG) has gained 30% over the past year.
The Deutscher Aktien IndeX, or "DAX," has increased 25.1% over the past year. The DAX is currently hovering around 7,708. The Index hit an all-time high of 8106 in July 2007.

Source: Yahoo Finance
The difference in holdings can explain the variation in performances between the ETF and the DAX.
The iShares Germany ETF tracks the MSCI Germany Index, which follows 85% of the German equity market - EWG currently has 52 holdings. In comparison, the DAX is a total return index of 30 German blue chip stocks traded on the Frankfurt Stock Exchange.
While German stocks have strengthened as concerns over the Eurozone financial crisis lessened, the German economy could be slowing.
Industrial production only rose 0.2% in November, compared to economists' estimates of a 1% increase, CNN Money reports. The recession gripping much of the Eurozone has also depressed German exports, which fell 3.4% in November.
The German central bank warned that the economy could contract in the fourth quarter of 2012 and the first quarter of 2013, with an average 2013 expansion of 0.4%.
"After a weak start to the fourth quarter of 2012, industrial production has stabilized for the time being," the Germany Economic Ministry said in a statement, reports Moran Zhang for the International Business Times. "However, in the fourth quarter, it will probably remain below third-quarter levels."
A recession is defined as a contraction over two consecutive quarters.
iShares MSCI Germany Index Fund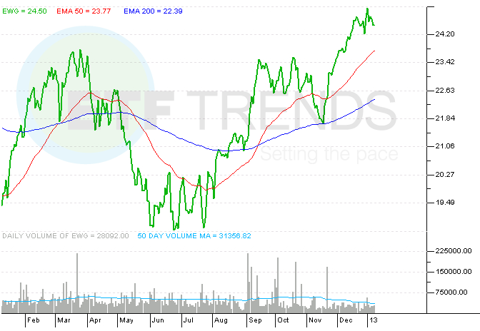 Max Chen contributed to this article.
Disclosure: I have no positions in any stocks mentioned, and no plans to initiate any positions within the next 72 hours. I wrote this article myself, and it expresses my own opinions. I am not receiving compensation for it. I have no business relationship with any company whose stock is mentioned in this article.