Majesco Entertainment Company (NASDAQ:COOL) trades on the NASDAQ and is a developer and publisher of video games for console and portable systems. One of the company's most notable competitors is Electronic Arts (NASDAQ:EA) with a market capitalization of over $4.4B.
Majesco reported its fourth quarter and fiscal 2012 results on January 14, 2012 and although fourth quarter results were not exactly horrible, it is management's guidance that is particularly worrisome going forward.
On a quarter over quarter basis the company reported that Q4-2012 revenues increased 6 percent to $26.6M, while net loss for the quarter improved from $3.9M in 2011 to $2.7M in 2012. On a full year basis the company generated $132.3M in revenues, up 6 percent from 2011, as well as meeting management's expectations. Net income for 2012 dropped to $4.4M from $6.8M in 2011 on the back of weaker sales.
The company expects that fiscal 2013 sales will decline, primarily as a result of declines in sales of the company's core products on legacy platforms. Given that we are currently well past the holiday season, management is already in possession of enough information to make reliable assumptions. The severity of what's to come is best illustrated through the actions undertaken by the company and announced with its Q4-2012 filings. These actions include the closure of the company's social game development section in Massachusetts, the reduction of staff at its game testing unit in New Jersey and outsourcing of certain activities that the company currently executes in-house.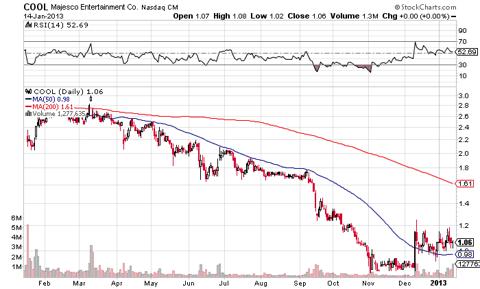 As the chart above illustrates, the company was not exactly a great investment in 2012 and unfortunately will probably not going to be one in 2013. In management's own words, "management anticipates that holiday sales will be at least 50% percent lower than last year". The language used in this statement is clear-cut as far as this investor is concerned and spells trouble for the future. Now since the company's fiscal year end is October 31, sales during the holiday season will be accounted for in the first quarter of fiscal 2013, which means that quarter-over-quarter results in Q1-2013 will be nothing short of disastrous. Given the clear warning, investors are best to look for opportunities elsewhere, as Majesco Entertainment is going to experience difficulties in the months to come.
Disclosure: I have no positions in any stocks mentioned, and no plans to initiate any positions within the next 72 hours. I wrote this article myself, and it expresses my own opinions. I am not receiving compensation for it (other than from Seeking Alpha). I have no business relationship with any company whose stock is mentioned in this article.