Chevron (NYSE:CVX) offers a rare mix of current income, low valuation, share buybacks and dividend growth. The stock offers a respectable quarterly dividend of $0.90 per share. At the current price of $112.85, Chevron yields 3.2%.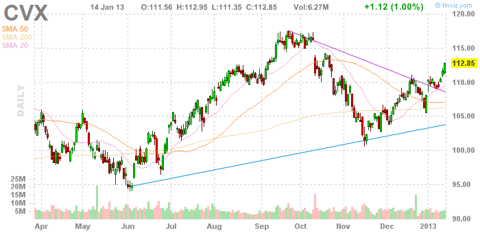 Chevron has been raising its dividend every year since 1988. Over the past 5 years, Chevron has been able to significantly grow its dividend, with an average yearly dividend increase 10%. Since 2008, Chevron has increased its quarterly dividend by 55%, from $0.58 to $0.90 per share.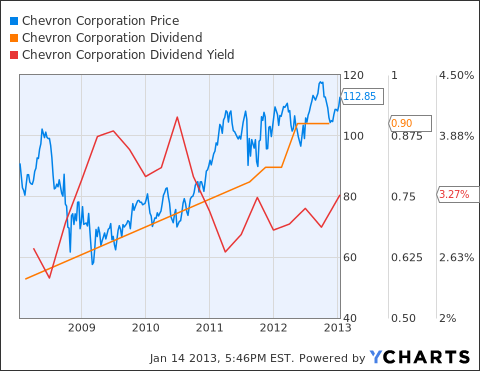 Chevron is hardly expensive or overvalued at the moment, with the stock currently trading at a TTM PE of just 9.25. TTM EPS for Chevron have risen 35%, to $12.20 since 2008, while the share price has risen a similar 36%. FY 2013 EPS is estimated to be $12.27, which gives Chevron a forward PE of just 9.20.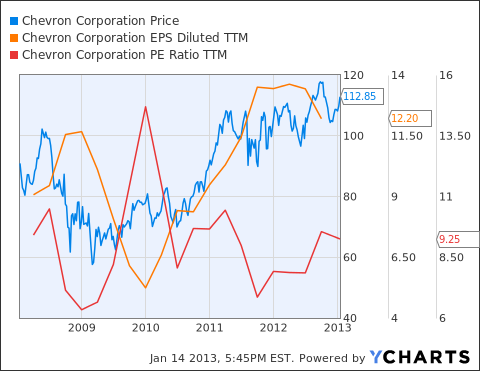 TTM revenue for Chevron has been essentially flat since 2008, only increasing 1%, to $241 billion. However, on a per share basis, TTM revenues have increased 8.4%, to $122 per share. FY 2013 revenues are estimated to increase to $263 billion, or 5.8%.
Chevron has been aggressively buying back its share since 2008, reducing its shares outstanding by 5.5%, or 100 million shares. On October 19, CEO John Watson confirmed that the company had plans to spend about $5 billion a year on share repurchases. At current prices, this amount would reduce Chevron's shares outstanding by about 44.3 million shares, or 2.2% of the float.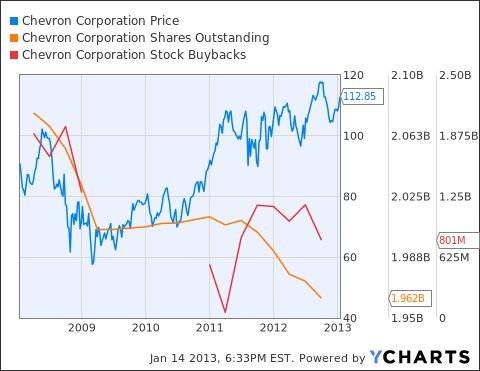 When looking at share buybacks and dividends together, Chevron has returned a large amount of wealth back to its shareholders since 2008. In the past twelve months, Chevron has returned nearly $11 billion back to its shareholders via either dividends or share repurchases. The net payout ratio, which combines both dividends and share buybacks, has been 4.72%.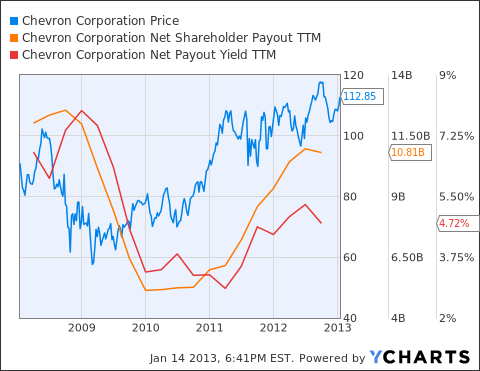 Investing in Chevron does carry some risks. There are some obvious downsides inherent when investing in an integrated energy company, (such as lower energy prices, oil spills, increased government regulation). However, Chevron is facing a unique challenge in a $18 billion judgment in Ecuador. Chevron has stated that it would be defending itself against the judgment. It also has set up a website which details some of apparent fraud and judicial misconduct documented in Ecuador. This lawsuit was inherited by Chevron when it bought Texaco. I doubt that Chevron will have to pay the full $18 billion. However, the company does have over $21 billion in cash as of Sept. 30th. Any settlement reached with Ecuador should send Chevron share price higher. However, considering this lawsuit has been in litigation since 2003, it is anyone's guess on when it will be resolved.
Conclusion
Chevron offers an attractive valuation, a relatively high yield, share price support via stock buybacks, and dividend growth. Chevron is a true blue chip, and would make a solid core holding for most portfolios. At current prices however, I would wait for a pullback below $105 to start a position.
Disclosure: I am long CVX. I wrote this article myself, and it expresses my own opinions. I am not receiving compensation for it (other than from Seeking Alpha). I have no business relationship with any company whose stock is mentioned in this article.