"Bottom line: With such strong tailwinds, the market looks good for now - very good, in fact. And it's possible that we could see a big rally at the beginning of the summer. You know, when the politicians go on vacation and out of the spotlight" ---Karim Rahemtulla, Investment Director at The Wall Street Daily Insider, after the close of the market on Friday January 11,2013
If the performance of the stock market during the first five trading days of January is a reliable indicator for the year, we're off to a good start. In 2012, the first five days of January saw the S&P 500 up 1.73% and by Dec.31, 2012 the broad stock average had climbed 13.3%. So with the S&P 500 up twice as much in the first 5 trading days of 2013 (nearly 3.5%), we may not have to wait until the beginning of summer to see a "big rally". Yet for specific stocks to double this year, we sure could use a healthy correction for lower entry prices.
You may have seen the Bloomberg article on Wednesday Jan.9th quoting Daniel Loeb who runs the hedge fund Third Point LLC. The Bloomberg headline read, "Morgan Stanley (MS) Shares May Double Loeb's Third Point Says".
The article quoted Mr. Loeb as saying: "Morgan Stanley shares may double as brokerage margins improve and management devises a "bold fix" for the fixed-income trading business." "The hedge fund bought shares at an average cost of $16.77, 15 percent below yesterday's [Jan 8th] close of $19.65, Third Point said today [Jan.9th] in a letter to investors".
On Monday the 14th, MS closed at $20.07.
Considering how Bank of America (NYSE:BAC) was the unexpected "Dow-double" in 2012, it wouldn't be a stretch to see that happen to another big financial stock. Especially if a lucky trader could buy shares below $17, a chance that a steep stock market sell-off might present.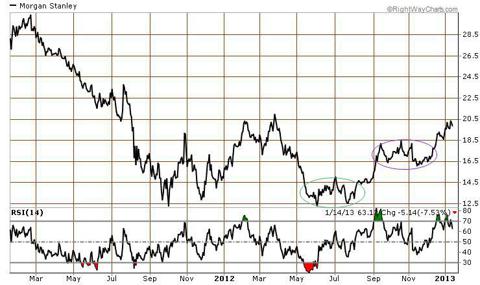 The chart above gives us a 2-year illustration of MS's stock price performance and its Relative Strength Indicator (RSI), one of the more reliable technical indicators. RSI always ranges between 0 and 100. The RSI is currently moving lower along with the share price. The circled areas in the chart show the history of how the stock consolidates before moving higher. That may begin to happen in the weeks ahead.
RSI values below 30 and above 70 are typically taken as oversold and overbought respectively. A strengthening RSI indicates that gains are tending to dominate losses. Once the RSI climbs above 70, however, the sustainability of the gains is called into question.
CEO James Gorman, who reported back in Oct.2012 that he owned over 1,060,000 shares of MS, has already pledged to shrink the Fixed Income group, with plans to reduce risk-weighted assets in the business 35 percent from the third quarter of 2011 through the end of 2014.
Morgan Stanley is cutting 1,600 jobs from its investment banking and trading units and support staff, a person with direct knowledge of the plans said last week as quoted in the Bloomberg article. MS steps into the earnings confessional on Friday January 18th, and a number of analysts-- including myself-- are anticipating the earnings news to lead to a temporary correction in the stock's price.
A Forbes article gives more details about Dan Loeb's "Morgan Stanley Bet". Like so many activist shareholder bets do, Loeb's may be the catalyst for a major shake-up of the MS Board of Directors. "CLSA analyst Mike Mayo thinks that a little pressure from Third Point might just help Morgan Stanley capture more of its franchise value", the article stated.
If you want to know how stocks like BAC and others have doubled just follow the Smart Money's trail backward, as some of us may be doing a year from now with Morgan Stanley shares. Steps like massive cost-cutting and changes of directorships can lead to positive share price momentum. As for the price potential on MS shares from here, the Forbes article stated:
"Mayo has a 12-month price target of $27 on Morgan Stanley, but estimates the business' franchise value at around $40 per share.That squares up with Loeb, who writes that the combination of a FICC restructuring, a stronger board and a generally constructive macro environment means shares should "nearly double" from recent levels."
Another sector that may see huge share price gains is the precious metals mining group. I subscribe to the perspective that Jeff Clark, the editor of Advanced Income recently presented in a guest editorial for Steve Sjuggerud's DailyWealth. Mr. Clark presented a 2-year chart comparing the performance of the S&P 500 with the mining group. Mr. Clark's astute observation presented the following keen chart:
"When the chart is rising, the S&P 500 is outperforming the miners. When the chart is falling, miners are outperforming the S&P 500. As you can see, we're approaching the highest level of mining-stock underperformance we've seen in the past two years...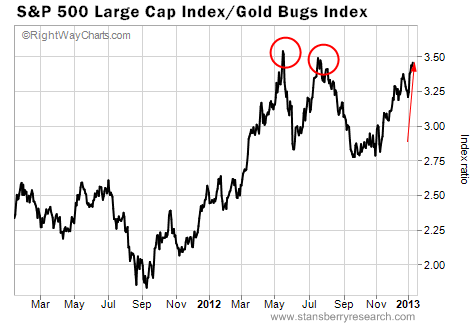 "The red circles on the chart indicate the last two times we've been at this level - which also happens to be the last two times I loaded the Advanced Income portfolio up with mining stocks."
This is a tremendous insight, and with the Fed's massive, seemingly endless bond-mortgage-backed-securities buying spree, it may precipitate an enormous rally in the precious metals and the miners. It wouldn't surprise me if a year from now we see producers like Yamana Gold (NYSE:AUY) up 100% from current levels.
Yamana sells at a little more than 12 times forward (1-year) earnings. As of its most recent quarterly report, AUY had a 38% operating margin (trailing-twelve-months). On Monday Jan.14th it announced that its fourth quarter 2012 results will be released after the market closes on February 20, 2013 followed by a conference call and webcast on February 21, 2013 at 11:00 am ET. Analysts consensus estimates for AUY's fourth quarter is for a slight increase in earnings-per-share over the year ago quarter. Quarterly revenue growth is expected to be higher by more than $105 million, an 18.5% improvement. If it exceeds these estimates AUY may rally up.
Smaller explorers like ATAC Resources (OTCPK:ATADF) and junior producers like Alexco Resources (NYSEMKT:AXU) may also skyrocket in the year ahead. These companies are perceived as takeover targets by larger predators and may see shares surge on news of outstanding drill results or production gains.
Speaking of stocks that may double as a result of takeover rumors, keep an eye on Jamba Inc., also known as "Jamba Juice Company" (NASDAQ:JMBA). On January 14th in a press release (a must-read) it announced a "comprehensive expansion of store portfolio and design". This innovative launch "...will transform the store layout and design across the entire concept platform, providing customers with a compelling guest experience that reflects the vibrant, healthy, active lifestyle embodied by the Jamba® brand." "Jamba seeks to provide innovative, compelling formats that address the diverse desires of our customers around the globe," stated James D. White, Chairman, President and CEO, Jamba Juice Company."
Insiders and 5% owners like Wedbush Morgan Securities and the CEO Mr. White hold 13% of JMBA's outstanding shares. The 788-store Jamba chain also recently announced its version of a "kids meal" in a smart-headed effort to expand sales and drive future revenue.
Another sector where a number of companies may see shares double is the biopharmaceutical arena. Especially watch companies like MannKind Corp. (MNKD), where insiders are heavily invested. MNKD is a development stage biopharmaceutical company which engages in the discovery, development, and commercialization of therapeutic products for diabetes and cancer in the United States. This would be nothing more than a roll-of-the dice speculative stock if it weren't for one significant fact. The CEO and principal stockholder Alfred Mann has been buying the stock hand-over-fist. Mr. Mann purchased an additional $103 million worth of MNKD in December 2012. He now owns a total of more than 75.5 million shares worth over $188 million at current price levels .
If MNKD's most promising product candidate, Afrezza, gets FDA approval, the company may be gobbled up by a larger competitor or double on a myriad of speculative possibilities. Afrezza, an ultra-rapid-acting insulin treatment for adults with type 1 or type 2 diabetes has submitted its third application to the FDA requesting approval.
Keep in mind that any stock below $5-per-share is still considered a "penny stock" and very speculative. Most won't do well, but history indicates that about 1-in-10, when carefully screened, will produce spectacular results. When you're hoping for a "double" or more as your reward, never forget that this means you're willing to take at least double the risk. Only use speculative money that you can afford to lose with companies like JMBA, MNKD, ATADF and AXU.
However, companies like Morgan Stanley and Yamana Gold aren't likely to go bust or go away. If they go away, it will be because they've been merged or acquired by a much bigger "fish" and that usually makes shareholders very happy. Remember BAC as an example, and always do your own due diligence before buying anything!
Disclosure: I am long AXU, OTCPK:ATADF, AUY. I wrote this article myself, and it expresses my own opinions. I am not receiving compensation for it (other than from Seeking Alpha). I have no business relationship with any company whose stock is mentioned in this article.