Pengrowth Energy Corporation (NYSE:PGH) is a Canadian energy company primarily located in western Canada. Pengrowth was previously a Canadian Royalty Trust with a historically high monthly dividend. Pengrowth Energy recently held its Investor Day 2013 and in it announced some major news and initiatives, including sanctioning Phase 1 of its Lindbergh thermal bitumen project.
Back in November, I had previously looked at Pengrowth's dividend and cash flows. I had determined that while capex and dividends did exceed operating cash flows, that the company was taking steps to combat this. These steps included asset sales and increased use of hedging. On December 24, 2012, Pengrowth agreed to sell its 10% working interest in its non-operated Weyburn property in Saskatchewan to OMERS Energy and Ontario Teachers' Pension Plan. PGH plans to use the C$315M proceeds to cut debt and to help finance the initial phase of its Lindbergh oil sands project in Alberta.
Pengrowth has been recently hovering near its five year lows at or near $5.00 per share. Pengrowth was hurt last year by the declining price of natural gas and the increase in the spread between Canadian crude and WTI. These issues forced Pengrowth to cut its dividend last year, from $0.07 to $0.04 per month. However, the shift to thermal oil should provide Pengrowth with a low-decline, long-life asset base, with higher operating netbacks.
The corporate strategy outlined by Pengrowth is to use non-thermal funds flow from operations to sustain the current dividend and to fund thermal assets with low declines and long reserve life. The plan includes exploiting existing inventory of core oil and liquids-rich opportunities including: Lochend Cardium light oil, Swan Hills light oil, and Mississippian light oil. Pengrowth is to transition to a niche thermal oil producer. Pengrowth's plan is to diversify away from Western Canadian oil & gas markets. Pengrowth is anticipating growth from the Lindbergh project in the coming years. Pengrowth has also stated that it will continue paying its large dividend. Long-term investors who can wait it out until 2014 will do well if Pengrowth manages this transition to thermal oil correctly.
A profile of the Lindbergh Project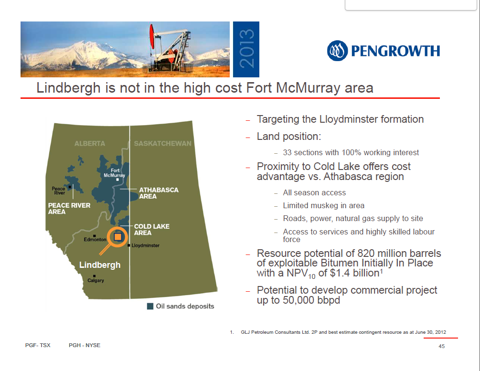 Accelerating Lindbergh is a critical first step in Pengrowth's strategy. The Lindbergh pilot performance has exceeded expectations, and increased Pengrowth's understanding and confidence significantly. The scope and acceleration changes include: increased 2013 capital spending from $150 to $300 MM. increase 2010 Phase I cost from $450 to $590 MM, expanding facility throughput by more than 15%, and to ramp up to full 12,500 bbpd capacity one year sooner than expected. The project is scalable to 50,000 bbpd and is expected to generate significant free funds flow for 25 years.
Lindbergh is expected to add production growth and significant funds flow growth over the next six years, including 2% CAGR in production and 8% CAGR in funds flow from operations, as shown below: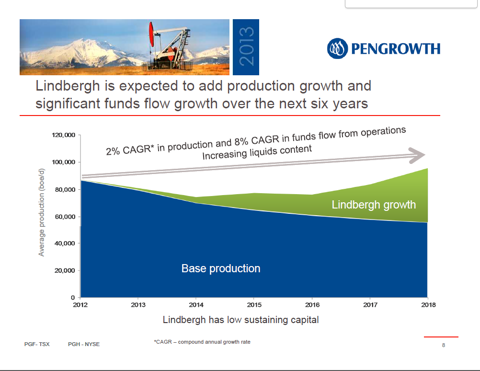 Lindbergh would significantly boost Pengrowth's production and funds flow from operations. By 2018, production is projected to reach 96,000 boe/d, with 50,000 boe/d coming from Lindbergh. On a per share basis, funds flow from operations is expected to increase 73%, from $1.21 per share to $2.09 per share.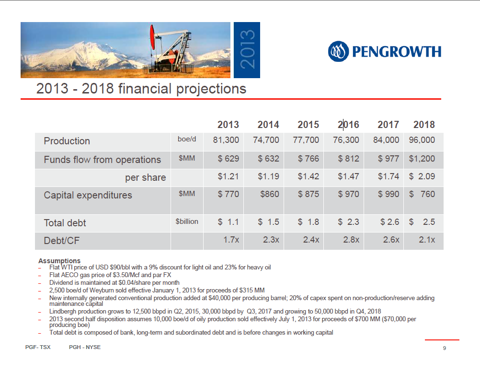 How is Pengrowth going to pay for Lindbergh?
Pengrowth projects that over the 2013 and 2014 period capex, dividends and Lindbergh commitments will exceed funds flow from operations by ~$0.9 billion dollars. Phase I of Lindbergh 12,500 bbpd will not add significant production or funds flow until Q4, 2014 or early 2015.
Pengrowth plans asset sales to fund the development of Phase I of Lindbergh and pay the dividend. Pengrowth has already announced Weyburn for $315 MM. Pengrowth plans for up to an additional $700 MM of dispositions targeted by year-end 2013. Subsequent Lindbergh development investment will be partially funded from incremental cash flow from Phase I production at Lindbergh. Pengrowth plans to mitigate risk through hedging of commodities and FX. Pengrowth plans to rationalize non-core, mature assets. The existing asset base does not optimize Pengrowth's sustainability focus as it is too scattered resulting in sub-optimal capital efficiencies and operating costs. The ultimate goal to bridge Lindbergh funding gap to 2015 and improve operating efficiencies.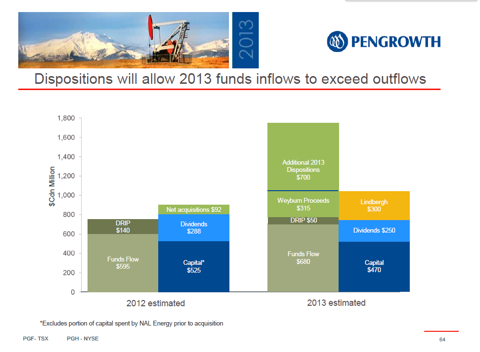 Pengrowth's thermal development has sustaining capital advantages, long reserve life and low declines, which are suited for long-term dividend sustainability. The U.S. is not expected to be a significant thermal oil competitor as there's very little heavy oil production in the U.S. to displace Canadian production at refineries. U.S. Gulf Coast refineries have significant heavy oil processing capacity with capacity available for Canadian thermal oil. This has the ability to displace Venezuelan and Mexican oil. This is a niche opportunity for a company the size of Pengrowth.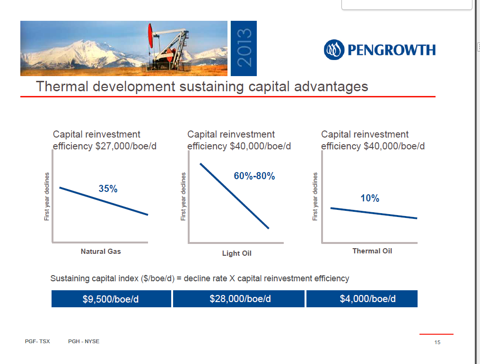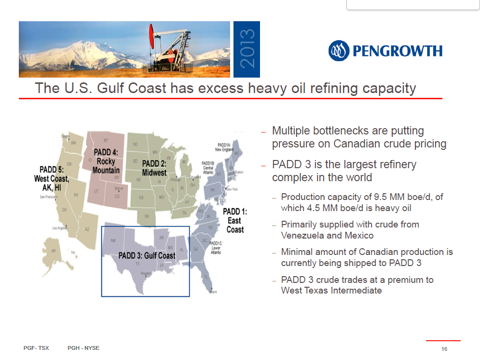 The Lindbergh reservoir has many advantages compared with the McMurray area including: greater depth than McMurray creates higher pressure and better heat transfer, low viscosity - 50,000 to 350,000 cp, permeability - 4 darcies, clean continuous sands, expansive, sheet type accumulations, as opposed to channels,and high quality cap rock. Conventional reservoir characteristics are enhancing production from the lower viscosity in reservoir and more mobile fluids with lower down hole chamber temperatures.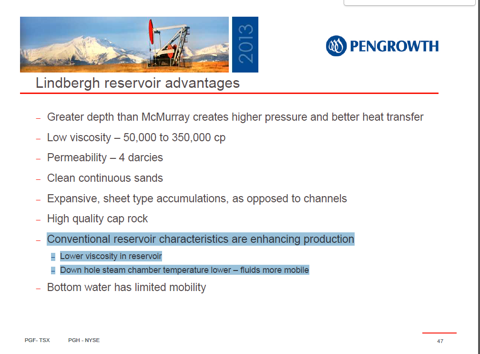 The Lindbergh development timeline takes advantage of lower SOR to plans to bring on additional production and ramp up to full 12,500 bbpd capacity one year sooner than expected. The quality of the reservoir has improved project economics, resulting in a 94% increase in pre-tax NPV value to $688 MM for Phase I. The Lindbergh product netbacks are significantly stronger than originally expected and project economics are very robust, even at lower commodity prices.
Pengrowth's revised cost estimates have been updated upward $140 MM to account for scope changes, marketing considerations and industry cost trends. Throughput capacity is to be expanded by approximately 15% and more well pairs are to be added to utilize excess steam capacity allowing Pengrowth to exceed the approved 12,500 bbpd and make up for downtime and ramp up timing. Yearly allowable production for first phase will be 365x12,500 = 4.6MMbbl/yr. Pengrowth plans to produce above 12,500 bbpd after EIA expansion approval (expected Q4 2015) prior to construction. Pengrowth also has plans to build in additional tankage which allows for: flexibility of short term storage, and transportation via truck, rail and pipeline. This is to ensure market access and the best price in changing market conditions. Pengrowth also plans to expand co-generation facilities to match long term needs and support conventional business and become a net seller of power which is currently 18% ($85 MM) of operating costs.
(click to enlarge)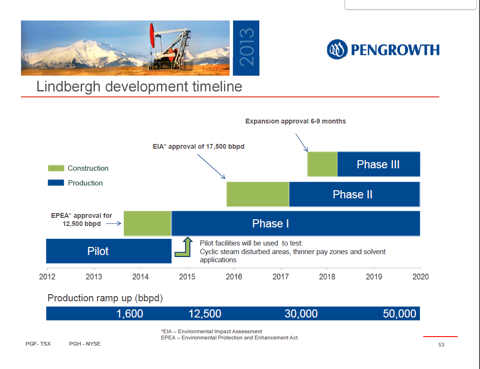 (click to enlarge)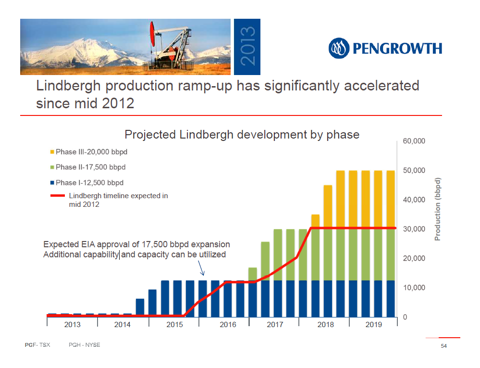 Pengrowth has a financial strategy to support the business plan. The company plans to improve its balance sheet too with non-core asset dispositions. Pengrowth also plans to increase funds flow from increasing liquids production. The goal is to maintain the financial strength to support thermal development while continuing to
pay a dividend. Pengrowth plans to diversify away from Western Canadian oil & gas markets.
Pengrowth is committed to its dividend:
Pengrowth does not want to issue equity at the current share price due to the significant discount to NAV. Pengrowth remains committed to a dividend of $0.04 per share per month. The company has been paying a dividend for 25 years, paying out $5.1 billion or $43.31 per share over the 25 years. Before reducing the dividend Pengrowth would sell assets and or reduce capital spending.
Pengrowth is committing massive resources to its Lindbergh project. Pengrowth wants to become a player in the thermal oil business and wants to diversify away from Canadian light oil and natural gas. Pengrowth has also stated that it will reduce capital expenditures and/or sell assets to preserve the dividend if needed. Pengrowth currently trades for about $5.00 a share and has a $0.04 monthly dividend. The yield on this stock is about 9.7% at current prices. Pengrowth is a speculative stock to own. Lindbergh will not be producing considerable amounts until Q3 2014. However, the high yield for Pengrowth should be enough reward while waiting for the Lindbergh production to come online.
Disclosure: I am long PGH. I wrote this article myself, and it expresses my own opinions. I am not receiving compensation for it (other than from Seeking Alpha). I have no business relationship with any company whose stock is mentioned in this article.