ABB (NYSE:ABB) should continue to perform well in the long term due to the company's solid balance sheet, favorable valuation based on a number of measures, and a handful of strategic acquisitions in the past two years. The successful integration of its acquisitions and continued investment in developing innovative products and services should cement the company's prospects. Since my last discussion of ABB, on September 24, 2012, the company's common stock price has appreciated by 11.2%, outperforming that of its larger competitors General Electric (NYSE:GE) and Siemens (SI) and the return of the S&P 500 index (see graph). ABB is a global company but its relatively smaller size enables it to be more selective in choosing its customers and also makes it less sensitive to economic slowdowns.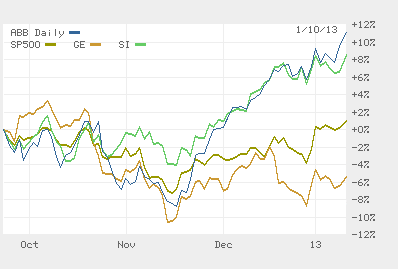 Fundamentals and Valuation
ABB has 2.31 billion shares for a market capitalization of $49.7 billion and an enterprise value [EV] of $53 billion (the company has $5.4 billion of cash and $7.1 billion of long-term debt). For comparison, GE and Siemens have market caps of $221.6 and $95.6 billion and EVs of $567.6 and $106.2 billion, respectively. ABB is half the size of Siemens and a few times smaller than GE. One of the reasons for GE's large EV is that the company has a large financing division that accounts for nearly a third of the company's revenue and most of the liabilities.
Despite its smaller size, ABB has earnings before interest, tax, depreciation, and amortization margin at about 15% that is within a close range of the EBITDA margins of 18.6% and 12.5% for GE and Siemens, respectively. In addition, ABB has the most solid balance sheet as the company has a long-term debt to equity ratio of 0.4 compared to 2.5 and 0.6 for GE and Siemens. Fewer liabilities mean that ABB's balance sheet is less exposed to changes in exchange and interest rates and it has more flexibility in its operations. For example, due to significant leverage in its financial arm and the 2008-2009 financial crisis, GE has to pass stringent Federal Reserve requirements before increasing its dividend. ABB is a purely industrial company and is considerably less risky.
Below is a table showing some of ABB fundamentals and valuation measures and those of GE and Siemens:

| | | | |
| --- | --- | --- | --- |
| | ABB | GE | SI |
| Dividend yield | 3.2% | 3.6% | 3.5% |
| Price to Cash Flow from Operations (trailing twelve months) | 16.5 | 7.6 | 10.6 |
| One Year Total Return (a/o 1/11/13) | 8.1% | 12.2% | 16.5% |
| Beta | 1.5 | 1.6 | 1.6 |
| Price-to-sales | 1.3 | 1.5 | 0.9 |
| Price-to-earnings-to-growth | 0.8 | 1.3 | 0.5 |
| Price-to-earnings (2013) | 14.3 | 12.7 | 11.6 |
| Order backlog (latest quarter)* | 29.2 | 203 | 131 |
| New orders (latest quarter)* | 9.3 | 21.5 | 28.7 |
| 2011 revenue* | 38 | 142.2 | 101.8 |
Source: Reuters; Author's estimates; company documents. * In $$ billions
Acquisitions
ABB has been active on the acquisition front with the following major acquisitions in 2011 and 2012:
These acquisitions allow ABB to gain access to new products, create significant synergies, and expand each acquisition target product offerings around the world, thus creating shareholder value. As with any acquisition, there are a variety of risks. However, ABB executives have continually assured investors that the integrations and results of the acquired companies have been great:
From ABB's 2011 annual report:
"...with the integration of Baldor causing the share of the Americas to more than double compared to 2010..."

"...motors and generators benefited from the Baldor acquisition..."

From management discussion of quarterly results:

"...Obviously, the closed T&B acquisition is off to a good start..." Q2, 2012

"...We have some early wins in South America, particularly in using the infrastructure and capability at ABB to help some of Thomas & Betts' work overseas..." Q2, 2012

"...Acquisition integration and focus in making sure, in both Baldor and also in Thomas & Betts and the other acquisitions that we've done, that we continue to bring those together and to bring the most value out of those that we possibly can..." Q2, 2012

"...Thomas & Betts integration is going well..." Q3, 2013
"...Return expectations on acquisitions: Yield WACC (9%) after 3 years and solid double-digit IRR over 5 years +..."
Innovative and Improving Business Segments
ABB operates in five major segments and below is a brief description and latest developments involving these businesses:
Power Products provides technologies that ensure performance, efficiency, and reliability of the power network and includes transformers and medium and high-voltage products. During the third quarter of 2012, this segment generated $2.5 billion in revenue or about 26% of total revenues. Tariffs and quotas on Korean transformers are helping ABB improve pricing power in the U.S. The company considers this business very stable from a profitability standpoint.

Power Systems segment includes power plant electrification and automation, bulk power transmission, power network management and related software and services. This segment generated about $1.8 billion of revenues in Q3 or 19% of total revenues. It is interesting to note that ABB solved a century-old problem of how to interrupt direct current and has developed the first circuit breaker for high voltage direct current. In addition, ABB recently repositioned its Power Systems division to drive higher returns.

Discrete Automation & Motion segment encompasses components and packages for renewable energy generation, power control for industry, utility, infrastructure, and transportation (rolling stock, fixed rail, and electric vehicle charging). This segment had $2.3 billion of revenues in Q3 or 24% of the total. The recent "fiscal cliff bill" in the U.S. extended the production tax credit for renewable energy, which should benefit the power systems business. Also, ABB recently began collaborating with UK-based POD Point in providing networked rapid chargers throughout Europe.

Low-Voltage Products division provides products and solutions for protection, control, and measurement of low-voltage electrical installation and intelligent building controls and automation. The division had $1.9 billion of revenues in the third quarter of 2012 contributing about 20% to total revenues. Thomas & Betts acquisition (see above) is helping this segment but China is sideways in the past quarter.

Process Automation provides engineered products and solutions for process control, safety, instrumentation, plant electrification, and energy management (including life-time service and management). The company recently won a number of contract with mining companies (Anglo American Platinum, Vale, and Allied Nevada Gold) and is often cited for best workplace safety. The segment had $1.9 billion of revenues and a 20% share of third quarter revenues.
Conclusion
ABB's strong balance sheet, global reach, and innovative products and services should provide for an above average performance of the company's common stock going forward. Its smaller size compared to other competitors and its prudent management allow the company greater flexibility and focus. ABB made a number of acquisitions in the past couple of years that, following their integration, should aid the company in its quest to provide quality products and services in capital intensive areas around the globe. Companies and governments in emerging markets are continuing to build their infrastructures and power capabilities. And in the developed world, companies and governments are trying to boost their bottom lines with more efficient operations. ABB seems well positioned to meet the demand from both emerging and developed markets.
Disclosure: I have no positions in any stocks mentioned, and no plans to initiate any positions within the next 72 hours. I wrote this article myself, and it expresses my own opinions. I am not receiving compensation for it (other than from Seeking Alpha). I have no business relationship with any company whose stock is mentioned in this article.