I am sure many of you Seeking Alpha readers have run across my friend and fellow Seeking Alpha writer Chuck Carnevale. In addition to being a gifted writer and investor, Chuck is also responsible for creating the world of F.A.S.T. Graphs. I was thrilled that Chuck recently updated the graphs on his site so that REITs could now be analyzed utilizing Funds from Operations (FFO) data. For us fellow REIT investors, FFO is the "holy grail" for accurately measuring cash flow as it provides more accuracy relative to peer group valuation. More importantly, F.A.S.T. Graphs is an exceptional way for investors to spot trends and provide absolutely unbiased valuation facts surrounding an investment decision. As the legendary Ben Graham has said:
You are neither right nor wrong because the crowd disagrees with you. You are right because the data and reasoning are right.
It's too bad that Ben Graham is not alive today because he would have really admired the F.A.S.T. Graphs website. I am certain that he would have especially enjoyed the innovative graphing capabilities that illustrate the quintessential tenet of Graham's investment philosophy: a principle know as the margin of safety.
For Graham's sacred motto for value investors was a simple but an all too powerful explanation for finding
a favorable difference between price on the one hand and indicated or appraised value on the other.
By utilizing F.A.S.T. Graphs charts (and analytics), I can now select sound REITs in a way that will help me protect against market fluctuations. As Graham believed (and taught), determining value through a methodical analysis of a security is the central task of a value investor. I have often explain the "margin of safety" concept when referring to this quote by a prominent value investor and Columbia finance Professor Joel Greenblatt (in a 2011 Barron's interview):
It's about figuring out what something is worth, and then paying a lot less for it.
Four REITs I Adore, But I Can't Buy Right Now
First, let me say that I'm writing this article as a guide for investors to begin mapping out entry points for positions in high-quality REITs. As the title of my article suggests, I adore the four REITs I'm writing about and I might even go as far as saying that I really love the quadruplets. Heck, I even wrote about one of them, Realty Income (NYSE:O), in a recent article (O, I Love You Just The Way You Are). I stand behind these words. I really do love Realty Income; however, it's not the time to buy today. When examining the fundamentals of Realty Income we discover a truly amazing REIT with a history of consistent FFO growth. Going back over 19 years (since the company went public), Realty Income has never cut its dividend and, in fact, the Triple-Net REIT has increased its dividend all 19 years in a row.
But as F.A.S.T. Graphs shows us, Realty Income appears to be moderately expensive based on traditional measurements of valuation regarding a REIT. These valuation metrics include fair value relative to its income (the pinkish purplish line on the graph), and its intrinsic value based on Funds from Operations (FFO- the orange line marked with an F). The black line shows us that Realty Income is trading at a moderately high multiple (P/FFO is 19.6) and the closing price on Monday was $43.22.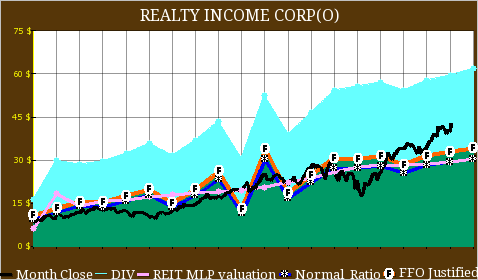 Now let's examine a close up picture. Clearly, we should have all backed up the truck and bought Realty Income in early 2009 (when the shares traded for around $19.27). But also remember, Realty Income has always maintained a strong dividend and clearly long-term shareholders have enjoyed a satisfying blend of growth (capital appreciation) and cumulative dividends (far in excess of the general market as measured by the S&P 500).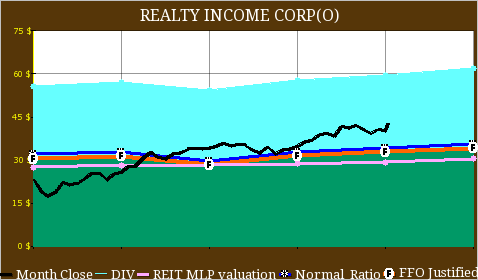 My Realty Income Target: I'm not worried at all about the dividend and I like the price at $35.00.
Federal Realty (NYSE:FRT) is another REIT that makes me blush. Who wouldn't like this high-quality shopping center REIT that has paid and increased dividends for 45 years in a row? In fact, at 51 years old, Federal Realty is the oldest REIT in existence, even older than me. But Federal has another record and that is also why I can't come to terms with a buy recommendation. The $6.86 billion (market cap) REIT has a P/FFO of 24.3. Shares closed Monday at $106.18 with a dividend yield of 2.75%. This is definitely a "love/hate" chart. I love the dividend growth (light blue shaded) but the price is in "nose bleed" territory.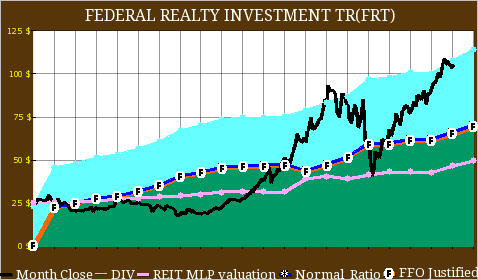 Now if we zoom into the 5 year horizon we see that Federal would have been a bargain around February 27, 2009. Then the shares traded at $41.13. Clearly Mr. Market really likes Federal and the CEO, Don Wood, should be proud that his company has earned an exceptional strong reputation as a "blue chip" gamer. After all, it's not Wood's fault that his company is trading at a premium multiple.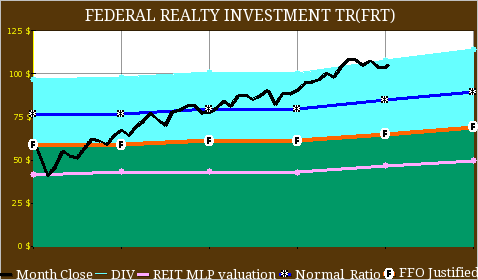 Now, I often argue that dividends trump growth and I will not change my mind. Alas, Ben Graham even said,
One of the most persuasive test of high-quality is an uninterrupted record of dividend payments going back over many years.
However, I just can't recommend Federal Realty at $106.18 per share. In other words, there is no argument that Federal Realty is synonymous with quality but that does not guarantee that the principal is secure. I mean I will like Federal a lot more when I can "buy the wonderful REIT at a moderate price."
My Federal Realty Target: The dividend is ULTRA safe and I would recommend the shares at $75.00 (or when closer to normalized P/FFO).
Essex Property Trust (NYSE:ESS) is another stalwart dividend contender (see David Fish Drip Investing Guide). The $5.55 billion (market cap) west coast apartment REIT has an exceptional dividend history. As I explained in a recent article :
Essex is a twenty year old company and just only one of three multifamily REITs that has had positive growth in distributions over the past 10 years, and did not decrease dividends along the way in 2009. Of these three, only Essex has maintained the consistency of paying increased cash dividends for 19 years. This incredible record of consistency makes Essex one of just a handful of REITs that have never cut dividends - even in the worst recession since the great depression.
Like Federal Realty (mentioned above), Essex P/FFO multiple of 22.6 is also in "nose bleed" territory. The shares are trading at $151.85 with a current dividend yield of 2.90%. Also like Federal, the dividend growth (see the light blue shaded area) is a lovely sight; however, the F.A.S.T. Graph clearly illustrates the danger of risking capital at $151.85 a share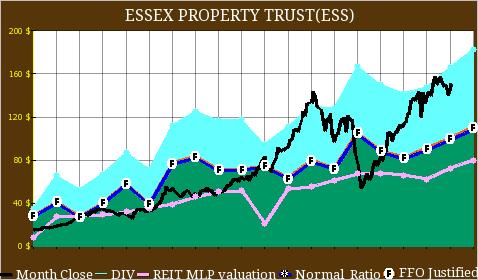 Now again, Essex has one heck of a track record and management (CEO, Mike Schall) is doing an extraordinary job of delivering sound shareholder value. However, as Warren Buffett explained, the margin of safety concept must "become part of your DNA, and you really can't go wrong." It's just too bad that we all didn't have the same DNA back in early 2009 when Essex was trading at $54.40. Since that time, shares have almost tripled and around 30% higher that Essex's intrinsic value based on Funds from Operations (FFO- the orange line marked with an F) of $99.89.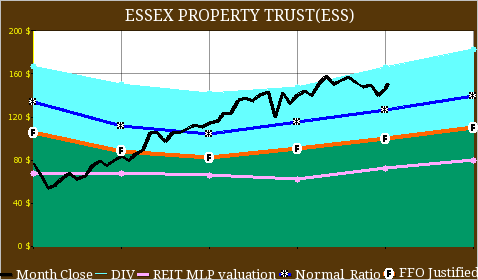 My Essex Property Trust Target: The dividend is ULTRA safe and I would recommend the shares at $99.89.
Back in July (2012) I wrote an article on Ventas, Inc. (NYSE:VTR), where I explained:
Ventas has made an extraordinary flight to quality and the rise from the ashes has elevated the "best in class" REIT from a phoenix (mythology for immortal bird) to a SWAN (sleep well at night). In addition, the fundamentals for health care investments are perfectly aligned for Ventas to continue its rise to success.
Ventas' chairman and CEO, Debra Cafaro took over in 1999 with 271 properties and a $240 million market cap. Today the "blue chip" health care REIT has around 1,450 properties with a market cap of around $19.22 billion. I consider this F.A.S.T. Graph on Ventas as somewhat of a report card for Ms. Cafaro and let me show you why she made straight A's (the snapshot below is a 10 year chart):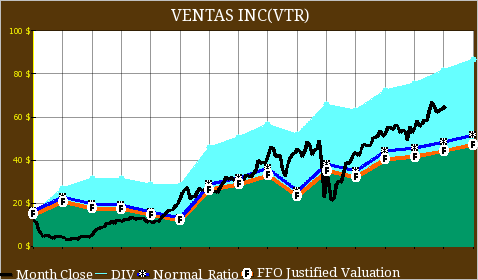 The first thing you should have noticed is the shaded light below area representing dividends paid (current dividend yield is 3.81%). Now that is one smooth looking dividend chart. It should be-- over the last ten years, Ventas did not cuts its dividend and the diversified health care REIT increased every year except between 2008 and 2009 (aka "angel freeze"). FFO per share did fall from $2.34 to $2.14 (during 2008 to 2009); however, Ventas increased its dividends paid last year by 9% ($2.28 to $2.48).
The close-up (below) also shows that Ventas is also on the expensive side (P/FFO is 22.1) or more simply said by Mr. Market: Ms. Cafaro is doing a fabulous job. Remember, we value investors must practice "extreme conservatism" and as much as I like Ventas I must be self-disciplined with my investments.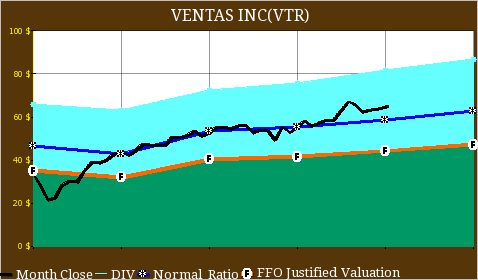 My Ventas Target: I need a 4.5% dividend handle. That means I recommend Ventas when shares get closer to $55.00.
We Make Money When We Buy
Remember, psychology has an awful lot to do with how we make decisions. It is critical that investors learn to bifurcate the psychological side (Mr. Market) from the computational side. Also, remember that a company's present price is based on a mix of unpredictable factors, many of which pertain more to emotion and mass psychology. Ben Graham explained the concept of Mr. Market almost 63 years ago:
Imagine that in some private business you own a small share that cost you $1,000. One of your partners, named Mr. Market, is very obliging indeed. Every day he tells you what he thinks your interest is worth and furthermore offers either to buy you out or to sell you an additional interest on that basis. Sometimes his idea of value appears plausible and justified by business developments and prospects as you know them. Often, on the other hand, Mr. Market lets his enthusiasm or his fears run away with him, and the value he proposes seems to you little short of silly.
So as much as I love these four extraordinary dividend stocks, I have to remember that a best offense can sometimes be a great defense. Good luck and Sleep Well at Night!

Click to enlarge
Source: F.A.S.T. Graphs
Disclosure: I have no positions in any stocks mentioned, and no plans to initiate any positions within the next 72 hours. I wrote this article myself, and it expresses my own opinions. I am not receiving compensation for it (other than from Seeking Alpha). I have no business relationship with any company whose stock is mentioned in this article.