Continuing Emerginvest's weekly highlight of booming economies despite the global financial shockwaves, this week's highlight focuses on Indonesia.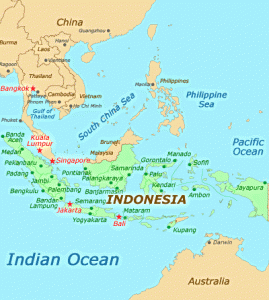 With approximately 245 million people, Indonesia is the fourth-largest populated country in the world. It boasts a $418.7 billion GDP, with a per capita income of $3,573. The economy depends heavily on natural resources, manufacturing, and agriculture, comprising 9.1%, 27.8%, and 14.1% of total GDP respectively. Typical agricultural and manufacturing products include: timber, rubber, rice, coffee, garments, footwear, electronic goods, furniture, and paper products.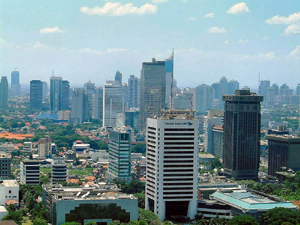 Jakartan Skyscrapers
Indonesia's Jakarta Stock Exchange (JSE) was hit just as hard as most other emerging market economies: falling 43% in the last year. However, Indonesia's growth this past week has been astonishing, and has largely evaded the eye of most main-stream US news outlets. Emerginvest reports that Indonesia posted 13.05% growth in the past week, and was the leading growth country with the largest percentage gain of the 100+ countries which Emerginvest tracks. This includes a gargantuan surge of 7.63% on Monday (also the largest single day returns for the day, ahead of Russia and South Korea). In the last month overall, Indonesia was the 8th biggest growth nation, behind the likes of Qatar, South Africa, Hong Kong, Namibia, Colombia, Argentina, and Mexico with a 7.51% gain in only the last 30 days.
For the moment, it seems like Indonesia is a great place to put a piece of my shredded portfolio.