Commodities have seen there fair share of market volatility for the year, and ETFs and ETNs have gone along for the ride.
At one time this sector was considered a safe haven of sorts, with ETFs and ETNs giving investors a diversified and safe entrance to commodities exposure, at a reasonable price without physical delivery. The recent slip of crude oil prices has affected nearly every commodities-focused fund and note, even those with leveraged exposure, reports Ron DeLegge for ETF Guide.
So, if you want the exposure to commodities is it better to invest with an ETF or an ETN? The answer lies in the product structure of each of these tools. For example, many commodities ETFs do not own the physical commodity; rather, they own the futures or options on them, so their tax treatment differs from a stock or an ETF.
The tax treatment of ETNs is up in the air for now, but some commodity ETFs have their own tax issues investors need to be aware of. Tax time is just around the corner - don't get caught off guard.
There is no clear-cut answer as to which type of fund is superior, and as an investor there is homework and research to be done to figure out which tool will fit into your portfolio better.
iShares S&P GSCI Commodity Indexed Trust (NYSEARCA:GSG): down 44.9% year-to-date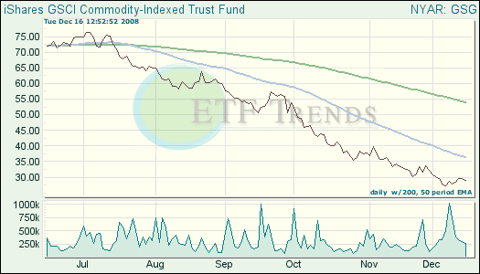 iPath S&P GSCI Total Return Index ETN (NYSEARCA:GSP): down 46.1% year-to-date