TASER International, Inc. (NASDAQ:TASR) is a developer, manufacturer, and distributor of TASER brand stun guns, recording devices for law enforcement, and even cloud-based evidence storage. Everyone knows the story of tasers, as they appear in the news nearly every week. The more interesting story lies in the company itself.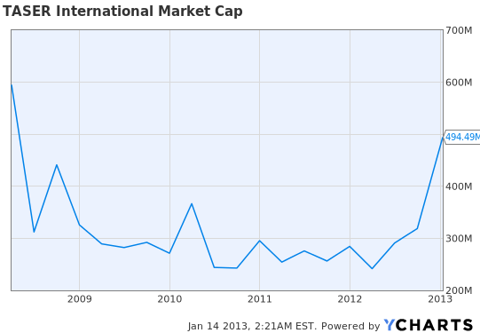 Click to enlarge
A Sad Earnings Picture
In the third quarter of 2012, TASR reported $28.8 million in net sales and gross profits margins over 50%. Sales were up 18% compared to the same quarter in 2011. Sounds amazing right? It does until you look at net income. Net income came in at a pitiful $3.7 million, or $0.07 per share. This becomes even more pitiful when you realize the company is trading at a whopping market cap of $480 million. Suddenly that "great" quarter is looking rather wimpy. The company has bought back over 50 million shares in its repurchase plans which decrease the amount of shares outstanding and increase the earnings per share. Even with all the shares bought back, the company only managed to pull in 7 cents this quarter for shares trading over 9 dollars. Earnings history has not given me any confidence that Taser will maintain positive earnings. Below you can see, EPS dips into the red often and the company's earnings have been relatively flat for the last five years.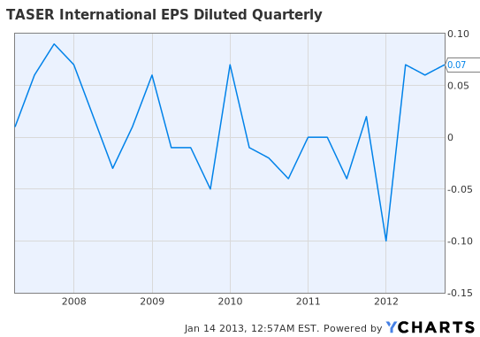 Click to enlargeAs you can see, TASER's 7 cent earnings are an improvement over the last two year's quarterly earnings but compared to the years before it simply has returned to old levels, arguably meaning Taser has had zero sustainable earnings growth in the last five years. With the share buyback, it can even be considered negative growth as the company has less shares to work with. So what have earnings yielded for this company? A plummeting book value per share. As you can see below, book value per share has fallen over the past three years.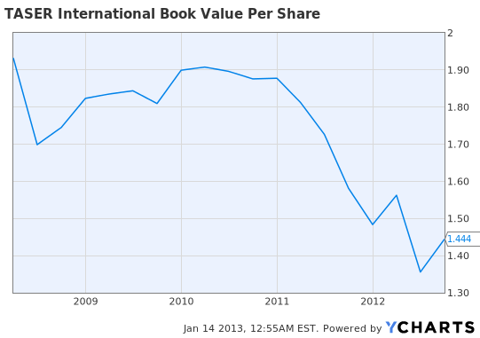 Click to enlargeAs you can see here, as the price continues to increase, the book value continues to fall. The chart below shows how the market cap of TASR has risen nearly 100% while the book value per share has fallen over 20% since 2010.
Ridiculously Expensive Cameras
I mentioned early on that TASR creates recording devices. Let me elaborate on that. From what I can tell, Taser makes $1,000 dollar video cameras that can be mounted on sunglasses, caps, and collars. Now call me skeptical, but I don't see law enforcement wanting to pay $1,000 dollars per officer when they already have dash cams. Will it help with false claims against the police? Sure. Does that justify the cost of a $1,000 dollar camera? I don't believe so. The market agrees with me, as only $1.7 million dollars worth of video related products were sold last quarter. This is a very tiny amount of profit being added to the bottom line, even if you are selling a $1,000 dollar video camera. You can find the video camera here.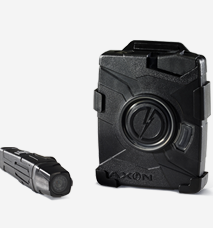 TASER International currently enjoys a near monopoly. The X26 Taser currently sells for $1,059 dollars, although you can find it for 900 on some websites. These absurdly high prices allow for TASR to cash in on gross profit margins above 50%. This will not last forever. History has always shown that products with profit margins this high soon meet fierce competition. Amnesty International has now recorded 500 Taser-related deaths, if a company can create a safer stun gun at a lower price, Taser International will have drastically lower earnings per share and revenue. The day will come when 25% profit margins are attractive, let alone 50%.
Trade Strategy
With the CEO himself selling shares, which you can see here, this is an obvious short. But how should you short it? This stock has been dangerous for shorts, as the market cap continues to increase. The only way to win in a scenario like this is to prepare yourself for the long term. One such strategy is using options. I personally am fond of the options expiring in June 2013. Buying puts over this long period gives you a very solid chance of this stock dipping back into the $7s which will yield a tremendous profit. Shorting the common stock is also possible, but I would not advise it unless a very large amount of capital is available and you are able to tolerate the risk.
Disclosure: I am short TASR. I wrote this article myself, and it expresses my own opinions. I am not receiving compensation for it (other than from Seeking Alpha). I have no business relationship with any company whose stock is mentioned in this article.
Additional disclosure: I am also long SWHC.