Equinix (NASDAQ:EQIX) is a major player in the global data center market with central hubs in the Americas, Europe, Middle-East, Africa (which we call EMEA) and Asia-Pacific regions. The profitability of its supreme business model is brought down by taxes and looks even worse on paper due to extreme depreciation and amortization. A planned REIT conversion will allow it to break free from these constraints and unleash its potential to dominate the data center market. In this article we will examine the impending conversion, Equinix's fundamentals and how it drives off competition.
The REIT conversion
In September 2012, Equinix announced that its board approved the pursuit of conversion to REIT status. Such a conversion would take place during 2014 and take effect as it makes a tax election to be treated as a REIT for fiscal year 2015. To understand the importance of this announcement, we must look at both the benefits if it happens and the plausibility of it happening.
The benefits of conversion
EQIX's effective tax rates for the nine months ended September 30, 2012 and 2011, were 30.7% and 24.1% respectively. Much of this costly taxation could be forgone as a REIT. Additionally, the usage of FFO as an earnings metric would provide greater transparency to Equinix's reporting. With so many new properties, third quarter depreciation and amortization was $91.7mm which made its earning appear inadequate.
The plausibility of conversion
Equinix has already reduced its securities portfolio such that most of its assets and income consist of the data centers. Below, we can see that marketable securities have been reduced to $280mm from $797mm the year prior.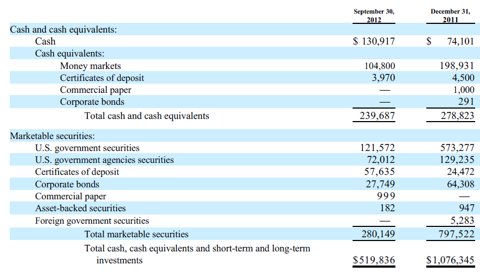 Click to enlarge
What remains to be done is the receipt of a private letter ruling from the IRS clearing its properties as REIT qualifying structures. This seems quite plausible as we have the precedence of its competitors DuPont Fabros Tech (NYSE:DFT), CoreSite Realty (NYSE:COR), Digital Realty Trust (NYSE:DLR) and Prologis (NYSE:PLD) already qualified as REITs.
Fundamentals
Before we begin with the fundamentals of EQIX itself, let us go over that of the industry. Specifically, we will look at how the economic need for colocation and a rare positive feedback loop drive the profitability of data centers.
· Economic efficiency of colocation centers
Data transfer requires a system of equipment with diverse functionalities working in tandem. A failure of any small part of the system will void the entire process. Reliability requires each aspect of the system to have redundancies in place such that temporary failure of a single piece does not void data transfer. Most data centers have the following redundancies to ensure quality of performance
1) Back-up power: this usually consists of generators and battery power to last while the generators kick in.
2) A secondary cooling system: Failure of the cooling system results in not only loss of data transfer, but can cause irreparable damage to equipment.
3) Back-up cables in the event of physical damage.
4) 24 hour monitoring of the entire system by a network engineer.
These complexities are present regardless of the size of the data facility, so running even a small one is extremely costly. Therefore, colocation of data transfer and equipment is an economic necessity for small to medium businesses that require reliability of data.
· Positive feedback loop
Standard economics tell us that most businesses are privy to a negative feedback loop in which increased profitability leads to increased competition, thereby returning profitability to an equilibrant level. As an example of this concept we can look at a booming fast-food restaurant. Seeing the success, a competitor could open up across the street and essentially share the profits.
Data centers, however, are subject to a positive feedback loop derived from a causal link between a large customer base and desirability of services. Since data centers can allow customers to directly connect within the facility, a broader customer base actually increases the utility of the data center. An identical facility charging identical rates would not be able to compete with an already established facility with a critical mass of customers. This inhibition of competition creates a rare positive feedback loop in which enhanced profitability promotes exclusivity which in turn promotes profitability. We see evidence of this in Equinix's impressive returns on investment.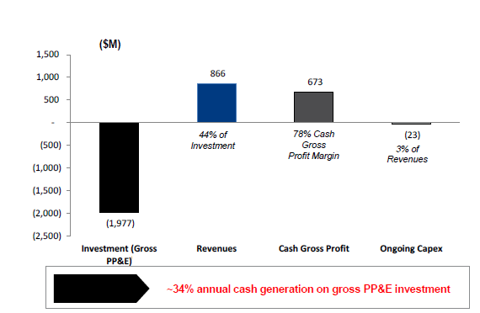 Click to enlarge
As the largest provider of data centers, Equinix is closest to achieving a critical mass of consumers. It is presently forming a functional monopoly in Tokyo, Japan with the development of its 4th major facility in the city. With direct fiber connectivity to its other 3 centers in the city, customer interactions will be maximized. Now that we have covered the sector, let us examine Equinix in more detail.
Balance Sheet and operations
EQIX has over 90 data centers located in major cities across the globe. The nearly $200mm of on paper depreciation over the past year evinces the youth of the portfolio.

Click to enlarge
Initial examination shows moderate leverage with $5.99B in assets weighed against $3.68B of liabilities. However, a closer look shows about $1.3B of the assets are intangible.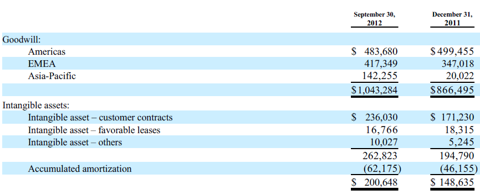 Click to enlarge
While the items listed as intangible are being amortized, the over $1B of goodwill is to be carried on the balance sheet indefinitely with no amortization. It is resultant from the purchase of Ancotel, Asia-Tone and other entire companies which continue to operate under their former names. The legitimacy of this value will be tested for impairment annually.
Once we adjust for intangibles it becomes clear that EQIX has a debt to equity of around 3.5. This is quite high and makes it a fairly risky investment, but I think the leverage is justified and in fact optimal due to three factors: growth, stability of cashflows, and laddering of debt maturity.
1) Growth: Equinix is rapidly and accretively expanding with an impressive 48% CAGR since 2006.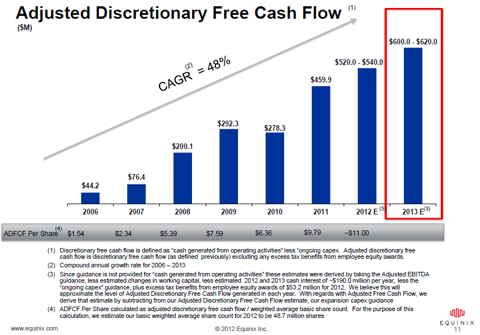 Click to enlarge
The aforementioned strong rate of return of 34% on its investments makes such rapid expansion more desirable.
2) Stability of cashflows: Nearly all of EQIX's earnings are recurring, making interest payments quite manageable.

Click to enlarge
These revenues are very well diversified geographically, so risks of locality are minimized.

Click to enlarge
3) Laddering of debt maturity: Equinix has been careful to spread out its debt maturity such that refinancing can be done at favorable terms rather than to meet a deadline.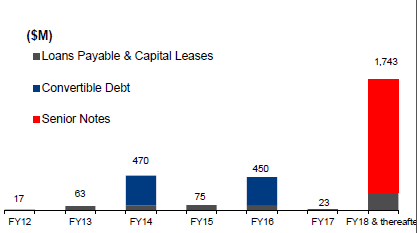 Outlook
Going forward, rates and occupancy seem to be steadily increasing so revenues should remain strong. Profit margin may decline slightly due to higher influence of the EMEA and Asian Pacific portions of the portfolio which are running at lower margins than the American branch. This change is accelerated by American dispositions as well as further expansion into both foreign regions. This reduced profitability is only slight and the margins of the portfolio as a whole should remain more than satisfactory.
Valuation
At its current price of $216.81 Equinix operated at a 2012 price to earnings of 83.07 and a 2013 FactSet estimated P/E of 64.34. Such valuation would preclude investment, but is rather deceptive. A young portfolio of primarily long-term structures incurs extreme on-paper depreciation that is not reflected in CapEx. To get a more accurate view of how Equinix would perform as a REIT we can instead look at free cashflows. 2013 guidance shows cashflows of $600mm-$620mm which translate to a P/E around 17.28. This is approximately how it would value as a REIT and much better represents the strength of the company than its current extreme valuation.
As a value investor I find a 17.28 multiple to still be a bit high, but it is quite typical of data center REITs which all trade at high multiples.
| | | |
| --- | --- | --- |
| Company | Market Capitalization | Price/FFO |
| Equinix | $10.542B | 17.28 |
| DuPont Fabros Tech | $1.538B | 16.64 |
| Digital Realty Trust | $8.613B | 15.8 |
| CoreSite Realty | $620mm | 19.7 |
| Prologis | $17.619B | 21.9 |
Investment possibilities
While Equinix is an excellent company with phenomenal growth and profitability, its price is not opportunistic. However, I think there will be ample opportunities to acquire it in the near future. There are certain events that could occur that may cause a price decline without hurting EQIX's operations.
1) We previously covered the large portion of the balance sheet dedicated to goodwill and mentioned that it is checked annually for potential impairment. It is very plausible that EQIX will have to take a large impairment charge in the near future, which could easily drop the market price significantly upon announcement.
2) As a company that deals heavily in foreign operations, incidental changes in forex rates could temporarily distort results to make Equinix appear to be underperforming. This too could reduce market price sufficiently for opportunistic purchase.
This list is far from inclusive and any number of events could create a nice entrance point. Watch the market and stay aware as a cheap purchase into this data center giant could prove quite profitable. Risk averse investors should take special caution to watch its leverage and the volatility of tech stocks.
This article is for informational purposes only. It is not a recommendation to buy or sell any security and is strictly the opinion of the writer.
Disclosure: I have no positions in any stocks mentioned, and no plans to initiate any positions within the next 72 hours. I wrote this article myself, and it expresses my own opinions. I am not receiving compensation for it (other than from Seeking Alpha). I have no business relationship with any company whose stock is mentioned in this article.