We recently read several interviews from last week's CES of ARM Holdings (NASDAQ:ARMH) CEO Warren East. Over the last several years, Mr. East has been one of the most successful CEOs in the semiconductor industry, building a semiconductor IP powerhouse in the mobile and tablet space with partners including Broadcom (BRCM), Nvidia (NASDAQ:NVDA), Qualcomm (NASDAQ:QCOM) and, of course, Apple (NASDAQ:AAPL). Going forward, the server market represents one of ARM's largest opportunities, and ARM's partner, Applied Micro Circuits (NASDAQ:AMCC) is positioned to be a major beneficiary. We believe there may be near-term catalysts that drive AMCC significantly higher.
According to respected technology business writer Eric Savitz' article in Forbes, "East says the company is taking dead aim at the market for server processors. There's plenty of room for gains in that market, where ARM at this point has no share at all." The reason that servers have become so relevant to ARM is their expertise in low-power, high-efficiency architectures. Savitz comments that East "notes that by some estimates IT equipment now suck down 10% of the world electric power...in the next few years that the amount of data creates could increase 100x, or maybe 1000x." According to East, "They are going to switch to ARM because it is all about the power."
This is relevant to AMCC, because with its upcoming X-Gene 64bit ARM-based processors, AMCC will be ARM's first partner to enter the low power server market - a multi-billion dollar opportunity. While ARM has multiple partners, AMCC's 64bit processor has at least a full year head start on potential competitors.
Addressing a critical market need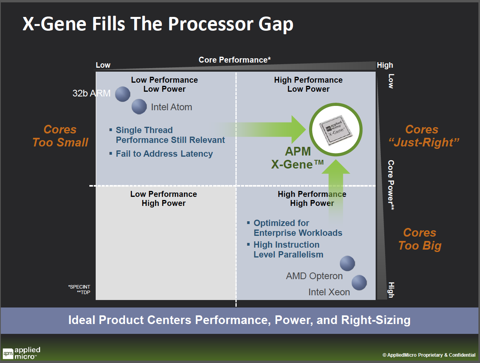 Source: AMCC August 2012 Investor Presentation
As seen in the graphic above, AMCC's 64bit X-Gene holds a unique place in the market, with high-performance and low power. For anyone interested in a more in-depth technical analysis, we suggest reviewing this report from the Linley Group (Linley acknowledges that their "paper is sponsored by Applied Micro, but all opinions and analysis are those of the author, and in our view, Linley is a highly reputable organization).
According to the Linley Group, the reason for the X-Gene power advantage stems from:
Whereas Intel has only recently begun to retrofit its Xeon processors for lower power, ARM processors are designed from the ground up for power efficiency. This focus comes from ARM's heritage in mobile phones and other battery-powered devices, but more recently, the company and its partners have expanded into the digital home (e.g., set-top boxes), microcontrollers, and even wireless infrastructure. The same technology can be applied to PCs and servers.
While certain workloads will not be appropriate for X-Gene, and well-entrenched x86 environments will be difficult to penetrate, we expect AMCC/ARM to have a significant opportunity in the cloud segment, where there is primarily open-sourced software, and not an established Intel beach-head.
Not a typical value stock, or is it?
As value investors, we tend to shy away from story stocks such as AMCC. We like strong balance sheets, healthy cash flow, and significant margins of safety. However, there are occasions when we believe stocks offer the prospect of highly asymmetric outcomes. With AMCC, it is our view that should they successfully penetrate the server space - a multi-billion dollar opportunity - there is the potential for a positive return of several hundred percent (or more) versus relatively modest downside. We also believe, that for reasons that we detail below, the buyside does not fully appreciate how cheap shares of AMCC are.
One of our first sanity checks when looking at any story stock is reviewing insider trading activity. Notably, for AMCC, since May 2012, 6 different directors and 3 different officers, including its CEO, have purchased shares of AMCC - some multiple times. The only sales during this period have been to cover the tax consequences of option exercises.
On December 17th, Seeking Alpha author Ashraf Eassa published an article titled: Applied Micro: Starting to look like a good short. To summarize his key points, Mr. Eassa argues that AMCC 1) has an awful track record over the last decade-plus, 2) has "deteriorating" fundamentals, 3) is going to be challenged to compete successfully against Intel's vast resources, 4) is at a disadvantage due to Intel's leadership in process technology (40nm vs. 32nm - and later in 2013 28nm vs. 22nm), and 5) is expensive at 50x his target of $5 a share - based on EPS of $0.10 in FY14 (it is a March FY, so this is basically calendar 2013). We assess Mr. Eassa's points below.
AMCC has an awful track record, but they also have ARM
On Mr. Eassa's first point, we completely concur. AMCC has little to show for the last decade. They have destroyed value, made bad acquisitions and have been a poor performer. That being said, we believe this sets a low bar in terms of expectations, and leaves shares being relatively under-owned by major institutions - we are nothing, if not contrarian. Also, we would argue that while AMCC has been awful, ARM has been incredible. Virtually, anything that ARM has asserted, it will accomplish, it has accomplished - usually exceeding expectations. We are willing to take AMCC's failures with a grain of salt, given their alignment with worldbeater ARM.
With its entrance into servers, AMCC is tackling a gargantuan competitor with a well established customer base accustomed to running Intel servers. Fortunately, ARM has significant experience developing an ecosystem. Red Hat (RHAT) has signed on in developing an ARM-based platform and we anticipate continued growing support.
Fundamentals are improving, not deteriorating
We strongly disagree with Mr. Eassa that fundamentals are deteriorating, and the facts bear this out. Revenues grew over 10% sequentially in the September quarter, and the company guided to 8-12% sequential revenue growth in December - at a time when many semiconductor companies are experiencing declines. If March is flat with December, it is forecast to be up, then March will be up y/y. Mr. Eassa is backward looking in referring to negative y/y comps. AMCC's core OTN business has improved dramatically off of cyclical lows. The projected growth in December and March is from OTN, with X-Gene only coming later. Management has also guided to breakeven for March, reducing concerns over cash burn. Far from deteriorating, growth is accelerating in an otherwise tepid semiconductor sector.
AMCC can compete with Intel with the help of ARM
We disagree with Mr. Eassa that AMCC will not be able to compete with the mighty Intel. Thanks to the help of ARM, and server OEMs who desperately need a better solution (see Mr. East's quote above), we think there is market share to be won - and even a few percent produces material upside to AMCC's numbers. We have been espousing this view since last February. While Mr. Eassa points out that Intel has a staff of 100,000, versus 700 at AMCC, he neglects to mention that ARM has a team of 1,600 engineers who, for years, have been laser-focused on the power/efficiency challenge.
In our view, that is the essence of why X-Gene will succeed. ARM has built its company around low-power. X-Gene comes into the market with a heritage of low-power behind it. Intel will have to shoe-horn the higher performance Xeon, or improve the performance of the lower-end atom. Despite its considerable manpower, we don't think Intel can get it done by sheer size. Just as in mobile, for the low-power, high performance segment, Intel is behind the curve.
Fortunately for ARM/AMCC, the X-Gene comes at precisely the right time. Cloud environments are exploding in number, and power and total cost of ownership are increasingly important issues.
Seeking Alpha author Timothy Phillips recently wrote an article speculating that Facebook's (NASDAQ:FB) January 15th announcement is that they are entering cloud service. In this article, Mr. Phillips refers to Facebook's Open Compute Project, which they started over a year ago. The Open Compute Project is:
We started a project at Facebook a little over a year ago with a pretty big goal: to build one of the most efficient computing infrastructures at the lowest possible cost. We decided to honor our hacker roots and challenge convention by custom designing and building our software, servers and data centers from the ground up - and then share these technologies as they evolve.

The result is a data center full of vanity free servers which is 38% more efficient and 24% less expensive to build and run than other state-of-the art data centers.

By releasing Open Compute Project technologies as open hardware, our goal is to develop servers and data centers following the model traditionally associated with open source software projects. That's where you come in.
This does not sound like Facebook is looking for the status quo - if there's a better mousetrap, and it doesn't have to come from Intel, we believe it will be considered, and we expect it to be X-Gene. Notably, the 4th Open Compute Summit will be held beginning Wednesday, and AMCC's CEO Paramesh Gopi will be presenting a keynote, as will Intel CTO Justin Rattner. We strongly doubt that Mr. Gopi will present vaporware in front of some of his most important colleagues, and think the event could provide further evidence of AMCC's progress. Our perspective is supported by the fact that according to AMCC's press release on Monday, January 14th, at the event "Dell (NASDAQ:DELL) will be showing a prototype server chassis featuring the X-Gene Platform at its booth #A3."
Transistor dimensions are only part of the equation
Mr. Eassa seems particularly focused on the difference in process node between AMCC and Intel's parts. He is fixated on the idea that an AMCC 40nm part is unable to compete with an Intel 32nm part, or at the next node, AMCC at 28nm will fail against Intel's 22nm or 14nm. We acknowledge that Mr. Eassa has probably studied more engineering in a semester, than we have in our lives, but we have consulted with plenty of engineers, who disagree with his perspective. To paraphrase a famous quote, "it's not size of the semiconductor package, it's how you use it." Or in this case, what you pack into it.
But don't take our word for it. In this past weekend's Barrons, ARM CEO Warren East is quoted as saying: "How much does the chip cost, how fast does it go, and how much power does it consume... the only benefit of a new geometry is to get more chips out of a wafer."
While a smaller die-size unquestionably gives Intel a cost advantage, and the ability to pack in more transistors should be an advantage, it's simply an oversimplification to say just because it's a smaller process node, it wins. Without getting into too much technical detail (read through the previously mentioned Linley report), we believe the X-Gene provides a more highly integrated solution and because of Intel's decades long heritage it has to be compatible with less efficient CISC code, vs. ARM's use of more efficient RISC code. In summary, process node is simply one of multiple dimensions impacting chip performance.
For equipment vendors, their ultimate purchase decision will come down to performance and total cost of ownership.
AMCC offers a lower total cost of ownership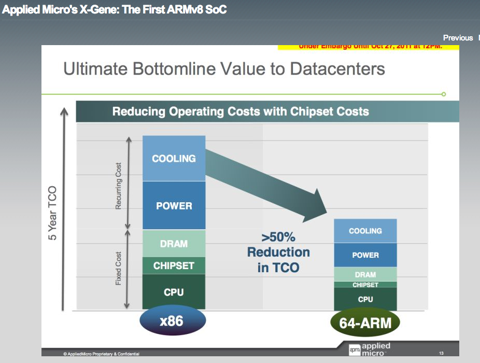 As this slide above illustrates, the more efficient X-Gene SoC provides reduced cost of ownership. Its higher level of integration versus Intel results in lower cost of memory, power usage, and cooling. We have high conviction that customers view total cost of ownership in their purchase decision, and don't simply look at performance in a vacuum.
AMCC shares are not expensive
Lastly, and most importantly to us as value investors, AMCC shares are not expensive, though they may superficially appear to be. Admittedly, they are not as cheap as when we were acquiring them around $7, and when they were on fire sale several months ago below $5, but they still offer a very attractive risk-reward profile.
Given current sell-side estimates of an EPS loss of $0.49 for FY13 (March) and positive EPS of $0.10 for FY14, our assertion that the stock is not expensive might appear absurd.
We expect the company to have $1 (or slightly more) per share by the end of March, and to be cash flow neutral.
When we look at the company, we look at it in 2 buckets: its core OTN business and the X-Gene business. Dividing these buckets, it becomes apparent that the core business is significantly profitable, while X-Gene is losing a lot of money. We'd like to take credit for this idea, but it actually comes from AMCC itself.
Business profitable x/X-Gene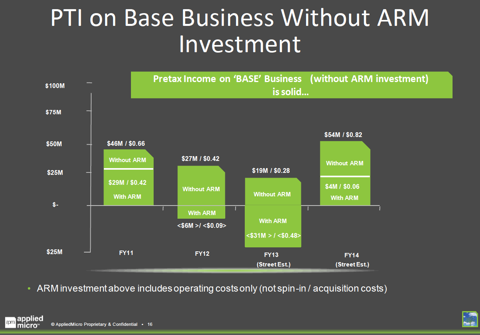 Source: AMCC June 2012 Investor Presentation
From this slide, it is clear that X-Gene is an ongoing drag on earnings and is projected to negatively impact 2014 EPS by $0.76. We note that these are pre-tax numbers, that should be fairly representative of after-tax, due to sizable NOLs.
The way we view the opportunity at AMCC is that if X-Gene is successful, numbers go way up, not just in FY13 and FY14, but well beyond, and this become a colossal home-run - think Mellanox (NASDAQ:MLNX) 3 years ago. But if X-Gene fails, it simply gets shuttered, and we own an $8 stock ex-cash, earning $0.82 - actually higher today given 2 consecutive earnings beats and a headcount reduction - or around 9x EPS. So potentially massive upside versus modest downside.
In our view, Mr. Eassa's analysis of EPS is flawed. If one believes that X-Gene will be an unmitigated disaster, then to also count those expenses in your op-ex calculation makes little sense - especially since AMCC is providing the tools to do the math.
AMCC also could be an interesting buyout candidate in either case. Should X-Gene prove successful, as we expect it to, STMicro (NYSE:STM), Texas Instruments (NYSE:TXN), Broadcom or others could all be interested buyers. If X-Gene is a failure, then AMCC would have $1 of cash, approximately $4 of NOLs and R&D tax credits (our calculation of present value using IRS 382 calculation - see below) and $50-60 million of EBITDA. Assuming no operational synergy (highly improbable) and a takeout multiple of 6x-8x EBITDA plus cash plus NOLs, we arrive at a value of $9-$12 in a downside case.
Significant NOLs/Deferred tax assets

Source: AMCC FY2012 Form 10-K, page F-30
As of the end of FY12 (March), AMCC had over $1.1 billion of federal net operating loss, and research and development credit carryforwards. On a taxed basis, these are valued at approximately $470 million. These numbers should be higher at the end of FY13, given losses this year. We believe a conservative estimate of the present value of these deferred tax assets based on 70 million shares outstanding is $4 per share.
While at first glance, with significant operating losses, and just over $1 of cash per share, AMCC does not look cheap, with significant NOLs and a business that can be purged accretively if it fails, AMCC is actually quite the value, offering significantly asymmetric opportunities.
Conclusion
It's difficult to find true secular growth stories. We are hopeful that AMCC will prove to be the case and be a long-term winner and a multi-bagger. While this doesn't have the same margin of safety as our typical investment, the widespread insider buying and partnership with ARM buttress our confidence. Further, AMCC's ability to shed a money-losing operation, should it fail - an element we believe is not fully recognized when taking a cursory look at numbers - significantly reduces potential downside.
We have confidence that AMCC is addressing a very sizable challenge with tremendous growing market demand. This week's Open Compute Conference could be one of many important signposts on AMCC's route to success.
Disclosure: I am long AMCC. I wrote this article myself, and it expresses my own opinions. I am not receiving compensation for it (other than from Seeking Alpha). I have no business relationship with any company whose stock is mentioned in this article.
Additional disclosure: We conduct thorough research on our ideas, but our views are our own. Please do your own research.