In our personal portfolios we were lowering risk yesterday and building up our available funds for trading for any pullback. To do this we closed out one rather large trading position, but have kept our long-term investments in place. Over the next few days we have a good bit of economic news coming out, however we are more focused on the talk surrounding the debt ceiling which appears to be another topic of debate that Washington will focus on in the coming weeks. It seems we just went through this, yet unless an agreement can be reached soon it appears it will simply be a replay of the fiscal cliff craziness we all watched at the end of last year.
We have economic news due out today, and it is as follows (these are the consensus estimates):
PPI (8:30 AM EST): 0.0%
Core PPI (8:30 AM EST): 0.2%
Retail Sales (8:30 AM EST): 0.2%
Retail Sales - Ex Autos (8:30 AM EST): 0.3%
Empire State Mfg Survey (8:30 AM EST): 2.0
Business Inventories (10:00 AM EST): 0.3%
Asian markets finished mixed today:
All Ordinaries - down 0.06%
Shanghai Composite - up 0.60%
Nikkei 225 - up 0.72%
NZSE 50 - up 0.41%
Seoul Composite - down 1.16%
In Europe markets are mixed this morning:
CAC 40 - down 0.04%
DAX - down 0.12%
FTSE 100 - up 0.06%
OSE - up 0.02%
Technology
In the technology sector there was a lot of news yesterday, with the morning news cycle being dominated by news of Apple cutting orders from supplies for displays for their iPhone 5. Yes we saw Apple shares impacted, however the suppliers for Apple saw far larger movements in their share prices in reaction to the news. For instance, Cirrus Logic (NASDAQ:CRUS) saw shares fall $2.96 (9.37%) to close at $28.62/share on volume of 7.7 million shares. On the surface it seems hard to imagine that orders for parts would need to be cut that dramatically, but with the rumors of a cheaper iPhone making a possible debut in the near future we could understand the need to cut shipments of a certain size part if the new product launch will be smaller and use older and thus cheaper parts. We have been bullish on Cirrus Logic for some time, but with this revelation we want to move to the sidelines and become neutral until we get some results for the latest quarter and can possibly gain some insight from the quarterly conference calls regarding recent sales trends.
Around 2:00 PM EST yesterday news broke that Dell (NASDAQ:DELL) may be in the process of going private, although talks were in the early stages. Bloomberg broke the news and sources confirmed the story for Reuters. Shares immediately shot up 10% which triggered a trading halt due to curbs. The Wall Street Journal reported that the two private equity groups involved in discussions were Silver Lake Partners and TPG (See story here). Rumors of the company going private have surfaced in the past and it is important for investors to remember that the company's founder Michael Dell is the key to any deal getting done due to his 14% stake in the company. One important note for investors is that financing for a potential deal has not been obtained although J.P. Morgan Chase has held discussions with a few other lenders.
January 30th is the rollout date for everyone to see what the team at Research in Motion (RIMM) has come up with for their reboot of the Blackberry line as they display the phones with their latest operating system, BB10. Many, including the company, are banking on this to bring the brand back to relevance, but this is always a tall order when a former tech darling has seen better days. Looking at the situation as it is now, there is a large short position out there however we would be inclined to play (by trading in and out) of the shares up to the release but after that we would be hesitant. There are instances which can be used as case studies here, but we would simply point out the situation with Palm. Yes the product was great and had amazing features, but that did not necessarily translate into sales - that is the measurement we want to use for success. Call it conservative or sitting on the fence, but with the current situation it is the prudent move for long-term investors.
Biotechnology
Arena Pharmaceuticals (NASDAQ:ARNA) saw shares rise above $10/share once again. Readers may question why we continue to point this out, but the reason is simple. That $10/share level is an important level to move through and with yesterday's close are at 3 month highs. Since August the stock has pretty much been range bound and with the gradual move towards $10/share everything seems to be pointing towards bullish times ahead. Something else investors need to be aware of, we noticed yesterday that the company had the 12th highest number of shares shorted on the Nasdaq as of December 31, 2012 which indicates that there is still some room for shares to move higher should a short squeeze occur.
Conglomerates
Berkshire Hathaway (NYSE:BRK.B) hit a new 52-week high yesterday on volume of 5.1 million shares. The shares are very close at all-time highs and we believe that this simply adds further substance to our belief that the US economy is better off than previously thought. Yes it is true that a large portion of the company derives its earnings from financial products, read insurance, and transportation but they also have a portfolio of great companies ranging from industrial names to retailers to equity stakes in companies which are also near 52-week highs. It used to be that General Electric was the stock investors looked to in order to feel the pulse of the American economy however we think that more and more this designation has and continues to shift towards Berkshire Hathaway.
Chart of the Day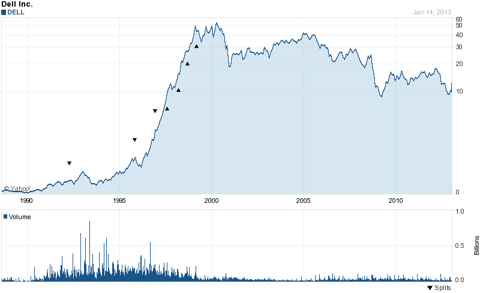 Click to enlarge
Chart courtesy of Yahoo Finance.
This chart does not do the fall of Dell any justice as the rise was so great, but the company's share price has fallen sharply from the highs. What was once a $50/share stock now trades in the low teens but the real question is why any private equity company would want to buy a company with the problems that Dell faces.
Disclosure: I have no positions in any stocks mentioned, and no plans to initiate any positions within the next 72 hours. I wrote this article myself, and it expresses my own opinions. I am not receiving compensation for it (other than from Seeking Alpha). I have no business relationship with any company whose stock is mentioned in this article.