Teva Pharmaceutical Industries Ltd (NYSE:TEVA) is a global pharmaceutical company. It develops, produces and markets generic drugs in all treatment categories. Copaxone, Teva's multiple sclerosis treatment, is the leading MS therapy in the U.S and globally. During 2011 global sales of Copaxone were $3.57 billion which was an increase of approximately 20% from 2010. Copaxone is responsible for a very significant portion of Teva's profits and cash flow from operations. As such the loss of patent protection could dramatically reduce its profitability. I believe this scenario is already baked into the stock price and that investors who buy now stand to make significant profits in the coming years.
Teva is hooked on Copxaxone; the unexpected success of the drug has helped propel Teva to its global position by providing the necessary funds to pursue the company's numerous large scale acquisitions. Fifteen years ago when Teva finished developing Copaxone sales forecasts amounted to $500 million a year. These estimates were based on the assumption that Copaxone would be difficult to market since the drug is administered through a daily injection.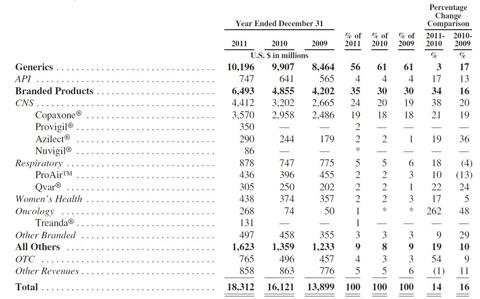 This year Copaxone sales will hover around $4 billion, on which the company should net about $2 billion. Taking a look at recent court rulings we can see that serious competition for Copaxone may start appearing around the middle of 2015.
The court has also enjoined the FDA from approving the defendant's reported generic versions of Copaxone until the Orange Book patents expire on May 24, 2014, and the defendants from selling their products until the process patent expires on September 1, 2015, assuming, of course, they achieve the necessary regulatory approval.

In addition, we also received a favorable outcome in the United Kingdom court ruling in the Copaxone patent litigation proceeding. The High Court specifically determined that the asserted claims of our patent were valid and also found that the proposed generic version of Copaxone would infringe our patent, which is scheduled to expire on May 23, 2015.
The question remains, how will Teva wean itself off this drug?
Teva faces competition from products currently on the market. Existing injectable products such as Avonex, Betaseron, Rebif, Extavia and Tysabri have always been present and Copaxone has proved to be the best option in the category. I do not believe existing competition from injectables is a threat to Copaxone's growth. Competition from the rapidly developing market segment of oral treatments will be more intense. Oral treatments such as Gilenya, produced by Novartis (NYSE:NVS), offer substantial convenience to the patient over injectable products.
Gilenya has been approved for market by the FDA. Still, the drug is plagued with health concerns which may be the reason why patients have not been quick to switch. Gilenya poses many safety risks including: infections, macular edema, respiratory effects, hepatic effects, and fetal risk. It is also under formal review by the European Medicines Agency following cases of death and serious cardiovascular events in patients who had recently started treatment. As such I believe no MS treatment on the market today will take market share away from Copaxone.
When the patents expire competitors will attempt to make a generic version of Copaxone. The company has stated that creating a generic version of Copaxone will be extremely difficult and may require clinical trials. Specifically, Teva's U.S CEO Bill Marth stated:
When you think about Copaxone, many people try to equate it to Lovenox. It is much, much different-vastly more complex-than Lovenox will ever be. We have not characterized it. We don't believe it can be fully characterized.
If one cannot fully characterize Copaxone, I'm not sure how you get it approved without a clinical study since the method of action is not well understood and exactly what the active sequence is. And, by the way, we think there are multiple methods of action and potentially multiple reasons for that. We think that it is virtually impossible to prove your efficacy without a clinical study. So it really falls into more of that sweet spot of the biologics.
In Teva's view revenue erosion will come only in the face of competition from other MS agents, (including Teva's own oral product Laquinimod) not from generic competition. Furthermore, because of Copaxone's extensive safety record over that past twenty years patients may be reluctant to switch to an unproven product.
Recently, Teva petitioned the FDA for increased scrutiny in the approval process of other multiple sclerosis drugs.
Teva's petition is aimed at Biogen Idec Inc, which expects an FDA decision by late March on Biogen's application to market a new MS treatment, known as BG-12, an orally administered pill that analysts expect will be a formidable competitor to the injected Copaxone.

In a Dec. 31 citizen petition to the FDA, Teva asked the agency not to approve any new MS drugs until the agency refers them to an advisory committee for evaluation. Advisory committees sometimes review new drug applications to provide guidance to the agency.
Teva is doing everything it can to delay competition, still, there is no telling how sales will diminish if generic competition does arise.
Pfizer's (NYSE:PFE) blockbuster drug Lipitor brought in $1.4 billion in revenue during the second quarter of 2011, but only $296 million in the same period in 2012 a 79% drop. A drop like that is a testament to the potential effect of generics on branded drugs.
If generic competition forces Teva to go cold turkey, Copaxone sales could drop to $800 million a year which could potentially reduce earnings by around $1.5 billion. In light of the many challenges facing generic competitors I believe the above scenario is unlikely. In my opinion, Copaxone usage will continue growing until mid-2015, reaching annual sales of 4.2 billion. After the patent cliff, revenue will gradually decrease stabilizing around $2-2.5 billion per year.
Valuation

Teva has been a great growth story, the company has grown revenues by an average of over 20% for over a decade. Teva's balance sheet does not send out any red flags. The company has around $1.5 billion in cash and has a continually improving debt structure that is in line with other companies in the sector. Share count has remained stable over the past five years and the company is generating over a $2 billion in cash per year after dividends and capital expenditures.
I want to take a minute to compare Teva's current valuation to Pfizer in order to get a feel for the numbers.
Excluding extraordinary charges Teva's TTM EPS is 4.1, the current stock price is 38.11, the P/E ratio is 9.3, the dividend yield is 2.7%, and the dividend payout ratio is 33%. Pfizer's TTM EPS is 1.29, the current stock price is 26.63, the PE ratio is 20.6, the dividend yield is 3.62%, and the payout ratio is 68%.
The market is comparatively valuing Teva at about half the price of Pfizer. Personally, I believe because of the current low yield macro economic environment, investors are flocking to high yielding blue chips such as Pfizer and that their valuations are getting a bit stretched.
Now let's fast forward to the beginning of 2015 and try to value Teva assuming three types of scenarios. All these scenarios will assume that after going over the patent cliff Teva's valuation will revert back to industry averages and trade at a P/E of 15. It is important to note that as recently as 2010 Teva was trading with a P/E was closer to 30. In my opinion this is a reasonable valuation; potentially the valuation could be higher if the new CEO Dr. Jeremy Levin delivers on the plan he laid forth during the recent investor day. A good summary of the main points which were laid forth during the investor day is written in this article.
In my analysis I will also assume that Teva's other segments will continue to grow at 10% per year through 2015. This is a reasonable assessment since excluding Copaxone Teva grew revenues by 15% in 2010 and 12% in 2011. I believe this assumption is the most critical, if growth slows down in Teva's other segments it would be prudent to reevaluate my position. For simplicity I have also omitted dividends from the analysis. If bought today an investor will receive about 6% from dividends on his holdings by the end of 2014.
Worst Case Scenario/Dooms Day
Copaxone revenues are reduced to 800 million following generic competition, and the net profit margin is 15% (historically between 14-22%) to reflect the less profitable mix and increase in the effective tax rate. In the doomsday scenario Teva's P/E multiple has not expanded to reflect normal valuations in the healthcare sector.
Probable Scenario
Copaxone revenues level off at $2 billion following generic competition, and net profit margin is 18%.
Best Case
Copaxone, alongside Laquinimod, will fend off generic competition; combined revenues will hold strong at $4 billion and the net profit margin is 18%.

Looking at the numbers it is clear that a large part of the increase in price will come from multiple expansion that I believe will happen once we pass the patent cliff. Even taking into account the doomsday scenario you are almost in the black when dividends are included. I personally believe that Dr. Jermey Levin's strategy will pay off; by the end of 2015 we will see Teva valued at a higher multiple then 15 and the stock price will reach $100. The problem is I really don't know how long it will take the market to give Teva a fair valuation. All I can do is recommend you buy today and remember that "even a broken clock is right twice a day."
Disclosure: I am long TEVA. I wrote this article myself, and it expresses my own opinions. I am not receiving compensation for it (other than from Seeking Alpha). I have no business relationship with any company whose stock is mentioned in this article.