General Electric (NYSE:GE) is one of the biggest conglomerates in the world and a member of the Dow 30. Although many investors bought the issue as a core holding expecting it to do as well as the economy, lately it has faltered. During the past 6 months, the stock is up only about 1 percent and is not trading above its 100-day moving average. As this graph provided by Barchart shows, it hasn't done much lately: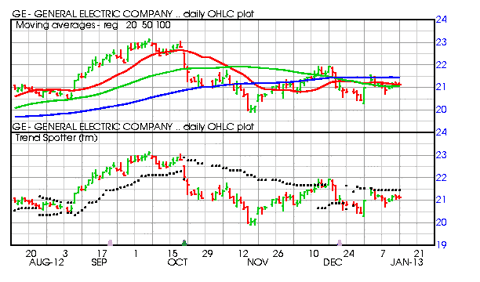 Click to enlarge
I would expect a big battleship like GE to at least do as well as the market. I use the Value Line Arithmetic Index of 1700 stocks as my market proxy and during the last 6 month, the Index has been up 12% while GE has languished with only a 1% rise:
Click to enlarge
Let's look at the numbers before we write GE off:
Barchart technical indicators:
8% Barchart technical sell signal.
Trend Spotter sell signal.
Although above its 20- and 50-day moving averages, the stock trades below its 100-day moving average.
Only 8.71% off of its 12-month high.
Relative Strength Index and almost neutral 50.26%.
Barchart computes a technical support level at 21.10 with a 50-day moving average of 21.06.
Fundamental factors:
14 Wall Street brokerage firms have assigned 16 analysts to monitor the company's numbers.
They project revenue will be down slightly by .20% this year: but up slightly by 1.70% next year.
Earnings are estimated to increase by 10.20% this year, 10.60% next year and average an annual increase of 11.27% over the next 5 years.
Most of the earnings increases will come from cost control and efficiency measures, not from revenue growth.
Market Cap $221 billion.
P/E 14.40 while the market P/E is about 15.80.
Dividend rate of 3.59% is about 45% of earnings and is higher than the market dividend rate of 2.20%.
Financial strength rating is B++.
If analysts' dividend and earnings projections are correct and the P/E approaches the market P/E, investors might see an annual total return in the 18% range over the next 5 years.
Investor interest:
The 16 Wall Street analysts have released 4 strong buy, 8 buy, 4 hold and no underperform or sell recommendations to their clients.
The individual investor as gauged by their opinions on Motley Fool are a little more upbeat, and 16,516 readers voted 94% that the stock will beat the market.
Short interest has been steadily dropping from a high of around 90 million shares mid-year to around 53 million share near year end.
Peer comparisons:
While GE was up only 1% during the last 6 months, United Technologies (NYSE:UTX) was up 10%, 3M (NYSE:MMM) was up 5% but Textron (NYSE:TXT) was down 2%: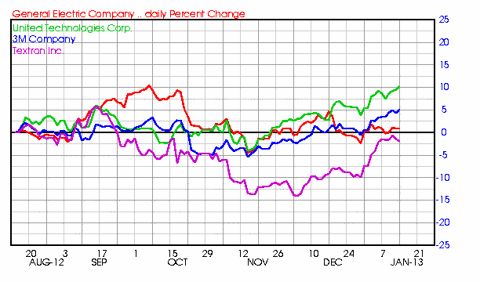 Click to enlarge
Conclusion: General Electric is a battleship in size and like a battleship, it will not turn on a dime. It is so big that any announcement will not make a major move in the price. With flat revenue projections and most of the earnings improvement coming from cost cutting, I only look for the stock to return to an average market multiple. If you got it, you might as well hold it and enjoy the dividend and watch it return to a market multiple. If you want to make it an addition to your long-term core holding, expect it to do only a slight bit better than the S&P 500 Index. Short-term players should monitor the turtle channel and moving averages but major moves are not expected, so traders should really look somewhere else for action: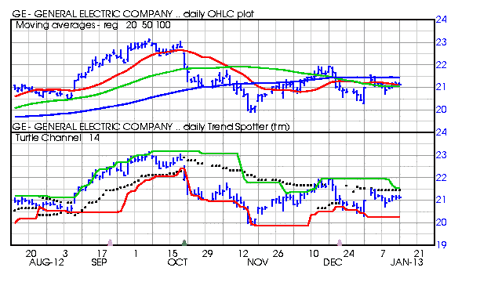 Click to enlarge
Disclosure: I have no positions in any stocks mentioned, and no plans to initiate any positions within the next 72 hours. I wrote this article myself, and it expresses my own opinions. I am not receiving compensation for it (other than from Seeking Alpha). I have no business relationship with any company whose stock is mentioned in this article.