Analyst Assessment
We conducted a thorough valuation of Under Armour Incorporated (NYSE:UA). Our assessment indicates that as it currently stands at a market close price of $48.09, UA share price is over-valued and our recommendation is to underweight this stock. The competitive landscape of the industry and sector Under Armour operates in, along with high sales growth requirements, do not justify the current market share price. We anticipate market adjustment to the share price within the next 12 months. Our projected price range for the time period is $40 to $45.
Background
Under Armour has been able to grow revenues in the 20%+ range for the past three quarters. However, revenues have been increasing at a decreasing rate. 2011 saw UA's top line sales increase at much higher rates, topping 40% during second and third quarters.
The firm's principal activities are the development, marketing and distribution of branded performance apparel, footwear and accessories for men, women and youth. Apparel, footwear, accessories and licensing constituted 75%, 13%, 9% and 2% of total revenues over the last twelve months. Apparel is the most prominent product sold. The garment used provides moisture wicking as well as efficient heat distribution which is supposed to enhance athletes' performance.
The company offers seasonal apparel and has branded the gear by season. HEATGEAR® is designed to be worn in warm to hot temperatures. COLDGEAR® is designed to be worn in cold weather and is the most expensive line of apparel. ALLSEASONGEAR® is designed to be worn in changing temperatures.
North America has generated approximately 94% of revenues historically as the firm has aggressively promoted the brand name by sponsoring sporting, professional and amateur teams as well as prominent athletes. The company's two main sales outlets are Dick's Sporting Goods (NYSE:DKS) and The Sports Authority, which combined, accounted for 26% of total revenues in 2011. Seasonality is apparent in sales with 60% of revenues generated in the second half of the year. The third quarter accounted for a slightly larger slice than the last quarter. This is related to COLDGEAR having higher selling prices than other gear, school start season and the holiday season.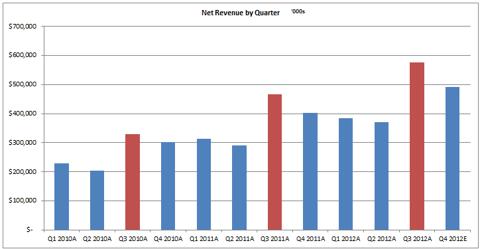 Quarterly Revenue 1
As of December 2011, 5400 employees were employed at Under Armour. The CEO, Mr. Kevin Plank controls the majority of voting power for the common stock.
Industry
Under Armour operates under SIC Code 2300 which includes companies such as Lululemon Athletica (NASDAQ:LULU), Columbia Sportswear (NASDAQ:COLM), Carter's (NYSE:CRI) and G-III Apparel Group (NASDAQ:GIII). SIC Code 3021 is a related industry and has Nike (NYSE:NKE), Crocs (NASDAQ:CROX) and Deckers Outdoor Corp (NASDAQ:DECK). Other notable competitors are Adidas (OTCQX:ADDYY), Puma (OTCPK:PMMAF), Hanesbrands (NYSE:HBI) and Champion Athletic Wear. The sports gear industry is crowded with competitors, some with spectacular brand names, dominating market shares and valuable experience in creating and marketing sportswear. The market leader, Nike Inc., had total sales for LTM August 2012 of $24.7 billion (10-K) and a commanding global market share of footwear sales at 29.7%, according to statistica.com.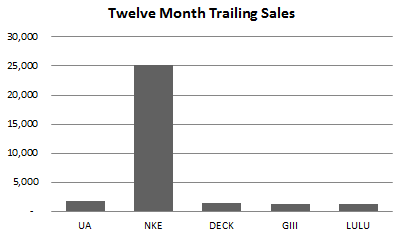 Numbers in 000s
Business Risks
The firm highlights several risks in the 10-K for 2011. We present the most prominent of these risks here in this report.
Customer Concentration: In 2011, approximately 26% of net revenues were generated from sales to two large clients: Dick's Sporting Goods and The Sports Authority. Prospect sales could be impacted depending on the number of visitors these two retailers get. This can also add some pressure on margin generated from sales to these two customers.
Rapid Growth: Sales have grown at a compounded annual rate of 24.86% over the four-year period from 2007 to 2011. The firm can run into difficulties maintaining growth trends, meeting customer demand, managing inventories as well as raw materials.
Competition: Many of the competitors possess larger market shares, adequate capital resources and brand recognition that enable them to take market share away from Under Armour. In addition, limited brand recognition in new markets can potentially hinder sales growth prospects.
Patenting: Under Armour's fabrics and manufacturing are not patented. As a matter of fact, several of Under Armour's apparel and footwear have been imitated by competitors. In order to keep product growth, Under Armour has to continue innovating. Also, marketing and differentiation initiatives must continue to increase which would drive up costs and put additional pressure on the bottom line.
Governance: Mr. Kevin Plank, the CEO, owns the majority of the voting rights and controls the Board of Directors. His vision has driven the success of Under Armour so far, but poor corporate governance is not a good recipe for common shareholders.
Cost of Goods Sold: Petroleum-based raw materials and cotton are the two main constituents in the apparel and footwear that are produced. Unfavorable price fluctuations in these two products can impact cost of goods sold and eventually net income.
Earnings Quality: In 2011, management capitalized $1.6 million in deferred financing costs. The company also capitalizes interest on long-term property and equipment ($0.8 million in 2011) and the cost of in-store apparel and footwear fixtures and displays.
Share Price & Financial Performance
Under Armour enjoyed a stellar stock performance over the seven-year period it has been available. The average monthly return over the most recent two-year period has been 3.45%. The average monthly return for the same period on the S&P 500 was 1%. Our calculated stock beta for Under Armour over the most recent two-year period is 1.34. We have adjusted the beta downward to 1.23 to reflect our long-term view of the share price. The stock price closed highest on September 14th, 2012 at $60.96.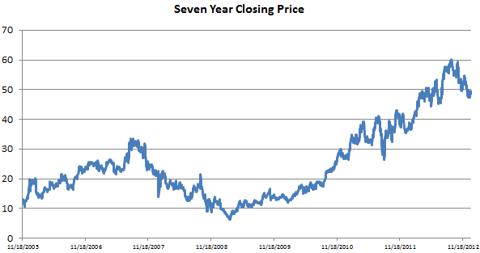 Revenue has been growing at an average of 27% over the past six quarters. It is apparent that quarterly sales growth rates have been slowing down. Apparel constituted 75% of net revenues FTM September 2012, followed by footwear at 14%. Cost of goods sold averaged 52% over the past eight quarters.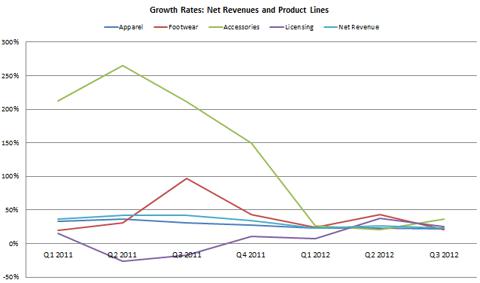 Valuation
We have used two valuation methods to value Under Armour: 1) Discount Cash Flow and 2) Comparable valuation.
Discounted Cash Flows
We used a two period valuation model with the first period consisting of five years, high (but declining) growth rates and steady liabilities projections. In addition, we modeled three distinct scenarios: Base Case, Upside Case and Downside Case. The valuation method utilized was the Free Cash Flow Model. For the upside and downside scenarios, we sensitized variables such as Sales Growth rate, Cost of Goods Sold as a percent of revenues and Administrative Expenses as a percent of revenues. In addition, we sensitized inventory in anticipation of improved inventory management as mentioned by management. Our valuation ignores the lower licensing margins on revenue as well as revenue fluctuation due to seasonality.
Base Case
In line with management growth estimates, our base case scenario assumes future revenues will continue to grow at the three-year historical level. Apparel sales will continue to grow at a declining rate impacted mostly by warmer winters in the Northeastern region of the United States where the majority of the stores on Under Armour reside. We expect Footwear sales to grow over the next two years and then stabilize. We also anticipate inventory levels to continue to increase, however, inventory as a percentage of sales is expected to decrease. Over the long term, we expect Under Armour to continue to increase revenues, but generally at much lower rates than the existing ones. Management anticipated a growth rate of 22% in earnings before interest and our model considers an average of 20% growth in EBIT over the next five years. The current share price reflects market expectations that the firm would be able to continue the aggressive growth in their top line numbers. Our estimated Weighted Average Cost of Capital (WACC) came around 10.5%. UA stock beta was calculated at 1.34 and the adjusted beta was 1.23. We estimate the fair value of a share of Under Armour to be between $43 and $47. Our recommendation is for underweight of UA in an indexed portfolio.

Sensitized Value 1
Upside and Downside Cases
Our tested upside and downside scenarios indicate a different set of price brackets. We stressed certain growth rates, mainly sales growth rates in addition to inventory management. The range of prices under all discounted cash flow scenarios are available below.
| | | |
| --- | --- | --- |
| Prices in USD | Low | High |
| Base Case | 42.95 | 47.32 |
| Upside Case | 71.90 | 77.37 |
| Downside Case | 33.46 | 36.17 |
Comparable Valuation
We also conducted a thorough analysis on comparable companies. We limited the universe of comparable companies to four: Nike Inc., Decker's Outdoor Group, GIII Apparel Group and Lululemon Athletica. There was no clear winner / comparable company. Lululemon comes closest in terms of growth rates, enterprise value and TEV/EBITDA. Using forward-looking TEV/EBITDA, we estimated Under Armour's share value at $40.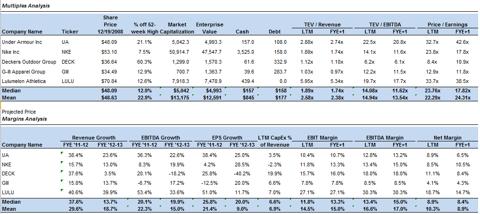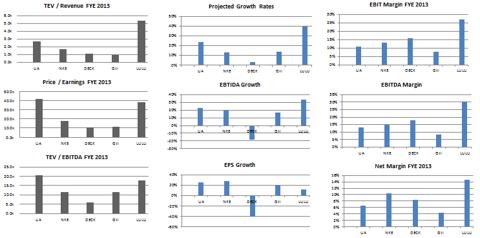 Other Considerations
There are plenty of growth opportunities available for Under Armour. They include expanding international operations, better positioning on the footwear front and increased revenues from licensing. We believe that diversifying their operations geographically should help Under Armour manage large variations in revenue growth rates. The firm has very little debt on their balance sheet with unutilized portions of debt topping $300 million. The company can lower its weighted average cost of capital greatly by utilizing portions of available credit. Lowering the weighted cost of capital could enhance the share price but should not impact the enterprise value of the firm.
Supplemental Financial Data



Disclaimer: Overweight rated stocks are expected to outperform the market (the benchmark S&P 500 Index) on a risk-adjusted basis over the twelve months. Market weight rated stocks are expected to perform in line with the market. Underweight rated stocks are expected to underperform the market on a risk-adjusted basis. The analyst holds no position in the underlying stock and does not plan to initiate any position within the next 30 days. The analyst received no compensation from Under Armour or any other affiliates or related parties. 10stockideas.com does not conduct any business activities with Under Armour. 10stockideas.com does not have any business association with Under Armour.
Disclosure: I have no positions in any stocks mentioned, and no plans to initiate any positions within the next 72 hours. I wrote this article myself, and it expresses my own opinions. I am not receiving compensation for it (other than from Seeking Alpha). I have no business relationship with any company whose stock is mentioned in this article.