Since December, rumors have been circulating that Apple (NASDAQ:AAPL) is cutting orders to suppliers. It started with Jefferies analyst Peter Misek, who claimed component suppliers had seen their Q1 2013 orders sliced to 25 million to 30 million from 35 million to 40 million. The Wall Street Journal further fanned the flames this week, reporting orders for Apple's high-tech touch screens had been slashed last month. The Journal also noted other components were similarly cut.
On the surface, news of Apple's reducing orders suggests timid demand. But there may be more to the story than we're hearing. After all, it should be noted Jefferies' Misek still expects iPhone sales of 53 million units, solidly above his peers' expectations of 48 million units sold. If Apple pushed that many iPhones out of its backroom during the quarter, it would represent nearly 30% growth from the 37 million sold in the December 2011 quarter.
Apple's Production Rumors May Not Be That Worrisome
The news of cuts may simply be Apple normalizing orders following a period when it significantly bumped up demand to offset production glitches, which were widely blamed for product shortages last year. In a bid to reduce its reliance on Samsung, Apple outsourced its screen orders to new vendors including LG Display (NYSE:LPL) and Sharp last year, both of which experienced growing pains outlined this past summer.
However, much of the learning curve for new suppliers may have resolved in the final quarter, boosting production rates and eliminating some of the stress on the supply chain. This may have prompted Apple to cut back on orders ahead of product refreshes, which may no longer be following the predictable spring and fall launch schedule -- as evidenced by September's iPad refresh.
Cutting orders to 25 million to 30 million units in calendar Q1 seems to be within the ballpark of reasonable. Last year, the company sold 35 million units in the March quarter. If the company exited the December quarter with units on hand, it's conceivable it would still be on pace to sell 40 million to 45 million iPhones this quarter.
Cutting Orders May Impact Suppliers Differently
Apple is notoriously tightfisted when it comes to negotiating with suppliers. However, its margin busting ways may not have as dramatic an impact on large vendors as in years past. Why? Because more players have entered the tablet and smartphone space, providing competition for the capacity semiconductor makers brought online in 2010. This means diversified suppliers like Qualcomm (NASDAQ:QCOM), which supplies the MDM9615 LTE modem and RTR8600 multi-mode transceivers found in both the iPhone 5 and iPad, are more insulated from Apple stumbles.
I've written previously about Qualcomm's diverse customer base, which includes slot wins in Nokia's Lumia, Samsung's U.S. version of the Galaxy, Sony's Xperia, and Google's Nexus 4. It's unlikely Samsung -- which held a 32% market share exiting Q3 -- lost any share this past holiday quarter. And even if Android cut into Apple share in Q4, gains at Samsung and Sony will likely offset any slowing.
It also means companies like Cirrus Logic (NASDAQ:CRUS), which relies heavily on iPhone and iPad audio chip sales, are most at risk. The company gets the lion's share of its revenue from Apple, and non-Apple manufacturers like Amazon (NASDAQ:AMZN) have opted for Wolfson instead.
Watch Semiconductor Average Selling Prices
Low-cost OEMs tend to incorporate prior-year chip designs, which carry lower profit margins for makers. As a result, sales growth for Kindles and NOOKs could weigh on chipmakers average selling prices.
In 2012, excess production capacity made holding the line on prices difficult. High-end phones and tablet makers are much more willing to incorporate the latest high-margin designs. But Apple's dominance had previously given it far too much clout. As a result, new design margins may not have been as firm as hoped.
As I suggested in my article last month, however, investors shouldn't disregard semiconductor stocks in 2013. A lot of that excess chip capacity is finally being absorbed, much of it by rising competition in mobile devices, driven by Asia's ongoing shift to 3G. An increase in vendors could shift the supply demand situation back in chipmakers' favor as early as this year.
If so, the production cut reports at Apple may prove much ado about nothing when it comes to evaluating the supply chain. Instead, the rumors may serve as fodder for lowered expectations heading into Apple's upcoming earnings release. In such a scenario, Apple's unit sales could surprise.
But even if they don't, investors in large, diversified semi plays such as Qualcomm shouldn't worry. After all, even if Apple is losing market share, it is still selling plenty more devices than it was a year ago. And even if consumers are opting for competitors' products, it's likely those devices ship with Qualcomm product inside.
As for historical trends, the first quarter has been strong for both Apple and Qualcomm. According to the Seasonal Investor database, Apple has notched gains in seven of the past 10 and four of the past five Q1s. Qualcomm has posted similar results, and each has generated a better than S&P 500 median return over the past decade, with Apple and Qualcomm up 10.51% and 10.12%, respectively.
Click to enlarge images.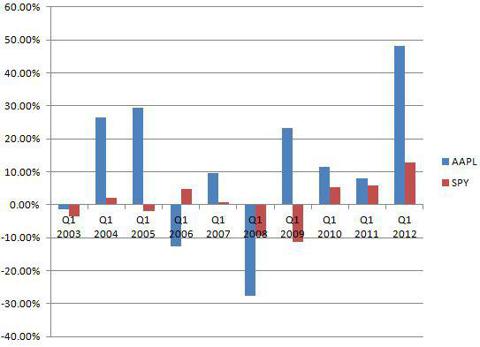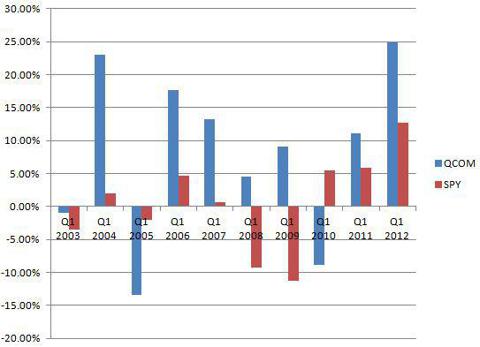 Source: Seasonal Investor.
Disclosure: I am long AAPL, QCOM. I wrote this article myself, and it expresses my own opinions. I am not receiving compensation for it (other than from Seeking Alpha). I have no business relationship with any company whose stock is mentioned in this article.