My favorite bank stock is undoubtedly Wells Fargo & Co. (NYSE:WFC). Friday's 2012 Q4 earnings conference call simply reinforced my opinion of the company.
In this article, we will review my investment thesis for owning the stock, discuss the recent conference call takeaways, outline and add perspective to Wall Street's worries about Wells Fargo, and offer target valuation metrics.
Wells Fargo & Co - One Year Price and Volume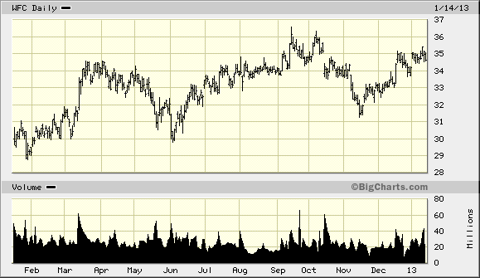 Click to enlarge bigcharts.com
Investment Thesis
Wells Fargo securities offer several compelling investment considerations. Here is a short list of my reasons for owning the stock:
The bank engages in a simple, straightforward business model. WFC takes in cash through bank deposits and makes consumer and commercial loans. Profits are made through net interest income (essentially the differential between what the bank pays depositors and what interest it collects via loan payments), and non-interest income (what the bank collects via fees and services).
Bank management levered the 2008 financial crisis into a springboard to grow the company. Wells' strategic plan has quietly resulted in WFC becoming America's largest residential mortgage and commercial loan institution. Wells Fargo originates about a third of all U.S. Mortgages. No other bank is close.
Bank management avoided the risky investment trading banking practices that helped spark the 2008 crisis. The bank maintained a largely "vanilla" book.
Bank management measures themselves versus a clear, understandable set of industry metrics. The experienced leadership team has demonstrated a history of meeting or beating target benchmarks.
The U.S. housing market is recovering. Wells Fargo is well-positioned to capitalize upon its continued improvement.
The stock is undervalued.
Fourth Quarter Conference Call Reinforces My View
On Friday, Wells' management held their fourth quarter conference call. My big takeaways were as follows:
The company continued a multi-year string of increasing revenues, net income, deposits, and outstanding loans. Credit quality continued to improve.
Management continued to meet or beat target metrics for returns, efficiency and capital ratios.
It is the stated intent of the company to increase investor return-of-capital through dividends and share repurchases.
Net Interest Margin (NIM) compression is pressing bank returns. The company is experiencing the high-grade problem of too much liquidity and a dearth of good places to invest it.
Wall Street is fretting over NIM and the fear that a one-quarter slower loan growth rate augurs an overall decline in Wells Fargo's core business.
Let's add a little more color to these takeaways.
Outstanding Business Driver Metrics
The company set a new annual record for revenue; the 2012 total of $86.1 billion beat analyst expectations. The figure was up 6 percent YoY. Fourth quarter revenue was also up 7 percent Q v Q.
Diluted earnings of $3.36 per share also set a 2012 record. This figure included a charge of 9 cents per share to settle the federal Independent Foreclosure Review (IFR) inquiry. This important settlement with the DoJ put a longstanding overhang behind the bank. Management noted that the settlement will eliminate expenses of approximately $125 million per quarter that Wells Fargo was paying to consultants and staff to handle the inquiry.
Deposits and loans hit new record highs. However, the loan-to-deposit ratio fell 2 percent to 82 percent. This means Wells has been taking in more depositor funds than it's been loaning out. More on this later.
Wells Fargo showed ongoing strength and consistency in its core operational metrics. Primarily, these include Return on Assets, Return on Equity, Efficiency Ratio, and the Tier One Equity ratio. The detailed numerics are found in the investor presentation found here. WFC performance is comfortably within sound industry targets for these measurements. Indeed, Wells Fargo is at the top of the class as measured by the whole of these key metrics.
Please find below a presentation slide from the Q4 earnings conference call that summarizes various business measurements.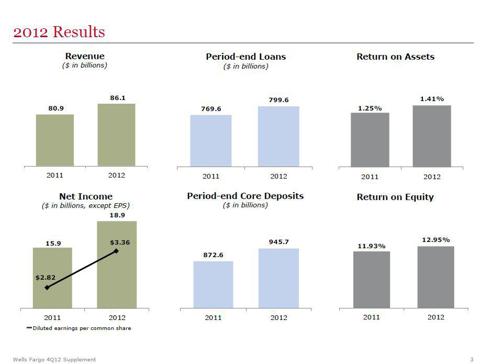 Click to enlarge
Credit quality also showed improvement. Net Charge Offs (NCOs) as a percent of total loans fell from 1.49% to 1.17%. The 2012 fourth quarter figure hit a post-crisis low of 1.05 percent.
Wells also measures a company-specific metric called the "Retail Bank household cross-selling ratio." This is the number of additional WFC products sold to customers who open an initial account with the bank. The ratio stands at a little over 6X currently. Banking staff has improved upon this ratio for several years running. YE 2012 was no exception.
A Few Words on Return of Capital
Bank management has petitioned the government to improve 2013 investor returns. This includes increasing share repurchases. Last year, the $4 billion repurchase program only kept the total share count flat; thereby cloaking the number of shares awarded via Employee Share Ownership Plans (ESOPs). For 2013, bank management wishes to ramp up the buybacks. While I generally don't care so much for share repo plans, I'm willing to accept this development in Wells' case since I believe the stock is considerably undervalued.
Furthermore, senior management stated that investors should anticipate increasing dividends as part of the plan submitted to government regulators. Last year, WFC bumped the quarterly dividend payout by 83 percent, to 22 cents per share. This equates to a current yield of 2.5 percent, and a 2012 annualized payout ratio of 26 percent.
I noted that between 2002 and 2007 (pre-crisis), Wells Fargo paid out an average of 40 percent of its earnings in cash dividends. Assuming a 2013 EPS of $3.60, a one-third payout ratio equates to a $1.20 dividend. While I have no particular insight as to the future dividend rate or payout ratio, it would appear reasonable to premise a gradual return to significantly higher dividends as WFC continues to generate higher earnings, and the payout ratio reverts to more historic norms.
What's Causing Wall Street to Worry?
Wall Street reaction to the earnings report has been lukewarm. I believe Street analysts appear focused upon the short-term quarterly numbers and are missing the larger investment picture.
First, analysts worried that the 4th quarter sequential NIM fell 10 basis points to 3.56 percent. The figure is down from a net interest margin of 3.89 percent at the end of 2011.
Certainly, Net Interest Margin is an important measurement, right?
Wells' bank execs explained the problem is two-fold.
First, as pointed out earlier, the declining loan-to-deposit ratio means that the bank has been accumulating more depositor cash than it's making loans. However, I can hardly criticize management for taking in too many deposits or not making enough consumer and business loans. Under-capitalization and making bad loans was one of the forefront issues leading up to the 2008 crash. WFC management has held its lending standards higher than its large-bank competitors. The result has been better credit, liquidity and a lower risk profile than Bank of America (NYSE:BAC), Citi (NYSE:C), and JPMorgan Chase (NYSE:JPM).
Here's a chart Wells' management circulated prior to their 2012 investor day conference that provides some competitor highlights: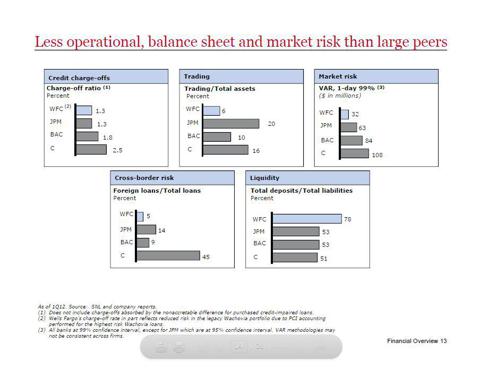 Click to enlarge
Second, as long as the Federal Reserve holds interest rates artificially low, the bank's NIM is in a vice. Net interest margin has declined because of extraordinary monetary policy, not normal market action or internal banking decisions. This situation is not terminal. Eventually, the FRB will permit interest rates to rise. At this point, we should see NIM improve. Wells Fargo will be a forefront beneficiary due to their simple deposit-and-lend business plan.
Wall Street also found itself wringing hands over a reduced sequential (Q v Q) fourth quarter loan growth rate. Not a reduction in total loans, mind you, just a drop in the rate of growth. There was little mention of the fact that total loans increased nearly 4 percent YoY and core loans (those the bank wants versus bad loans the bank is working off) was up over 7 percent YoY.
Here's a Q4 conference call excerpt on these two subjects from CFO Tim Sloan:
We remain focused on reducing expenses and we believe we have further opportunities to improve our efficiency ratio, and we should benefit from reduced environmental costs in 2013.

We are optimistic that loan growth can continue in 2013 and we believe we will be able to grow net interest income even if rates remain low. We have opportunities throughout our consumer and commercial businesses to continue to grow market share and increase cross sell.
(Italics are mine for emphasis.)
So What?
For a long-term investor in Wells Fargo & Co., these two buy-side Wall Street issues are non-issues.
The Fed will not keep its foot on the low interest rate pedal forever. Wells' senior execs state they can manage in the current interest-rate climate, and few folks believe the current state is a permanent condition.
And while the loan refinancing boom may indeed abate, the underlying residential housing market move up is far from over. Heck, it's hardly started. I suggest that worrying over a one-quarter loan growth rate is too myopic for me.
The big picture is that the U.S. housing market has a long way to go; there's a lot of catching up to do. While this occurs, Wells Fargo has positioned itself to be the premier national residential mortgage lender. Furthermore, I submit that commercial lending will likewise continue to rise as overall business conditions continue to recover from the 2008-09 recession.
Valuation Metrics
A good investment thesis goes hand-in-hand with a sound valuation exercise. The investor can be precisely right on why a company is a good investment, but precisely wrong on what he or she pays for the stock.
Let's take a look at Wells Fargo.
We will start by looking at a F.A.S.T. Graph of WFC's price and earnings performance over the past 20 years.
Wells Fargo is a good example of how a company's stock price typically follows its historic earnings. Notice how the black line (the stock price) followed the expected and assigned P/E ratio of about 15X (the orange and blue lines) for the 14 years leading up to the 2008 crisis.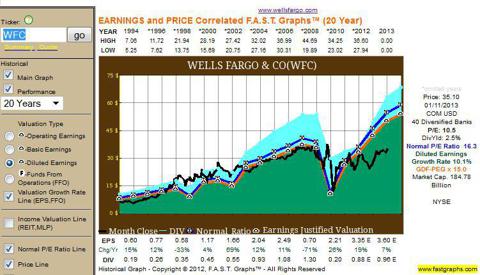 Click to enlargeCourtesy of fastgraphs.com
Then notice that despite increasing annual earnings since the 2008 generational low, the stock price has lagged the historic multiple. To illustrate this, I've included a 10-year F.A.S.T. Graph to clearly show the EPS figures since 2008. (Note yellow highlight.)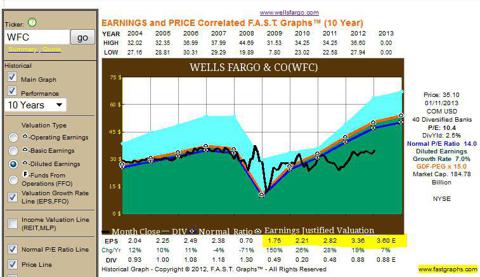 Click to enlarge
I surmise it is reasonable to assume that the WFC stock price will revert to a more normalized P/E as the unusually severe financial post-crisis damage leveled against the banks subsides. Just a 14X multiple on 2013 consensus earnings of $3.60 suggest a price of $50 a share.
Indeed, assuming Wells Fargo management makes good on their pledge to increase shareholder return-of-capital via higher dividends, a multiple expansion scenario back to the mean should be reinforced.
Conclusion
Simply put, if one is inclined to believe the eventual premises of 1) a sustained, improved housing market, 2) an up-cycle U.S. business economy, and 3) the FRB ends its unusual efforts to keep interest rates low, then a deposit-and-lend bank like Wells Fargo must participate. Historically, a nation's economy cannot exhibit solid growth absent a healthy banking sector.
Wells Fargo is a conservatively run, well-capitalized, and well-managed company. Throughout the recent downturn, the bank has positioned itself as the number one United States mortgage and commercial lending institution. WFC has a banking branch within two miles of half the American population. The bank has virtually no overseas exposure.
For the patient investor, I envision WFC stock offering long-term, three-pronged returns:
increasing dividends, with the eventual expectation of EPS payouts north of 33 percent;
increasing earnings as the housing recovery continues and the Federal Reserve ends its unusual monetary policies; this will translate into higher interest margins for the bank; and
increasing underlying share price appreciation, as earnings chug higher and the P/E multiple expands in a reversion to the mean
Go long Wells Fargo. Do your own homework.
Disclosure: I am long WFC. I wrote this article myself, and it expresses my own opinions. I am not receiving compensation for it (other than from Seeking Alpha). I have no business relationship with any company whose stock is mentioned in this article.