There has been a rather popular article on Seeking Alpha about Warren Buffett's alpha that shows how well Buffett has done in his long term performance. The key fact presented to support this conclusion is Buffett's Sharpe Ratio, which is 0.76 and as such beats every single stock in the market, and almost every fund manager.
A fine performance, indeed. Too bad it doesn't beat a very popular market index, the S&P Midcap 400. Buffett has been investing for a long time. There may indeed have been a time when he used to generate significant alpha. However, in the past 15 years, investors would have done better to shift away from Buffett into this index.
Why did I choose 15 years as the time period to measure Buffett's performance? A bit of that is serendipity, as that's about when I started investing. But I also wanted to exclude most of the go-go bull market of the 1990s, but include the crash of 2000 as well as 2008, to make it clear that my thesis about Buffett's underperformance vis-a-vis this index works in turbulent markets, and hence would likely hold even more in bull markets.
Why did I choose the S&P Midcap 400 and not some other index? This is the cusp where small stocks get "discovered" by the market. Anything smaller in market cap still has a lot of volatility and uncertainty. Anything bigger has already grown too big, and in the long run will just grow with the market. So, to me, midcaps are the equivalent of the players getting drafted for the first time by professional sports teams. As a group they have the most potential.
Finally, why an index? I remain a firm believer of the Efficient Market Hypothesis. I wanted to show that index investing long term will invariably beat stock pickers such as Buffett. With that, let's see how this index has done against Buffett in recent years, as measured by the performance of the SPDR S&P MidCap 400 ETF Trust ETF (NYSEARCA:MDY) against the Berkshire Hathaway Inc (NYSE:BRK.A) (NYSE:BRK.B).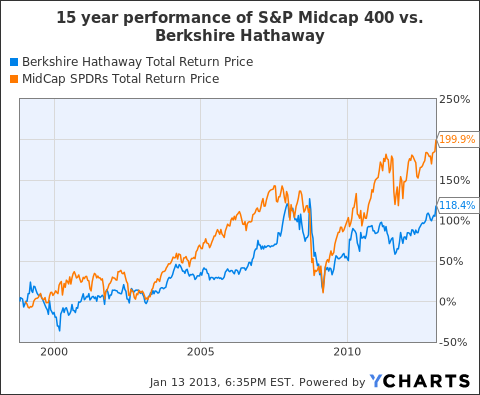 As the above graph shows, this index has handily outperformed Buffett. Per Yahoo, the 3 year Sharpe Ratio for this ETF is 0.84, which exceeds that of Buffett, which is 0.76. So, the outperformance of the index doesn't come from more risk. In fact, this is a very important point. As the article about Buffett shows, Buffet does use leverage, about 60 cents for every dollar invested. So, it is only fair to compare Buffett's performance against the leveraged version of this index as well.
Below is a chart showing the performance of BRK.A vs the ProShares Ultra Mid Cap 400 ETF (NYSEARCA:MVV). The leveraged ETFs are new, so only about 5 years of comparison is available. However, that period does include the 2008 crash, so this is quite a representative period and not simply a bull market.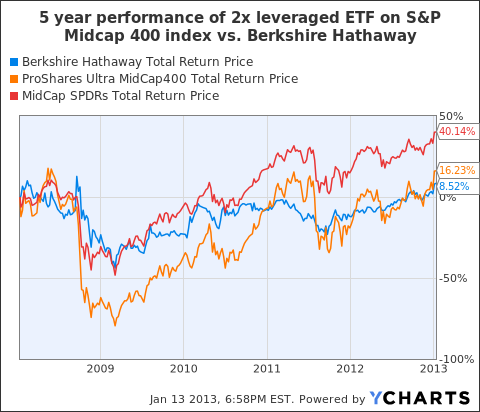 As should be clear from this graph, Buffett has done rather poorly in the past 5 years, returning only about 1.6% a year even with 60% leverage. However, the 2x leveraged midcap ETF has returned about 3% per year, double that of Buffett. The core ETF in the mean time have returned about 7% per year, beating Buffett by a wide margin, while having less risk (max drawdown) than Buffett.
In conclusion, it remains very hard to beat broad market indices, even for someone like Buffett. The facts are pretty clear, but the hero worship continues. Perhaps Buffett's value investment philosophy appeals to many as the "right" thing to do. Perhaps it is difficult for investors to admit that the market knows better. Whatever the reason, it is indisputable that the Buffett approach simply can't beat a broad index of midcap stocks even during a time when there has been two major crashes.
Given that Buffett has an army of people working for him to select investments, the odds of an individual investor successfully replicating even Buffett's return is slim to none. Next, Buffett has access to huge amounts of cheap leverage, which an individual investor simply doesn't have. Even with these advantages, Buffett cannot beat the mid cap stocks, while an individual investor can simply buy index ETFs.
Buffett is a money manager and earns his living through fees on money managed by him. As such, he cannot adopt the practice of simply investing in index ETFs. This is the problem for all hedge fund managers. They have to do active investing to justify their living. 90%+ of hedge fund managers have trailed the market in 2012. Buffett has barely beat the S&P500 (NYSEARCA:SPY) (15% for Buffett vs. 14% for SPY) but not the MDY (17%) nor the leveraged versions of these indices which have returned double and triple of Buffett's performance.
It is time for individual investors to see the facts and conclude for themselves that even someone like Warren Buffett underperforms the broad market. Index fund investing is the most efficient way for individual investors to enter the market given lack of time, knowledge, and leverage, and then in turn beat the professional investors routinely.
Disclaimer: This is not meant as investment advice. I do not have a crystal ball. I only have opinions, free at that. Before investing in any of the above-mentioned securities, investors should do their own research, consult their financial advisors, and make their own choices.
Disclosure: I am long UPRO. I wrote this article myself, and it expresses my own opinions. I am not receiving compensation for it (other than from Seeking Alpha). I have no business relationship with any company whose stock is mentioned in this article.