Our new portfolio the "Young and Restless" is geared for a specific investor profile. The most recent article detailed a look into Apple (NASDAQ:AAPL), one of the core holdings of the portfolio. The stock has become a focal point recently because of all the negative speculation.
In that article we looked at the stock from a basic fundamental standpoint. Since today's article is about Amazon (NASDAQ:AMZN) I cannot say the same thing.
The Amazon "Confusion"
I am not a conspiracy theorist, nor do I believe in the supernatural. It seems that many investors simply do not understand the Amazon phenomena. As a matter of fact, some are completely confused.
As Amazon continues to increase in share price, while having excruciatingly high valuations, some folks question the validity of the market itself. They do not seem to understand that the revenue story is driving growth, and the growth story is driving the share price.
I guess when we look at a chart like this, the naysayer's will argue that everyone is just plain "dumb" to invest in AMZN. Obviously the naysayer's have been wrong for a very long time.
Take a look at this chart on exponential growth of revenues: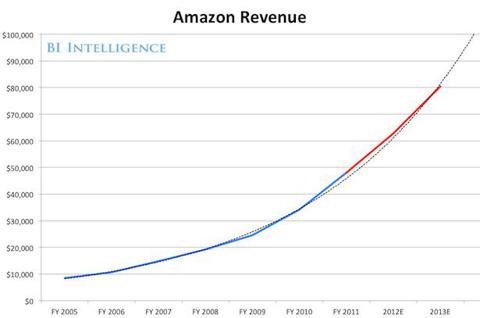 Not too long ago, Business Insider had this to say pertaining to their own chart;
"The results were remarkable. Amazon's revenue growth from 2005 to 2011 closely tracks the exponential trend line. In fact, it actually jumped above it last year. If the growth holds, Amazon will generate in excess of $80 billion by 2013."
I cannot argue with the bears since it has been meaningless based on the fundamentals vs the growth story, but I would simply state that folks who do not understand the growth capacity, or the eco-system that Amazon has developed, will never understand why this company has become, and will continue to become, the most amazing retailer/technology conglomerate on the planet.
Now the same folks who are befuddled and confused about Wall Street valuations of AMZN can be confused and befuddled about an entire new sector; the retail industry itself.
Jeff Bezos Is Honored By His Competitors
It has not been that long ago that the brick and mortar retailers of the world failed to "embrace" Amazon into their fold. Suffice it to say they basically saw Amazon as just another internet company that was going to be a flop.
Recently, the largest brick and mortar retailers lobbied to have Amazon face the same sales tax issues that they face. Obviously those retailers felt that Amazon had an unfair advantage, and by pushing hard to have the laws changed, they can finally put a huge nail into the Amazon armor.
Now, those same retailers have given Jeff Bezos the highest honor that can be bestowed on any CEO of a retailing entity; The National Retail Federation's Retailer of the Year Award.
The National Retail Federation is the largest retailer organization on the planet, and for a very long time, Amazon was not even a member. That has all changed however, and at the NRF convention in NYC today, Jeff Bezos joined a rather illustrious list of "Gold Award" recipients:
National Retail Federation
Gold Award winners
A look at the NRF's top award recipients over the past 10 years:
2012: Jeff Bezos, Amazon.com
2011: Kip Tindell, The Container Store
2010: Roger Farah, Polo Ralph Lauren
2009: Michael Jeffries, Abercrombie & Fitch
2008: Terry Lundgren, Macy's
2007: Millard Drexler, J. Crew
2006: Paul Charron, Liz Claiborne Inc.
2005: Howard Schultz, Starbucks
2004: Burton Tansky, Neiman Marcus
2003: M. Farooq Kathwari, Ethan Allen
2002: Arnold Zetcher, Talbots
Source: National Retail Federation
As reported in this article:
"Amazon.com founder and Chief Executive Jeff Bezos has received his share of business awards lately. Fortune magazine named him its 2012 "Businessperson of the Year." Harvard Business Review ranks him as the No. 1 living CEO.
Now comes the National Retail Federation and its so-called Gold Award.
The trade group's selection of Bezos as retailer of the year may be the most surprising one yet when you consider the fierce rivalry between Amazon and the organization's brick-and-mortar base."
As Mike Gatti, Senior Vice President of member relations for the NRF noted; "It used to be you went to the Web to research a product and then to a store to buy it. Now we're seeing the tables are being turned," said Mike Gatti, senior vice president of member relations at the retail federation. "It's a very competitive industry, and everyone's dealing with it."
The most vocal competitors of Amazon has now embraced one of their own as being the best of their own.
We can dispute the fundamentals all day, everyday, until someone is proven right, or wrong. Thus far it has been a futile exercise. For investors who seek growth, Amazon is a growth company that continues to amaze everyone. Now they are fully accepted as a true leader in the industry, by the industry itself.
Just for fun, take a look at these well known names who have received this honor, and how their share prices have performed:
Confused and befuddled? Jeff Bezos does not mind one bit. He is a genius, a visionary, and has changed retail forever. Now his peers recognize that, as well as consumers.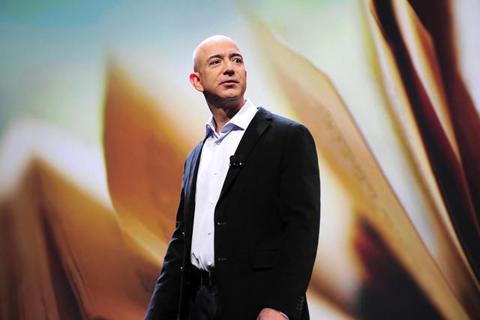 The Young And Restless Portfolio Has Been Effective
The "Young and Restless" portfolio consists of Apple , Amazon , Google (NASDAQ:GOOG), Facebook (NASDAQ:FB), Netflix (NASDAQ:NFLX), and Yahoo (NASDAQ:YHOO), and Achillion (ACHN)
| | |
| --- | --- |
| Stock | Orig.Price |
| AMZN | 230 |
| AAPL | 520 |
| GOOG | 640 |
| FB | 23 |
| NFLX | 82 |
| YHOO | 19 |
| ACHN | 8 |
Keep an eye out for updates on this aggressive portfolio!
Disclosure: I am long ACHN. I wrote this article myself, and it expresses my own opinions. I am not receiving compensation for it (other than from Seeking Alpha). I have no business relationship with any company whose stock is mentioned in this article.